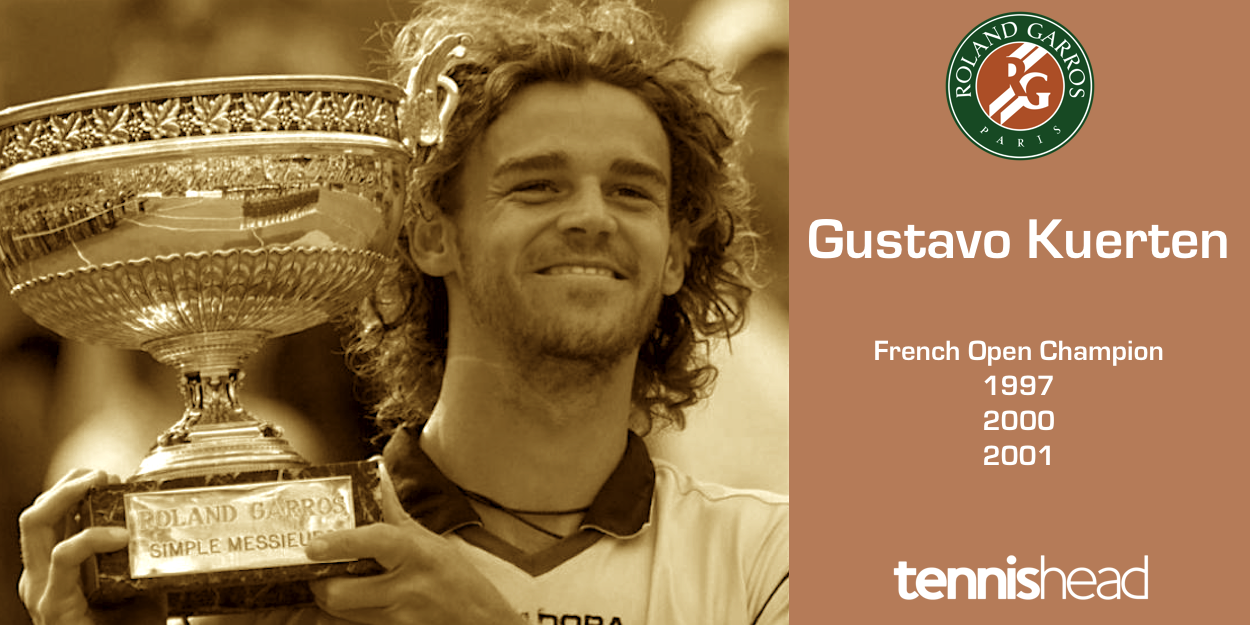 Roland Garros Royalty: Gustavo Kuerten, three-time French Open champion
A clay-court specialist in every sense of the term, Gustavo Kuerten is certainly a French Open legend, securing three Roland Garros titles. 
The Brazilian former world No. 1 claimed 14 of his 20 career titles on the red dirt, achieving a 181-78 (70%) career win-loss record on the surface, and had by far his best Grand Slam performances at the French Open.
Given his iconic status on the clay of Paris in the late-90s and early 2000s, 'Guga' undoubtedly deserves his place amongst Tennishead's 'Roland Garros Royalty'.
Winning in 1997 as a dark horse
Gustavo Kuerten entered the 1997 French Open as an unseeded 20-year-old ranked 66th in the world. He had competed in Paris just once before, the previous year, losing in the first round to world No. 11 Wayne Ferreira.
Kuerten defeated Slava Dosedel in the first round in straight sets, a not unexpected result given the Czech's no. 73 ranking. Kuerten then defeated Swede Jonas Bjorkman in the second round, a player ranked no. 23, so a mild upset.
The third round is where the young Brazilian really began to turn heads. He came up against 1995 champion and world No. 5 Thomas Muster in the third round, a real challenge. Muster edged the first set in a tiebreak before Kuerten responded by claiming the second and third.
But Muster would not lie down, forcing a fifth set by taking the fourth 6-3. Kuerten prevailed in the end, defeating the Austrian 6-7 (3-7), 6-1, 6-3, 3-6, 6-4. 'Guga' was hitting his stride.
Next came Andrei Medvedev, the world No. 20, where Kuerten battled to win in five sets once more, taking the tie 5-7, 6-1, 6-2, 1-6, 7-5.
Seemingly unphased by playing ten sets in two matches, Kuerten came up against world No. 3 and defending champion Yevgeny Kafelnikov, with the match again going five full sets. 'Guga' surged ahead and took the first set, before Kafelnikov bounced back to win the next two sets 7-5, 6-2, putting Kuerten's run in jeopardy.
But the Brazilian was determined, trouncing Kafelnikov 6-0 in the fourth and finishing the Russian off 6-4 in the final set for a 6-2, 5-7, 2-6, 6-0, 6-4 triumph.
The semi-final was a match-up of an unlikely duo, as no. 66 ranked Kuerten faced a no. 122 ranked qualifier, Belgian Filip Dewulf.
Kuerten began as he had against Kafelnikov, winning the first set, this time by a margin of 6-1. Dewulf fought back though, securing the second 6-3. Kuerten stepped up and took the match in four, 6-1, 3-6, 6-1, 7-6 (7-4).
Now, the final. Sergi Brugera, another former champion, this time with two titles in 1994 and 1995. Brugera was not at his heighest level, now ranked no. 19 in the world, but would seemingly still present a real test for Kuerten.
But that was not the case, as the Brazilian swept the Spaniard in straight sets, Kuerten's first such result since the first round, winning 6-3, 6-4, 6-2 for a maiden French Open title, jumping to world No. 15 following the tournament.
In doing so, Kuerten became the first unseeded player to claim the French Open title since Mats Wilander in 1982. Like Wilander, it was also Kuerten's first ATP tour title. Kuerten is also the second lowest-ranked player to win a Grand Slam (second to Mark Edmondson at the 1976 Australian Open, who won as world No. 212).
Finally, Kuerten became the first Brazilian champion at Roland Garros and second Brazilian Grand Slam champion ever, men's or women's, after Maria Bueno won multiple Wimbledon and US Open titles in the 1950s and 60s.
Making it double in 2000
Now ranked no. 5 in the world, 'Guga' had enjoyed further success on the ATP tour, with six more titles, all on clay, including Masters Series titles in Monte Carlo (1999), Rome (1999) and Hamburg (2000).
After an underwhelming title defence in 1998 and a solid showing to reach the quarter-finals in 1999, Kuerten started his 2000 campaign well.
The Brazilian won his first two matches in straight sets over Andreas Vinciguerra and Marcelo Charpentier. He then faced 1989 champion Michael Chang, now aged 28, ranked world No. 33 and 11 years removed from his Roland Garros triumph.
Kuerten dispatched the American in four sets, 6-3, 6-7 (9-11), 6-1, 6-4 to reach the fourth round. 'Guga' then faced world No. 11 Nicolas Lapentti, again winning without dropping a set, 6-3, 6-4, 7-6 (7-4).
Kuerten then met a familiar foe in world No. 4 Yevgeny Kafelnikov, contesting a tough, drawn-out encounter, as the Brazilian triumphed over the Russian in five sets, 6-3, 3-6, 4-6, 6-4, 6-2.
Next, in the semi-finals, 'Guga' faced Juan Carlos Ferrero, again requiring five sets to clinch the win, and again coming back from two sets to one down, winning 7-5, 4-6, 2-6, 6-4, 6-3.
The final was a top-5 clash with world No. 3 Magnus Norman. Kuerten cruised to a two sets to love lead, 6-2, 6-3, before the Swede disrupted the Brazilian's flow to take the third 6-2. 'Guga' closed it out in the fourth set though, winning the tiebreak 8-6 to claim his second Roland Garros crown.
Backing it up in 2001
For the first time in his career, 'Guga' went into the French Open as the strong favourite to win the title. He was world No. 1 and the defending champion from 2000, the odds were stacked in his favour.
First he faced a teenage Guillermo Coria (2004 French Open runner-up), with the 19-year-old ranked no. 25 at the time. Like in 2000, Kuerten breezed through his first two matchups, dispatching Argentinians Coria and Agustin Calleri both in straight sets.
Kuerten's next two matches somewhat surprisingly presented a greater challenge, as he faced two players ranked outside the top-100 in Karim Alami (no. 109) and Michael Russell (no. 122). 'Guga' defeated Alami in four sets, 6-3, 6-7 (3-7), 7-6 (7-5), 6-2, but the lower ranked American was much more trouble.
Kuerten went two sets to love down to the qualifier, 3-6, 4-6, and was taken to a tiebreak in the third. The upset of the tournament was on the cards.
But 'Guga' dug deep and took the tiebreak 7-3 before battling to win the final two sets, defeating Russell 3-6, 4-6, 7-6 (7-3), 6-3, 6-1.
Next, Kuerten faced Yevgeny Kafelnikov for the third time in five years at Roland Garros, overcoming the Russian in four sets having previously required five in their last two French Open clashes.
Just as he had the previous year, 'Guga' faced Juan Carlos Ferrero in the semi-finals. Like his tie with Kafelnikov, Kuerten defeated Ferrero more easily than in 2000, claiming victory over the Spaniard in straight sets, 6-4, 6-4, 6-3.
Another Spaniard lay in wait in the final, world No. 13 Alex Corretja, a finalist in 1998 and again this time in 2001. Corretja started well, claiming a tight first set 7-3 in a tiebreak. But Kuerten knew he could come back, doing so in assertive fashion, winning the next three sets 7-5, 6-2, 6-0 to make it a trio of French Open championships.
Kuerten never progressed past the quarter-finals at Roland Garros for the rest of his career, but had forever cemented his place among the greats of the clay Slam in Paris.