Roger Federer: Still learning after all these years
Roger Federer's longevity owes as much to his dedication and willingness to change as it does to his natural talent, according to Paul Annacone, one of his former coaches.
To an outsider it might seem as easy as knocking the froth off a cappuccino. You take six months off, play your first competitive comeback match at the Australian Open and win the title. Two months later you take another 10-week break before becoming the first man in history to win Wimbledon eight times.
Roger Federer has been at it again this year. Having won his 20th Grand Slam title at the Australian Open and then skipped another clay-court season, he will no doubt go into this summer's grass-court campaign looking as cool as a Swiss mountain stream and wielding his racket as if it were a magic wand. In the opinion of most people – including the bookmakers – the greatest player in history is already the clear favourite to win Wimbledon once again just a month before his 37th birthday.
Federer would not have achieved his success without his raw talent, but, as his coaches have always known, his extraordinary triumphs have owed as much to his dedication, willingness to put in the hours on the practice court and mental strength as they have to his natural skills.
According to Paul Annacone, who coached Federer between 2010 and 2013, for any player "innate talent is less important than intensive effort, focus and practice". Those words are taken from Annacone's recent book, "Coaching for Life", and the American is adamant that they apply as much to Federer as to anyone else.
Annacone told tennishead that Federer never tries to take the easy option in practice. "He doesn't take anything for granted," Annacone said. "Not only does he not take it for granted on the practice court, he also doesn't take it for granted in his matches.
"If he's playing a guy ranked No 110 you might think: 'He's just way better and he's going to walk this.' But every match preparation is the same. When you have that kind of grounded, thoughtful or mindful process in approach and you have that awesome talent, you have a legendary great for the ages."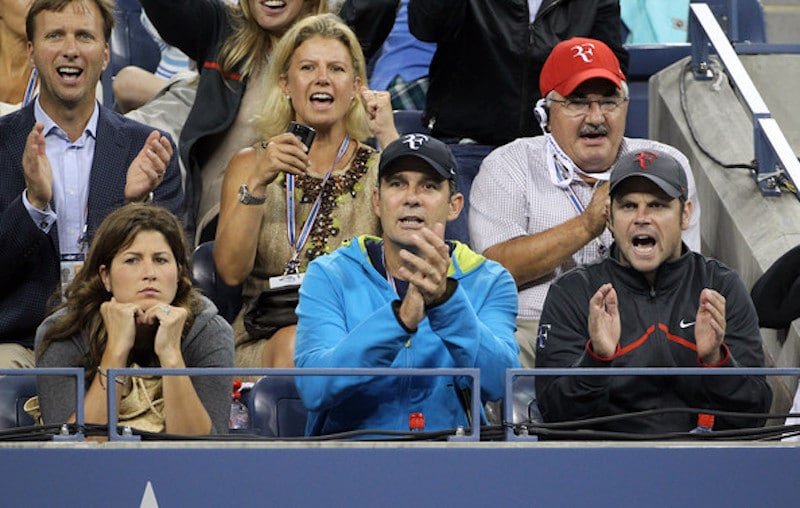 Annacone, who also coached Pete Sampras and Tim Henman, believes players must differentiate between "smart work" and hard work. "There's a big difference between quality and quantity," he said. "Roger is the master of both. He knows when to really push hard for long periods of time and he's very good about when to be specific and work on certain things, such as leading into the grass-court season. Then at the end of the year, after he's had his rest and recovery, he works incredibly hard in terms of quantity to get what he needs into his body so he can play those long matches without his body or his mind fading.
"Trying to understand that is an art. One of the things as an athlete is understanding how you do that. Roger ticks both boxes. He works incredibly hard, but more importantly he works incredibly smart, so it's relevant to how he plays and how his career has gone. And that's why at 36 he's still able to play like this – along with, obviously, ridiculous God-gifted talent."
Federer was 29 when Annacone started working with him, but the Swiss was far from set in his ways. "He's one of the most un-superstitious people I've ever been around in terms of what house he has to stay in, what food he has to eat, what time of day he has to practise," Annacone said. "I think that has really allowed him less stress because he doesn't worry about that stuff.
"There were times in the off-season when he would say: 'Let's do something a bit differently.' Sometimes he would say: 'On Tuesday let's not hit all day. We'll just play from 8 till 11 at night. We'll play one session for three hours.' It was just to break up the monotony, because he knew he would be playing night matches sometimes, there would be rain delays. He's incredibly open to things."
One of the keys to Federer's extraordinary success in his latter years has been his willingness to go along with his coaches' ideas about changing his game. Stefan Edberg, for example, encouraged Federer to put more faith in his volleys, while Severin Luthi came up with the idea of the SABR ("sneak attack by Roger"), which involves charging forward to play half-volley returns from just behind the service line.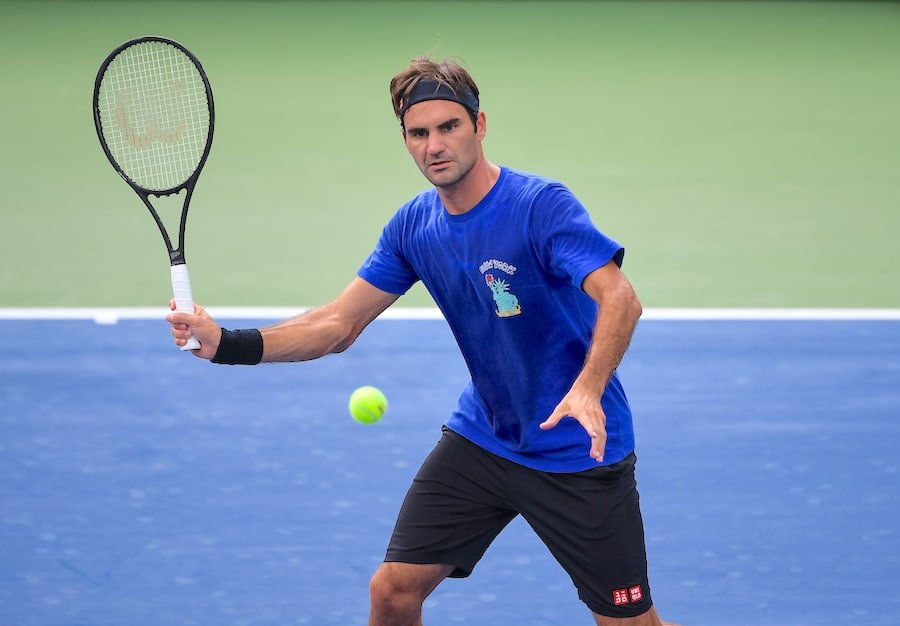 "He's always looking to try to get better and is really aware that the game is ever-changing, as are the players," Annacone said. "He still deals with that with Rafa [Nadal]. Rafa has beaten him more than he's beaten Rafa. He's totally pragmatic about that. He says: 'It's a tough match-up for me. He's a great player.'
"So two and a half or three years ago he changed racket size and tried to get a bit more aggressive on the one-handed backhand. And last year he beat Rafa every time. Sure, they played on hard courts. Maybe this year Rafa will adjust. That's what great players do. They don't fear all those things. They just embrace them and they move forward. I think it's a pretty rare quality, because most of us mere mortals tend to move forward with anxiety and stress and undue pressure and fear of consequences. Federer doesn't. He's content.
"I saw him lose two semi-finals in successive years at the US Open when he had match points. I couldn't sleep afterwards. But then the next day when I went back to see him in his room, he was on the floor playing with his kids. 'My life is fine,' he would say. 'It's sport. There are times when I've won matches like that. It happens. I did everything I could. It's terrible, but that's is life.' It sounds easy to say that, but actually to live that is really tough."
Annacone added: ""He also never blames anybody. Some players will say: 'I got unlucky. This guy did that. You gave me the wrong advice. Why didn't you yell more from the box? Why didn't you yell less from the box?' I never heard any of those things in four years with Roger."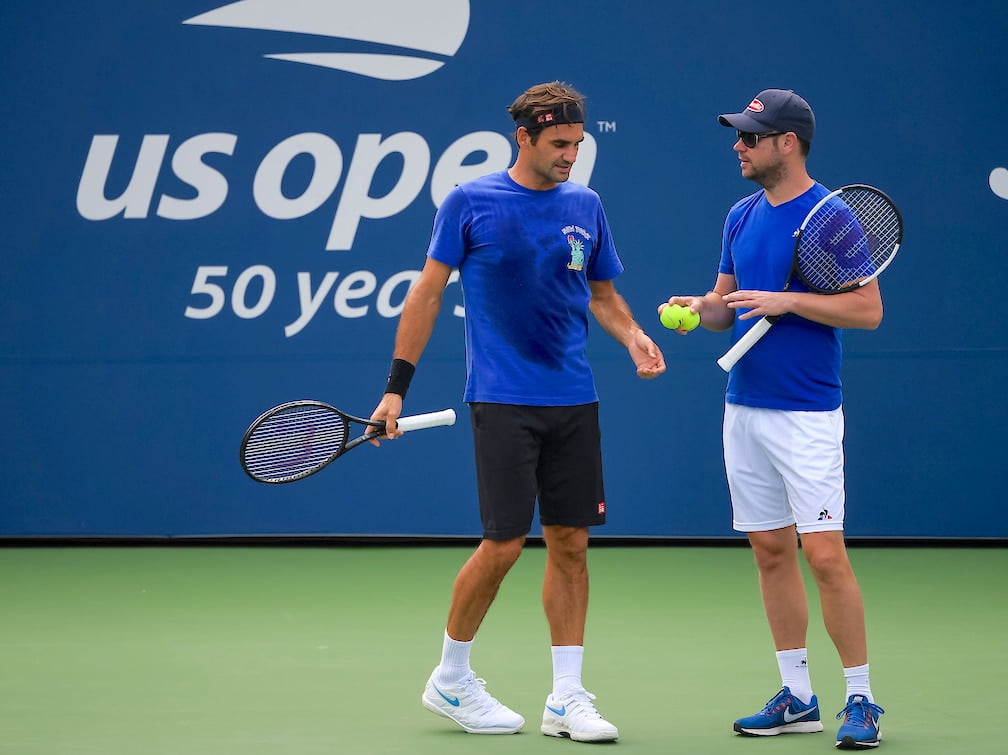 The other coaches who have worked with Federer during his professional career are Peter Carter, Peter Lundgren, Tony Roche, Jose Higueras, Luthi, Edberg and Ivan Ljubicic. Federer, nevertheless, won five Grand Slam titles earlier in his career without a coach and Annacone believes that Mirka, his wife, and Pierre Paganini, his physical trainer, have been more important to his tennis than any coaches.
"Mirka probably doesn't get enough credit," Annacone said. "She knows tennis incredibly well and she knows him incredibly well. And Roger's ability to do what he has done the way he has done it – as beautifully as he has done it on the court – has so much to do with Pierre being an incredible conductor of the strength and conditioning orchestra. Roger has bought into Pierre and they've had a great relationship for close to two decades now."
What Annacone finds most remarkable is not that Federer came back to win the Australian Open last year after a six-month break but that he has won three of the four Grand Slam tournaments he has played since his return. Nevertheless, Annacone thinks that what happens in the rest of this year will be crucial to his future.
"Roger's 36 now, going on 37," he said. "For so many years everyone has been wondering: is it now that he's getting older? Then all of a sudden two months later he'll win Wimbledon. You just don't know. I do think that at 36 the margins are more narrow for him. But he knows that and that's why he's been very disciplined about his schedule and taken time off to make sure he's ready for the grass season and the US Open.
"I try not to judge and I try to embrace, because I just know that when he's gone it's going to be a sad day. I'm a fan of greatness. When he's not playing at the All England Club any more that's going to be a very sad day for me, so I'm hoping it's not any time soon."
"Coaching for Life" by Paul Annacone is published by Irie Books and is available on Amazon
For more great article like read the World's best tennis magazine here