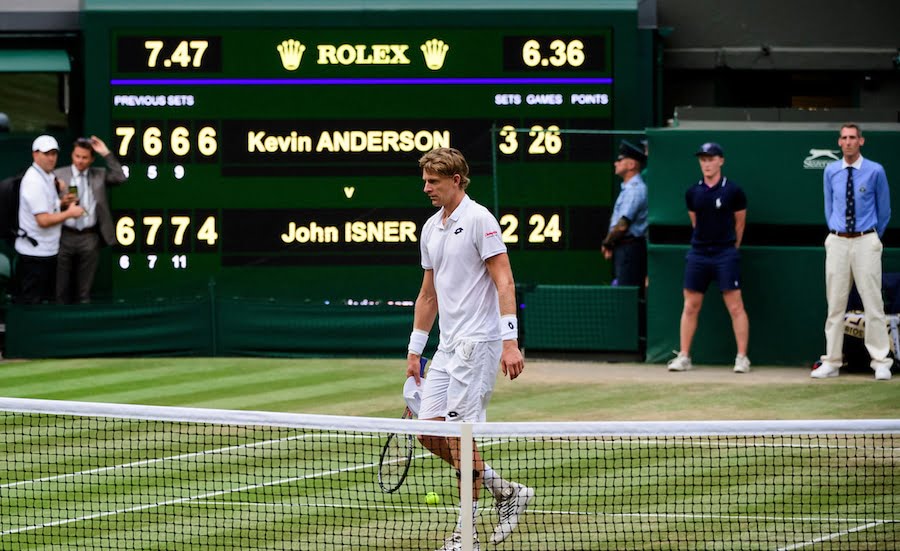 Roger Federer says he "likes tradition and long sets" as players opinions revealed on final set tie breaks
What do the players really think about tie breaks in deciding sets at Grand Slam tournaments? tennishead investigates
Roger Federer finds it "quite funny" that this year's four Grand Slam tournaments all have their own way of ending deadlocked final sets, but you can imagine that players at Wimbledon might not be laughing if they forget the new rules at the All England Club this summer. For the first time in Wimbledon history, final sets in all competitions will be decided by first-to-seven-points tie-breaks if the score reaches 12-12 in games.
Although there was widespread agreement that something had to be done about the rules after Kevin Anderson was unable to give his best physically in last year's final after his marathon victory over John Isner two days earlier, the change has not met with universal approval. Some players would have preferred a tie-break at 6-6, while the fact that four different formats are in operation at the four Grand Slam tournaments this year could cause the sort of confusion which caught out Britain's Katie Boulter at the Australian Open in January.
Like Wimbledon, the Australian Open had until this year always played "advantage" sets in deciders, with the match continuing until one player was two games ahead. In January, however, Tennis Australia introduced tie-breaks at 6-6, though they were tie-breaks won by the first player to 10 points rather than seven.
In the first round Boulter fist-pumped in celebration after going 7-4 up in her third set tie-break against Ekaterina Makarova, only to be told that she needed to win three more points to claim victory (which she duly did). "I was in the moment and I kind of forgot that it was first to 10," Boulter admitted afterwards. The French Open is now the only Grand Slam tournament which plays advantage sets in deciders. The US Open continues to play first-to-seven-points tie-breaks at 6-6.
Federer was among the players Wimbledon consulted when considering a change in the rules. Although the eight-times champion has been reluctant to reveal exactly what he told Wimbledon, you sense that he would have preferred to keep things as they were.
"I like tradition, I like the long sets," Federer said in Melbourne earlier this year when asked about Australia's change of rules. "They even had them in normal sets, not just in the fifth set, back in the day, when the likes of Tony Roche played. From that standpoint, it's a bit disappointing.
"At the same time I understand where the game is going. It's getting more demanding potentially. But we don't play doubles or mixed any more like the old generation did. They were incredibly match-tough, as well. I can't even see like we are fitter or tougher than they were, because I feel like they were tough as nails. Actually I think it's quite funny that we have four different endings to Slams. But it's all good from my side. I hope I won't be there [playing a fifth set tie-break] anyway."
Some have referred to Wimbledon's change as "the Isner rule". It seems unlikely that it would have been brought in but for his propensity for long matches. Isner and Nicolas Mahut share the record for the longest match in history – the big-serving American won their final set 70-68 after more than 11 hours at Wimbledon in 2010 – while Isner's semi-final defeat to Anderson last summer was the longest singles match ever played on Centre Court at six hours and 36 minutes.
Isner approves of Wimbledon's change. "I've always said 12-12," he said. "It's not that they just took my opinion and ran with it, but I thought that was a sensible compromise, the way to keep the tie-breaker in play but also you play a full extra set. I thought that was a good middle ground."
Asked if he felt pride knowing that his records for the longest matches at Wimbledon would not now be broken, Isner replied: "I'm not proud of that, but I was pretty certain that that record was going to stand for ever, no matter what, whether they implemented this rule or not. But in a sense if I get out there and I'm playing another big server and it gets to 12-12 in the fifth, I will be happy. Hopefully that's not the case, but with my track record it very well could be."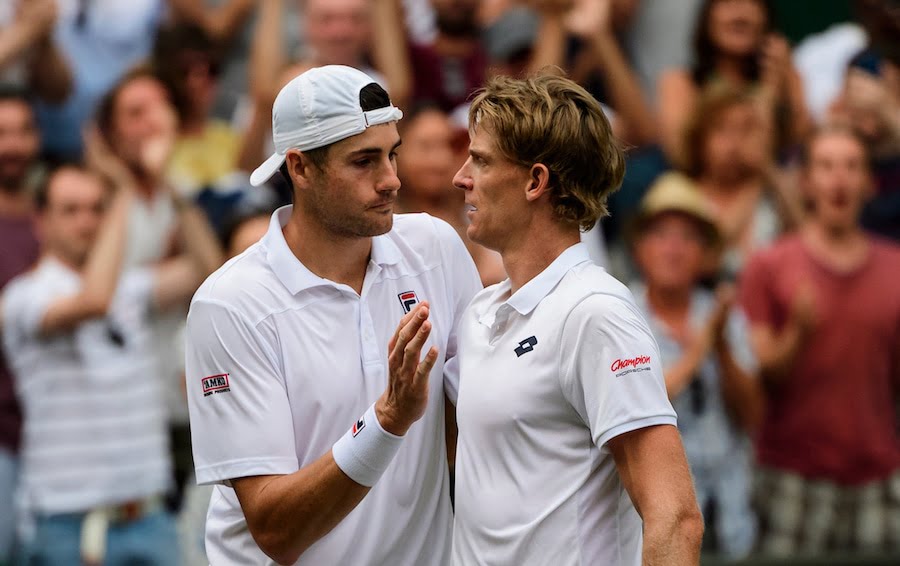 Wimbledon also consulted Anderson. The South African said he would have favoured tie-breaks at 6-6 but added: "I can understand why they wanted to extend it. It brings in a little bit of that history, the uniqueness of it going a bit longer. There's not tons of matches that are going deep in the fifth, but the ones that do go there, by at least capping it at 12-12 I think it protects the players a little bit more. You're still [effectively] playing another set of tennis, but it stops you from playing four, five sets of tennis, which we've seen.
Earlier this year Marin Cilic was puzzled by the Australian Open's change. Although he was in a favour of a tie-break at 6-6 in the fifth set, he thought it should have been a conventional tie-break and feared that "even the fans don't know what's going on". He added: "We never play a 10-point tie-break. Even in practice we never play up to 10. It's always a tie-break up to seven. So it's a little bit weird. All the Grand Slams went for something different."
However, neither Rafael Nadal nor Novak Djokovic see any problem in the four Grand Slam tournaments having different rules. Nadal said he liked Wimbledon's new rule but was glad that the French Open had not changed. "On clay I think it's good that you don't have a tie-break in the fifth because you don't need it," he said. "The match will not go 30-28 playing on clay."
Wimbledon is now the only tournament where men's doubles are played over the best of five sets. The other three Grand Slam events play best-of-three-sets, while on the tour doubles matches go to a first-to-10-points tie-break if the first two sets are shared.
"It doesn't bother me," Jamie Murray said when asked about Wimbledon's change. "I'm just happy that we play a longer format. I like playing Wimbledon because it's five sets and when you walk off the court you know whether you were the best team or not because you've had that amount of time on court to sort it out. And I think the guys like the challenge of it, especially when we're used to playing such short formats. You don't feel so rushed or feel that every point is life-or-death."
To read every issue ever published of the world's best tennis magazine, tennishead, visit our 'Magazine Archive' and you can buy a copy of the latest issue here.To win incredible tennis prizes for free, enter our latest 'Competitions'. For all the breaking tennis news and exclusive player interviews, visit our 'News' section. For the latest racket, ball, shoe and clothing buyers guides plus video play tests, visit our 'Gear' section