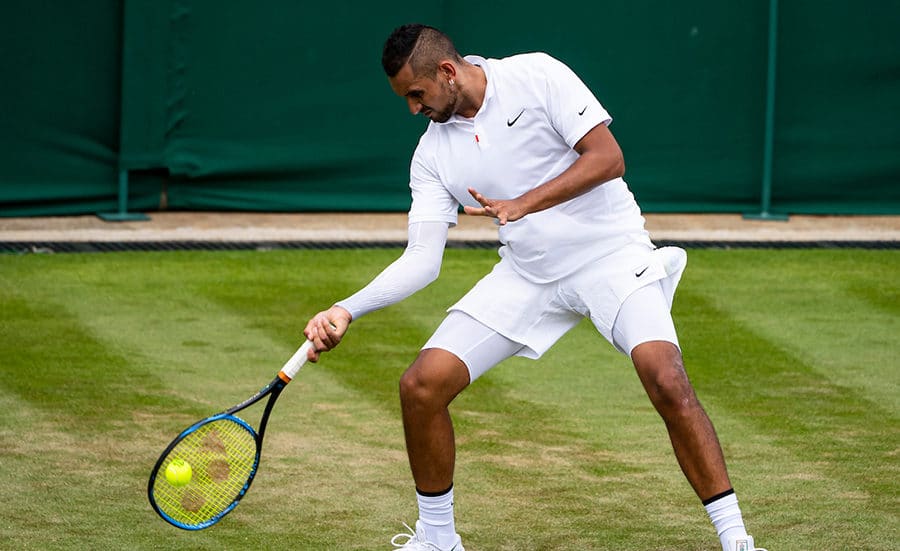 Rafael Nadal to blame for underarm serve trend, says Nick Kyrgios
Nick Kyrgios says Rafael Nadal is to blame for his use of underarm serves, and he doesn't understand why so much controversy surrounds them.
The Australian is often unconventional, though he is not the only tennis player to try an underarm serve.
A teenage Michael Chang famously did it at the French Open en-route to winning it, and other modern players have adapted it too.
However, an underarm serve from Kyrgios to Nadal at the Acapulco Open earlier this year erupted into a public war of words between the two players.
Nadal branded Kyrgios 'disrespectful' for trying the tactic, while the Australian blasted back by describing the world number two as "super salty" and a 'bad loser'.
Speaking after he won the Citi Open in Washington, though, Kyrgios has expanded upon his side of the story, saying that he was simply responding to Nadal's known tactic of standing a long way behind the baseline to receive.
"I've seen Kei Nishikori do and underarm serve, serve and volley off of it," said Kyrgios. "I've probably seen a dozen, 15 players do an underarm serve.
"The only time I did it to start was in Acapulco when Rafael Nadal was, like, literally standing at the fence."
Kyrgios has attracted something of a fan in Khazakhstan younster Alexander Bublik, who has started to mimic much of what the Australian does on court.
(?@TennisTV ) pic.twitter.com/opTzSPCZXT

— doublefault28 (@doublefault28) May 30, 2019
That includes the use of the underarm serve and, despite Bublik insisting otherwise, Kyrgios believes he has a copycat.
"I thought it was a good play. Then you got guys [Alexander] Bublik trying to say they're not trying to be like me.
"But c'mon. I don't know. I mean, it speaks for itself I think."
Kyrgios' win in Washington propelled him to number 27th in the world from 52 as he prepares for the Canadian Open.
Look ahead to the rest of 2019 with our guides to every tournament on the ATP Tour and the WTA Tour. If you can't visit the tournaments you love then do the next best thing and read our guide on how to watch all the ATP Tour matches on television in 2019. To read more amazing articles like this you can explore Tennishead magazine here or you can subscribe for free to our email newsletter here