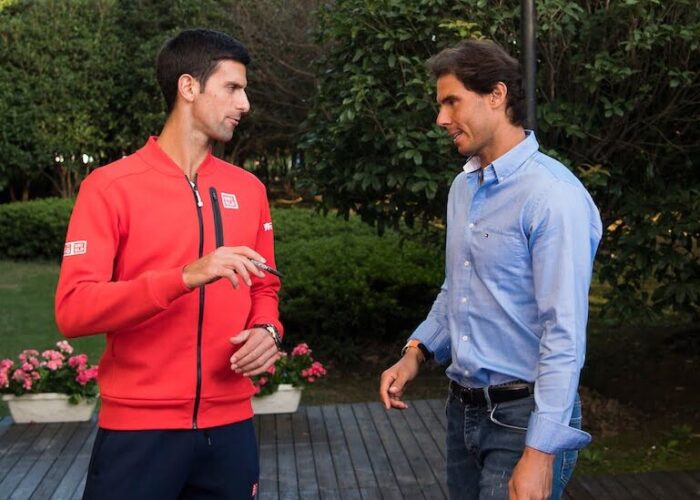 'He is the best' – Rafael Nadal makes stark admission about rival Novak Djokovic
Novak Djokovic is the best player in the world right now according to Rafael Nadal – at least on hard courts anyway.
Djokovic got the best of Nadal in Australia once again when the pair met in the final of the ATP Cup on Sunday, in a match reminiscent of the thumping he gave the Spaniard in last year's Australian Open final.
Remarkably, Djokovic's record on hard courts against Nadal is better than Nadal's record against him on clay, and the world number one doesn't seem to have a problem acknowledging the Serbian's brilliance.
"He (Djokovic) has been the best player in the world on hard the last couple of years," Nadal told reporters after their ATP Cup singles match on Sunday, "so to play against the best player is always difficult.
"But I think I improved things, probably today was a little bit too early on the season but in general terms I think I improved a couple of things that really give me chances in the near future.
"My serve is working better, serving is an important point to have chances in the near future against the best players.
"I'm happy with the way I served, especially in the second set, was able to change with some serves and volley too. I'm going to keep working."
Rafael Nadal is the top seed for the Australian Open with Djokovic, the defending champion, seeded second.
Keep up to date with all the action at our tennis news section. Win amazing tennis prizes by entering our competitions. Learn more about your favourite players including Roger Federer, Rafa Nadal and Novak Djokovic. Check out the latest kit in our tennis gear reviews. Receive regular updates with our legendary newsletter or read in depth features with stunning photography in tennishead magazine. Can't visit the tournaments you love? Check out our guide on how to watch tennis on TV. Don't miss a thing with our Live Scores service. Follow tennishead on social media at Facebook, Twitter, Instagram & YouTube