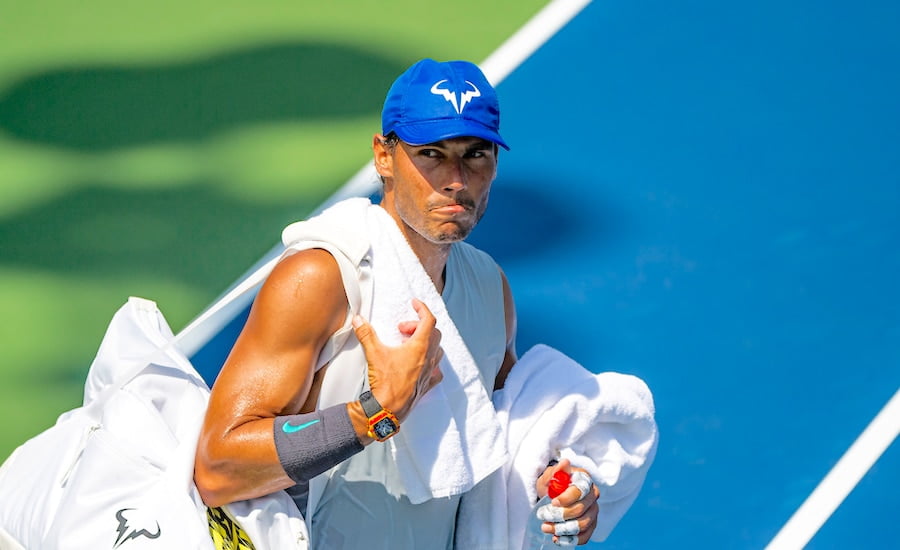 'Rafael Nadal is vulnerable ahead of Australian Open,' says top analyst after ATP Cup loss
The heat and humidity down under leaves Rafael Nadal vulnerable ahead of his Australian Open push, says Jim Courier.
Nadal looked to be physically struggling as he fell to a shock ATP Cup singles defeat to David Goffin.
He picked himself up to lead Spain to victory in the decisive doubles tie in the semi-final, but again it didn't look easy for the world number one.
That, according to Courier, who won two Australian Open titles himself, is down to the conditions – and it's not a problem that's going away any time soon.
"The humidity is a third party to what is going on out here," Couier said..
"It is definitely affecting Nadal. You don't often see Nadal go to the sawdust [like he appeared to against Goffin].
"In Paris in recent years, when it has been humid, he has used tape on his wrists to keep his wristbands from sliding because of perspiring.
"He is just one of those guys that sweats more than most and as a result, he suffers more than most in these conditions.
"He is as fit as they come. We've seen him play six hours and still be standing in an Australian Open final against Novak Djokovic.
"But he is vulnerable. When he comes from a dry climate, the first couple of days and athlete changes from dry to humid conditions, your body is not used to it and it can really impact you."
Rafael Nadal has won the Australian Open before, but just once, in 2009.
Keep up to date with all the action at our tennis news section. Win amazing tennis prizes by entering our competitions. Learn more about your favourite players including Roger Federer, Rafa Nadal and Novak Djokovic. Check out the latest kit in our tennis gear reviews. Receive regular updates with our legendary newsletter or read in depth features with stunning photography in tennishead magazine. Can't visit the tournaments you love? Check out our guide on how to watch tennis on TV. Don't miss a thing with our Live Scores service. Follow tennishead on social media at Facebook, Twitter, Instagram & YouTube