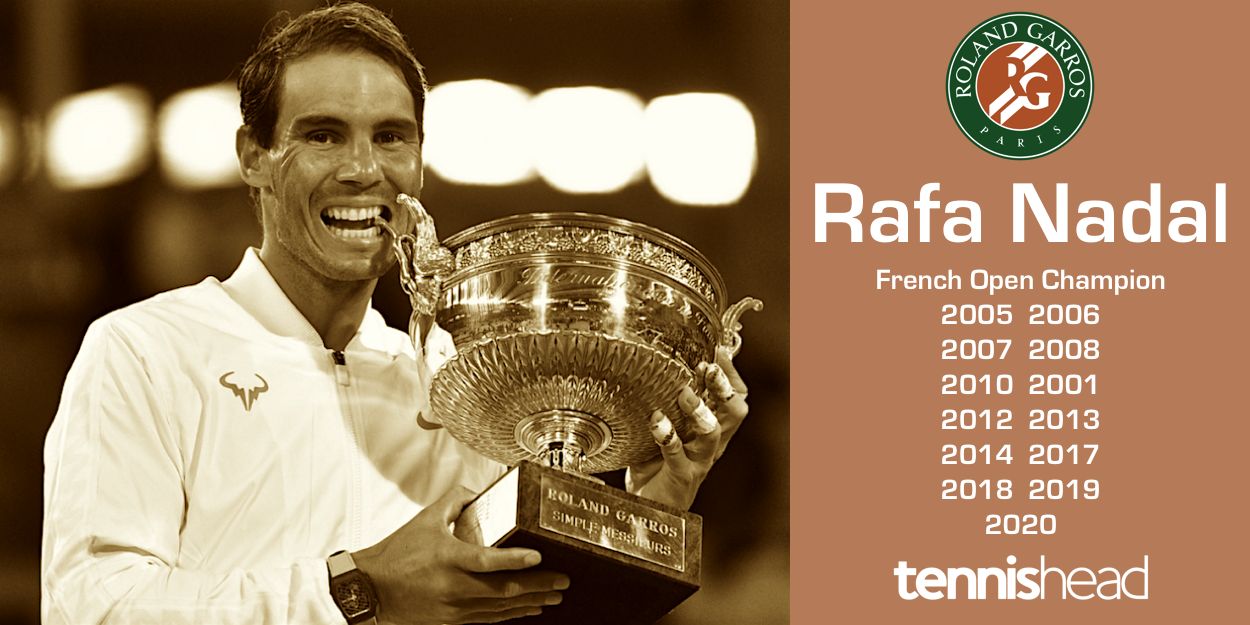 Rafael Nadal, 13-time French Open champion – Roland Garros Royalty
Regarded by many as one of the best players ever, Rafael Nadal is without doubt the greatest clay court player in history – having won 13 of his 21 Grand Slams at French Open.
The Spaniard – who has spent who has spent 196 weeks at the top of the ATP rankings – completed his career Grand Slam at the US Open in 2010. Nadal won his first Wimbledon title in a thrilling final vs Roger Federer in 2008 – and his only Australian Open the following year by defeating Federer in the final again.
In addition to winning the career Grand Slam, Nadal's record at Roland Garros stands at 100-2 and 13 titles makes him fully deserving of his place in our 'Tennishead Roland Garros Royalty' roster.
Wins first French Open title in 2005
After three years of climbing the rankings and gaining experience, 2005 was the year that Nadal started to make his mark on the sport. He dominated the spring clay court season, winning 24 consecutive singles matches, breaking Andre Agassi's Open Era record of consecutive match wins for a male teenager. The Spaniard won the Torneo Conde de Godó in Barcelona and then beat 2004 French Open runner-up Guillermo Coria in the finals of the 2005 Monte Carlo Masters and the Rome Masters.
These tournament victories saw his ranking rise to five and made him a leading contender at his maiden French Open. On his 19th birthday, Nadal defeated Roger Federer in the 2005 French Open semi-finals, a win that caught the eye of the tennis world. Rafael Nadal defeated Mariano Puerta in the final, becoming the second male player, after Mats Wilander in 1982, to win the French Open at his first attempt. He was the first teenager to win a Grand Slam singles title since Pete Sampras won the 1990 US Open aged 19.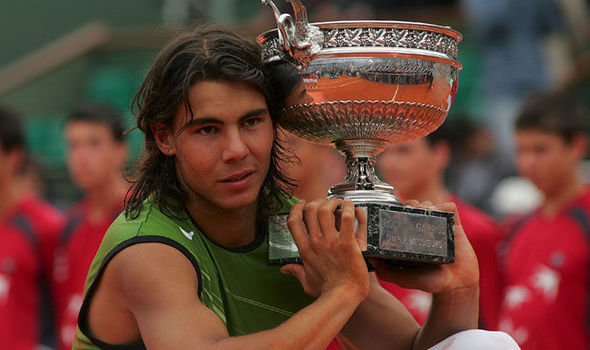 Wins fifth French Open title in 2010 – without dropping a set
Nadal's career went from strength-to-strength, as he became the fourth player in history to win the same Grand Slam for four consecutive years. A champion that was lighting up the courts with energy, flair and jaw-dropping tennis. After suffering his first defeat at the French Open in 2009 against Robin Sorderling in the quarter-finals, Nadal was eager to regain his throne.
He steamrolled through Gianni Mina, Horacio Zeballos, Lleyton Hewitt and Thomaz Bellucci to reach his sixth consecutive Roland Garros quarter-final, where he met compatriot Nicholas Almagro. A battle of the Spaniards proved to be his toughest test of the fortnight, Nadal then cruised past Jurgen Melzer in straight-sets to setup a repeat clash versus Soderling in the final. The Swede had played two four-setters and a five-setter on his way to the final, while Nadal was yet to drop a set.
The top seed was unstoppable and blew Soderling away to avenge his defeat in 2009, and claim his fifth French Open title. It was a memorable performance – the rocket forehand, devastating backhand and will to win was there for all to see.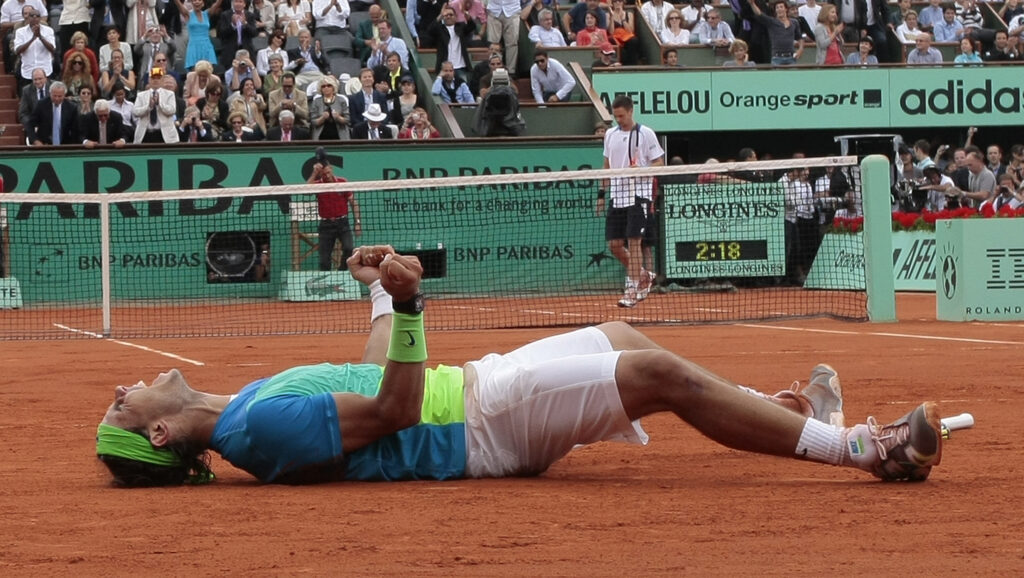 Wins seventh Roland Garros title in 2012 – most successful male player in French Open history
Bjorn Borg won six French Open titles, while Pete Sampras had six Wimbledon titles to his name, Nadal had a chance to surpass both and be a record breaker.
Nadal lost just 19 games in the opening four rounds – statement made.  It was almost an impossible task to defeat Nadal on clay at that time and most players knew it.
Rafa then crushed his former Davis Cup partner, Almagro, in the quarter-finals 7-6 6-2 6-3. Fellow Spaniard David Ferrer awaited in the semi-finals, Nadal was just on a complete different level. The movement, defence, power and speed was all too much for Ferrer as the world number two won 6-2 6-2 6-1.
The world number one, Novak Djokovic, defeated Federer in the semi-finals to setup a mouth-watering clash. Djokovic had defeated Nadal in a five-set marathon in the final of Australian Open earlier that year, while the Serb was also chasing the career Grand Slam. If anyone could challenge Nadal on clay, it was Djokovic.
In a rain interrupted final, Nadal won the two tight opening sets. Djokovic hit back winning 8 games in a row, before the match suspended again when he seemingly had all the momentum. Rafa regrouped in the break of play and held his nerve to take the final 6-4 6-3 2-6 7-5 which sparked jubilant celebrations.
Rafael Nadal: "When you lose, it's because you don't deserve the title. So in my mind, this was the final I had to win. That's why I was so emotional"
Wins title in 2017 – number 10.
Nadal suffered a three year Grand Slam drought from 2014 down to injuries and a straight-sets defeat to Djokovic at the 2015 French Open, however he returned to form in 2017 and was hunting for a 10th title in Paris.
Nadal won every set that he played in the tournament, dropping just 35 games over his seven matches, the second-fewest by any male (second only to Bjorn Borg's 32 dropped games at the 1978 French Open) when winning a Grand Slam title.
Rafa defeated Dominic Thiem in the semi-finals 6-3 6-4 6-0 and Stan Wawrinka 6-2 6-3 6-1. Nobody could compete with the level that Nadal brought to the court for those two weeks.
Analysis from former Wimbledon champion Pat Cash on BBC Radio 5 live.
"I don't like to use the term 'greatest of all' but it's hard not to with this guy. It's just absolutely phenomenal.
"Rafa's style of play is so effective on clay, he's lightning fast and ruthlessly tough. He's got incredible power.
"He's got all the attributes you need to just go on and on. He's in the minds of his opponents. Even the greats are crumbling at his feet on this surface. They cannot even compete with him.
The achievement, called 'La Décima' ('the tenth' in Spanish), made Rafael Nadal the first male or female in the Open era to win 10 titles at a single Grand Slam tournament. Nadal also climbed to second on the all-time Grand Slam titles list, with 15 Grand Slam championships, putting him one ahead of Pete Sampras.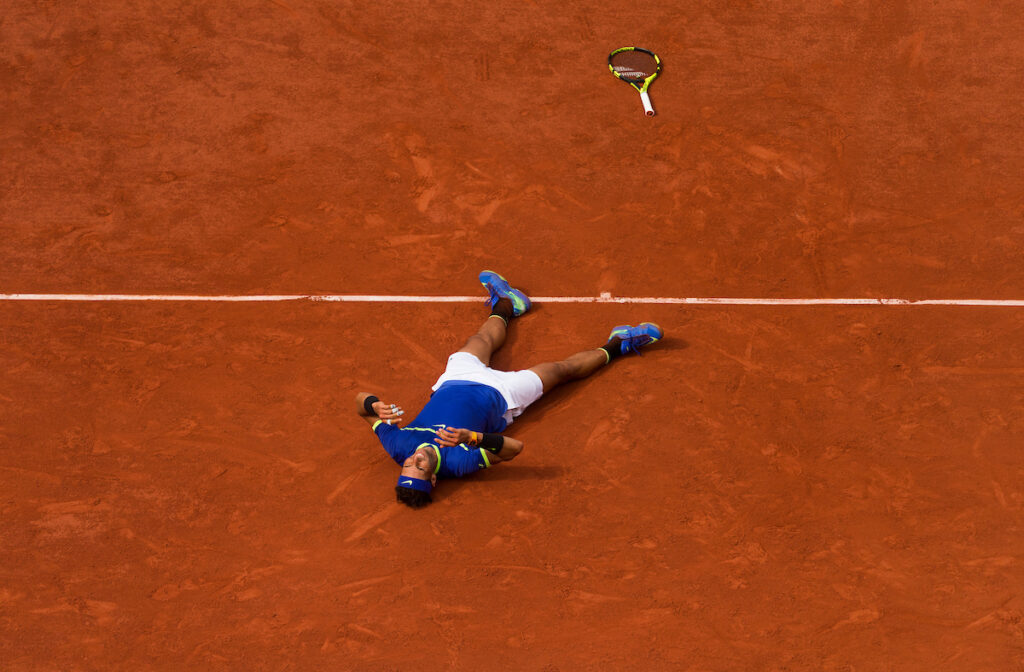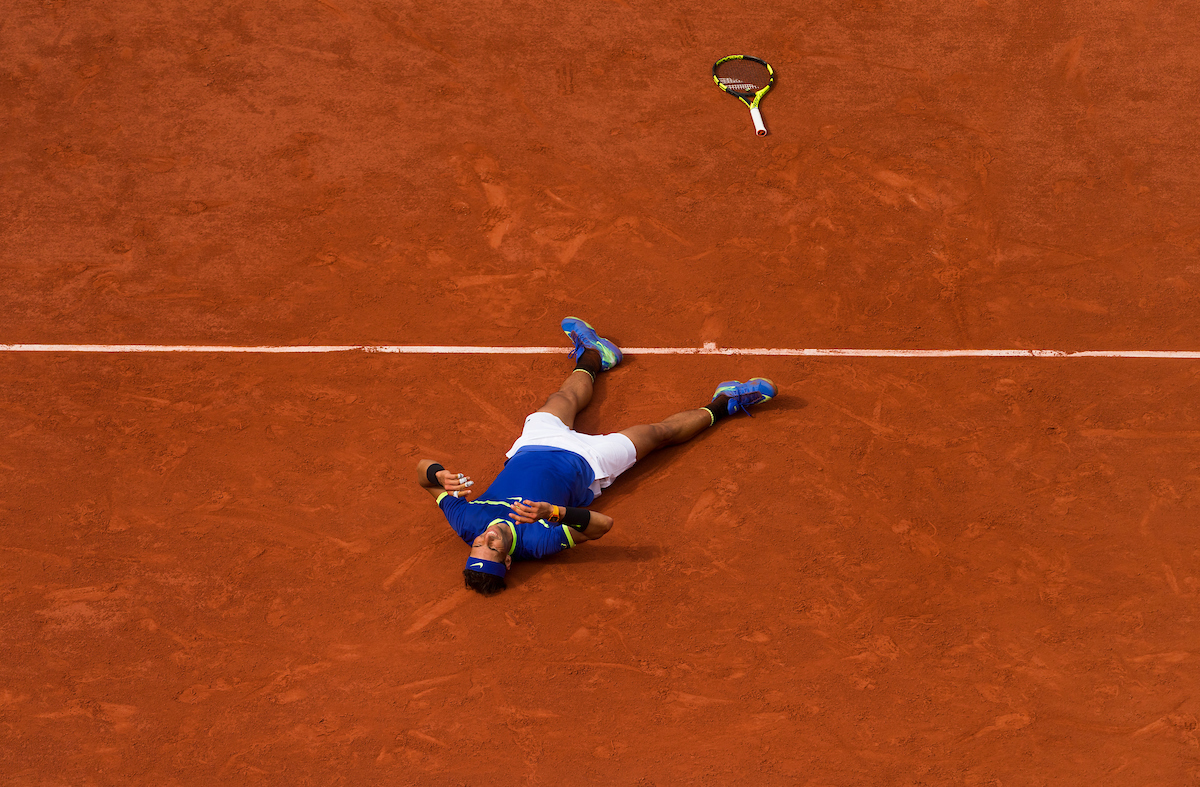 Wins his 13th French Open title in 2020 – continued dominance
Nadal continued to dominate in Paris year upon year, adding his 11th and 12th French Open titles in 2018 and 2019, defeating Thiem in the final on both occasions.
Nadal won his 13th French Open title and fourth consecutive in Paris, beating Djokovic in straight sets in the tournament's final, only losing seven games. Many predicted Djokovic to defeat Nadal, but the great champion laid down a marker winning the opening set 6-0. From that point a rampant Rafa turned it on and outclassed the Serb from start to finish.
In doing so, Rafael Nadal won his 20th Grand Slam title, equalling Roger Federer's record with the most Grand Slam titles. It also marked his 100th win at the tournament, losing only twice in 16 years. His straight-sets victory over Djokovic marked the fourth time that he won a Grand Slam without dropping a single set, all at the French Open doing it in 2008, 2010, 2017 and 2020.