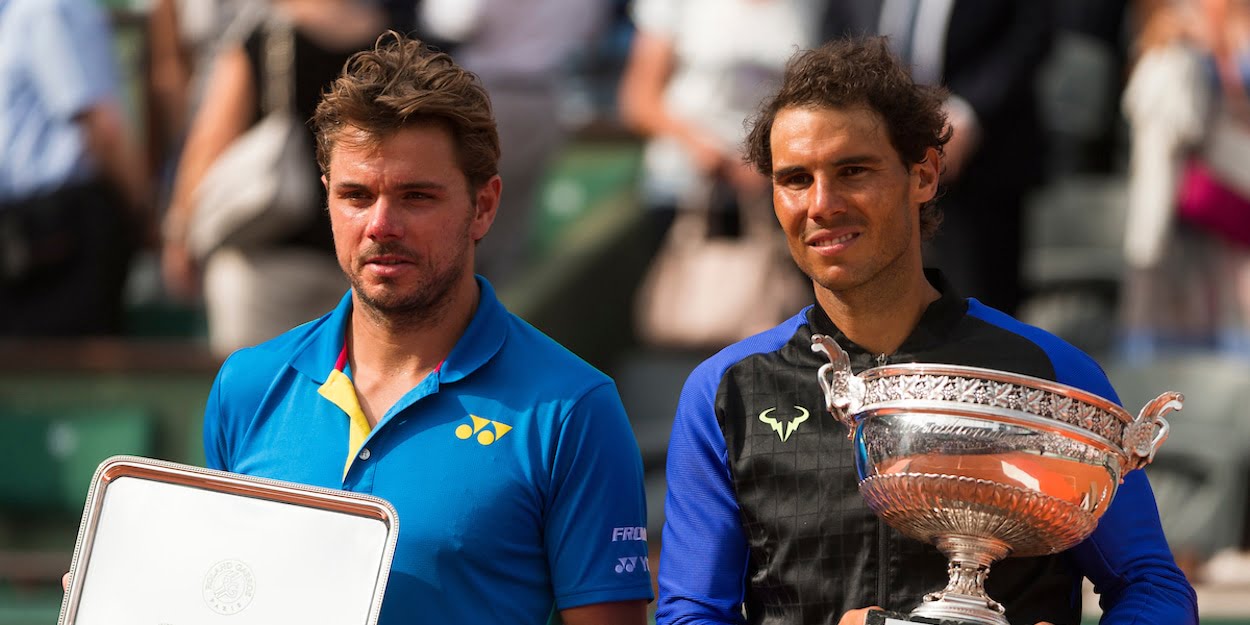 Rafa Nadal most memorable matches chosen by Toni Nadal & Carlos Moya: 2017 French Open final
Former and current coaches to Rafa Nadal, Toni Nadal and Carlos Moya, have revealed the matches they will always remember as his most epic performances.
Rafa Nadal vs Stan Wawrinka, 2017 Roland-Garros final
How were the nerves going in to the Roland-Garros final in 2017?
Carlos Moya: "Well, very nervous, of course always when there is a final of a Slam you have to be nervous, but even more this time because he lost like you said against Federer in 2017 in Australia, and his last Grand Slam victory was in Paris in 2014. So, it was three years already that he was not winning. He was 31 years old, so, we never know if he is going to be back to where I think he belongs.
The only thing I was afraid of is maybe that he was nervous, but the way he played during those two weeks was amazing. I think it is the best tennis he has played in these last three or four years in my opinion.
If you see through all the scores he had during these last two weeks, he was amazing and he was coming from winning in Monte Carlo, Barcelona and Madrid, so you could see that he was in good shape again, he was playing well, he was very confident, winning titles again, that is something that he really needs. And I was pretty sure that if nothing wrong happens in his head, he was very close to win."
**Sorry to interrupt but did you know you can order a FREE COPY of tennishead magazine (worth $15) to be sent direct to your home? Hurry up and click here to order the world's best tennis magazine for free as stocks will run out soon!**
It appeared that around this time you changed Rafa's serve slightly?
"I guess, when you join a team it's because something happened in the last months I mean, you are a top player, things are going well you don't hire anyone. He had some issues with injuries for the last two years from 2015, and a little bit mental issues, he was a bit… not really working well, his mind was not really working well and then in 2016, he was playing well again, but he had the risk of injury if I am not wrong.
It was easy when somebody joins the team, I think it is a fresh voice, even if you say the same as the other coaches of the team, I think you listen to it in a different way, you know. It is a new voice, things are a little bit different you know. The practice sessions are different and yeah, I think we were sure that coming from the team, we had to convince him to be more aggressive, that starts by having a better serve.
I think his biggest improvement was his second serve. Usually he tried to put a lot of first serves in because his second serve was weak, so, he was starting from a defense right away. So, as soon as he could hit harder the second serve, he was more offensive, and he could go more for the first serve. ot such a high percentage of the first; but tried to hurt the opponent more.
So, I also try to make him more aggressive, to change pace, not to play just cross court, try to go for the point, shorten the point, and try to convince about it. I think I was lucky that soon after I was in the team, he played the final in Australia, so his results were very good.
But it's not the work of one month, I mean you need results, you need time to try to help the player to evolve, and to get to a new kind of playing, and that is what we tried as a team."
Toni Nadal and Carlos Moya were speaking to Eurosport as part of its Players' Cut series which this week features Rafa Nadal. Players' Cut airs from 6pm each evening this week on Eurosport 1.