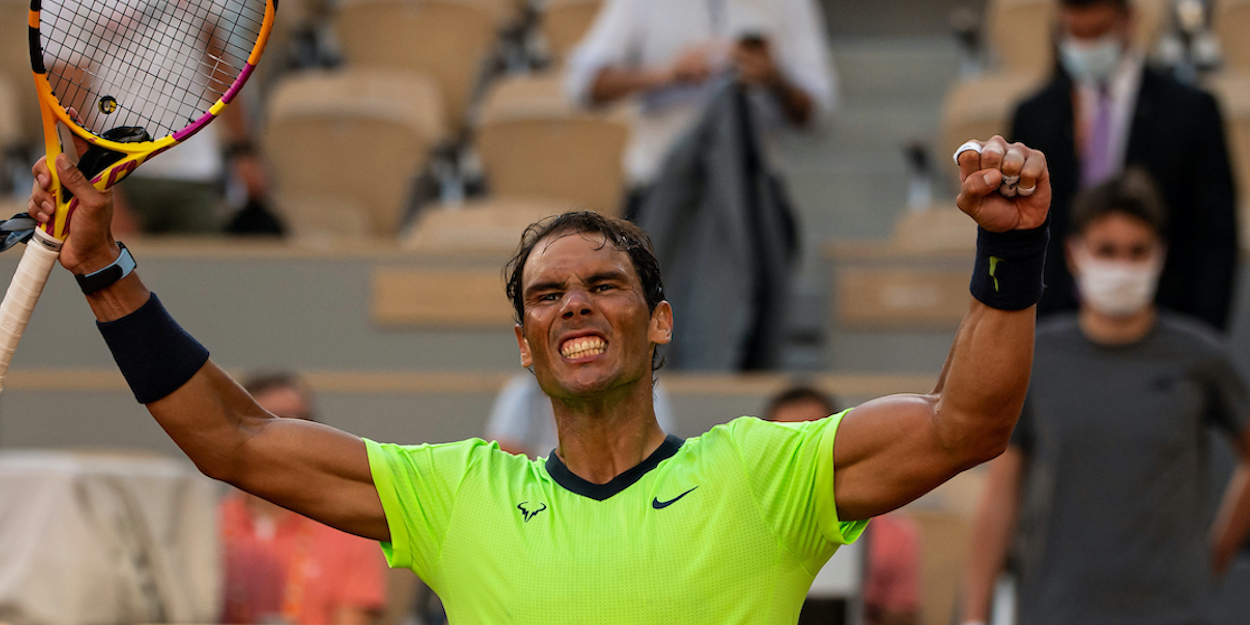 Rafa Nadal's best moments at Roland Garros 2021
With Rafa Nadal into an incredible 14th Roland Garros semi-final, here's a look at his headline moments on the way to the final four.
5. A Roland Garros centurion three times over
In the first round, the 'King of Clay' came up against Australian youngster Alexei Popyrin in his 103rd career match at the Paris Slam.
By taking the first set 6-3, Nadal secured his 300th set at the French Open, going on to claim his 101st win in the tournament over the past 17 years.
Trademark Rafael Nadal! 🔥

A sublime forehand winner from the Spaniard 👏#RolandGarros pic.twitter.com/a6DPZYSeCs

— Eurosport UK (@Eurosport_UK) June 1, 2021
4. A birthday victory and record to boot
Rafael Nadal took to the clay under the lights in his first ever Roland Garros 'night session' against career foe Richard Gasquet, their 17th meeting in all, and on his 35th birthday no less!
Nadal dispatched the Frenchman in straight sets, equalling the ATP record for the most one-sided head-to-head along with Djokovic and Federer, reaching a 17-0 win-loss record against Gasquet.
Rafa roaring out of the gate 🦁#RolandGarros | @RafaelNadal pic.twitter.com/nbnugh7XHo

— Roland-Garros (@rolandgarros) June 3, 2021
3. Showing who's boss
Before their third round encounter, Cameron Norrie publicly backed himself to go toe-to-toe with Nadal, and the Brit started strong out the gate as he raced into a 3-1 lead.
However, Nadal recovered to win 5 games consecutively and land the opening set, copying the result twice over to win 6-3, 6-3, 6-3.
What. A. Set. 🤯

Trailing 1-3, Nadal storms back with five straight games and seals the second 6-3 with this mind bender!#RolandGarros pic.twitter.com/qEDbODv4ZS

— Roland-Garros (@rolandgarros) June 5, 2021
2. Not so fast Next Gen
In the fourth round, Nadal came up against 19-year-old Italian prospect Jannik Sinner for the third time in under a year, having met the teenager at the 2020 French Open and earlier in 2021 at the Rome Masters.
Nadal won the match comfortably in straight sets once more, reaching a new milestone that even he had never achieved. Stretching back to the 2019 Roland Garros final, Nadal had now won 35 consecutive sets in Paris, his previous best run being 32 in a row from 2017-2018.
Nadal would extend this record by one to 36, before being stopped in his tracks by…
Will Rafa Nadal win an incredible 14th title at #RolandGarros this year? 🏆🇫🇷

— Eurosport UK (@Eurosport_UK) June 7, 2021
1. Schwartzman shows his power, but falls short
In the last eight, Nadal entered a showdown with a familiar opponent in Argentine Diego Schwartzman.
While Nadal took the first set, 'El Peque' fought back to claim the second and break Nadal's incredible streak, just as he did in 2018 to stop the tally at 32.
The Spaniard rallied however, setting up a mouthwatering 58th career battle with Novak Djokovic, and a chance to level the career tie at 29 wins apiece…
'WOW!' 🤯

An a magnificent forehand winner from Rafael Nadal!

What a fantastic contest this is 👏#RolandGarros pic.twitter.com/ELfRgqCyHw

— Eurosport UK (@Eurosport_UK) June 9, 2021