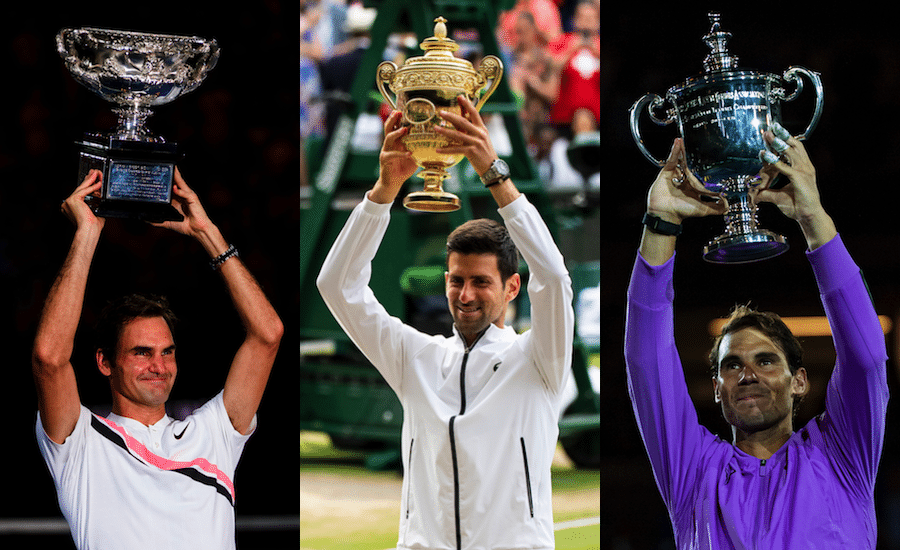 'Of course Rafael Nadal, Roger Federer, and Novak Djokovic affect each other, they are trying to be the best'
Alex Corretja believes Rafael Nadal, Novak Djokovic, and Roger Federer all get driven to greater heights by each other.
The trio have all but monopolised the Grand Slam titles for the last decade-and-a-half, and are now locked in a race to determine which of the three finishes their career with the most.
Federer (the oldest) currently leads the charge with 20, with Nadal one behind on 19, and Djokovic, the youngest, three back on 16.
However, former world number two and Eurosport tennis expert Corretja says it is impossible for them to not motivate each other.
"I think all of them, to be so good it's been about them first, but of course they affect each other" he said.
"It's maybe difficult for them to talk about that because at the end of the day everything they say could be a big headline and it's not easy.
"But, at the same time of course they play and they look at each other from the side – that's obvious.
"When you're trying to be the best in the history of tennis it is normal that you need to count on what is going on with the others too.
"When one adds one more slam the other is thinking 'wow the next slam it has to be me'. So they are conscious of each other for sure."
While Corretja believes the ultimate question of which one of the three is better will always come down to opinion, not statistics, he say there is plenty for everyone to enjoy about all three of them.
"The good thing I like of them is that everyone has his own style, his own personality, and you can choose all of them.
"You can like the way Rafa plays, Roger plays or Novak plays.
"But at the end of the day you know that all of them are super special and that's the good thing, we are living in an era where all of them are playing at the same time."
All courts and all matches from the Australian Open are live and exclusive on Eurosport and Eurosport Player.
Keep up to date with all the action at our tennis news section. Win amazing tennis prizes by entering our competitions. Learn more about your favourite players including Roger Federer, Rafa Nadal and Novak Djokovic. Check out the latest kit in our tennis gear reviews. Receive regular updates with our legendary newsletter or read in depth features with stunning photography in tennishead magazine. Can't visit the tournaments you love? Check out our guide on how to watch tennis on TV. Don't miss a thing with our Live Scores service. Follow tennishead on social media at Facebook, Twitter, Instagram & YouTube