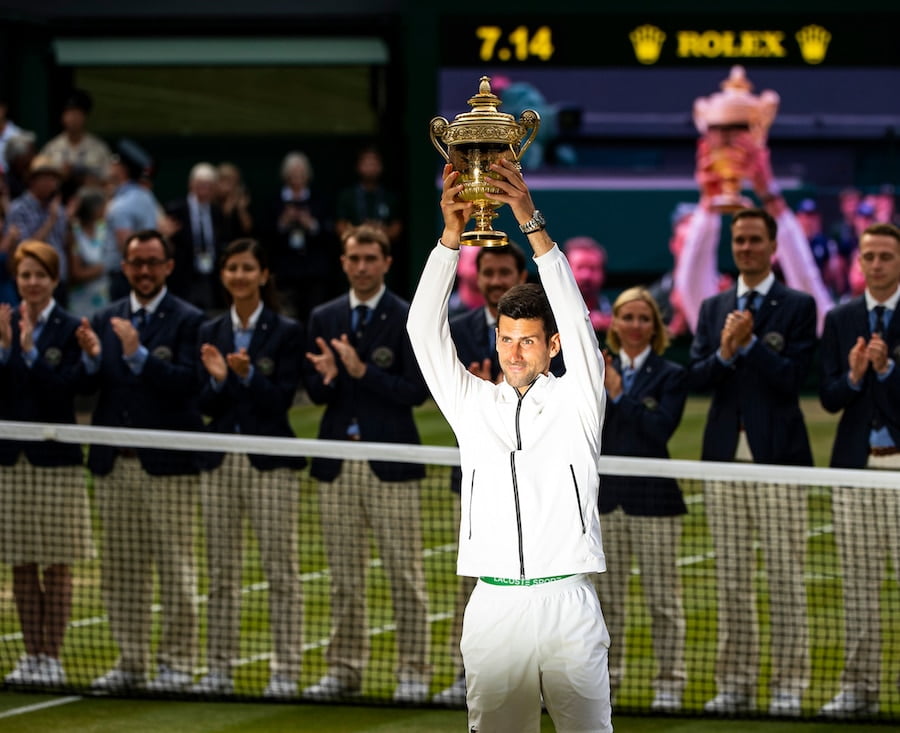 Novak Djokovic has Roger Federer (and history) in his sights: "I don't think about any limits"
Novak Djokovic is four Grand Slam titles short of Roger Federer's all-time tally but, as Paul Newman reports, the world No 1 believes the record could be within his reach
The world's leading players can be coy when asked about their targets. Many prefer to talk only about their next match. Most deny that chasing records plays any part in their thinking. Records, they will say, are for others to talk about.
Novak Djokovic can be as reluctant as any to discuss his ambitions but admits that making history is always a motivation. Following his Australian Open triumph in January the Serb was just one Grand Slam title away from holding all four of the sport's major trophies for the second time in his career, two short of Rafael Nadal's total of 17 Grand Slam singles titles and five adrift of Roger Federer's all-time men's record of 20. He didn't achieve that feat of holding all four thanks to a semi-final loss at the French Open to an inspired Dominic Thiem.
Ask Novak Djokovic if he has eyes on Federer's record and he is unequivocal. "If I'm still playing and winning Slams I think it's logical to conclude that I do," he says. "I know there are two guys ahead of me now in the history of the most Slams won, but I still have time. I'm not rushing."
Novak Djokovic will be 32 by the time the next Grand Slam tournament comes around at next month's US Open. To win the five Grand Slam titles he needs to break Federer's record is a huge ask, but there are plenty of factors that suggest it could well be within Djokovic's grasp.
In an age of enduring champions, the world No 1 remains one of the game's fittest athletes. He looks after his body, knows how to manage his schedule and has put behind him all the doubts about his elbow that dogged him until he opted for surgery at the start of last year.
"I feel young, I feel fresh, I feel fit," Novak Djokovic said as he looked ahead to his next goals. "I don't think about age. I don't think about any limits. Of course I'll keep on striving to get better on the court, but also to maintain the healthy lifestyle that brings me longevity and well-being. I think what's most important is to nurture your love for the game. I think it all starts in your heart and in your mind. If I want to keep going, I will keep going. I think my body will listen."
As he chases Federer's record, Novak Djokovic also has the advantage of being a master of all surfaces. While hard courts may bring out the best in him – he has won seven Australian Opens and three US Opens – he is also a superb player on both grass and clay. He won Wimbledon for the fifth time this month and has claimed 13 clay-court titles in his career, even if only one of those was at Roland Garros.
The major reason for his lack of French Open titles has, of course, been Nadal's brilliance in winning the title 12 times. Djokovic has lost to the Spaniard in six of their seven encounters at Roland Garros. However, he won their most recent meeting, in the quarter-finals in 2015, and has beaten Nadal on clay seven times, more than any other player.
One year after their last meeting at the French Open Novak Djokovic finally completed his set of Grand Slam titles by winning in Paris. He now admits that he used to burden himself with too many expectations at Roland Garros.
"I think it will be different this time," Djokovic said as he looked ahead to his return to Paris this summer. "I did put a lot of pressure on myself in the past. I lost several finals in a row and then managed to win it in 2016. Winning the French Open was the biggest relief I have ever felt in my entire life. So the approach to the French Open this year will obviously be quite different. I think I'm just more experienced with this kind of situation."
He says: "Playing Grand Slams and the biggest ATP events is my utmost priority in this season and in seasons to come. How many seasons are to come? I don't know. I'm not trying to think too much in advance. I do want to focus myself on continuing to improve my game and maintaining the overall mental, physical and emotional well-being that I have so I would be able to compete at such a high level in years to come and have a shot at eventually getting closer to Roger's record."
Although last year's clay-court season saw the first signs of a return to Djokovic' best form after nearly two years in the doldrums, his quarter-final defeat in Paris to Marco Cecchinato, the world No 72, showed he still had work to do.
"Obviously I have to work on my clay-court game a bit more specifically than I did last year," he said. "I need to play better than I did last season. I am already playing better, but I'm talking about clay specifically in order to have a chance and a shot at the title. The ultimate challenge there is to win against Nadal. Then you have [Dominic] Thiem and [Alexander] Zverev. Roger is going to play too, so you have a lot of great players that can challenge me or anybody else on clay."
Federer, while insisting that for Djokovic to hold all four Grand Slam titles at the same time would be "super-impressive", believes that it is nevertheless an easier feat to achieve these days, because there is less difference in the speeds of the different court surfaces. He pointed out that both he and Nadal had gone close to winning four Grand Slam titles in a row.
"Back in the day you had really fast grass courts to extremely slow clay courts," Federer said. "The difference was just so extreme that it was hard to do what Borg did, winning the French Open and Wimbledon back-to-back. The game was so different. You really had to serve-and-volley on grass. Today you can win Wimbledon without playing serve-and-volley once."
Federer believes that the narrowing of the differences in the court speeds was a key factor in his beating Pete Sampras' record of 14 Grand Slam singles titles, which was subsequently passed by both Nadal and Djokovic.
"Back in the 1970s I don't think players were playing for records," he added. "Maybe now players are playing for records. Naturally it's going to depend also on how much they care about that record. If they care about it, they'll play for longer."
Look ahead to the rest of 2019 with our guides to every tournament on the ATP Tour and the WTA Tour. If you can't visit the tournaments you love then do the next best thing and read our guide on how to watch all the ATP Tour matches on television in 2019. To read more amazing articles like this you can explore Tennishead magazine here or you can subscribe for free to our email newsletter here