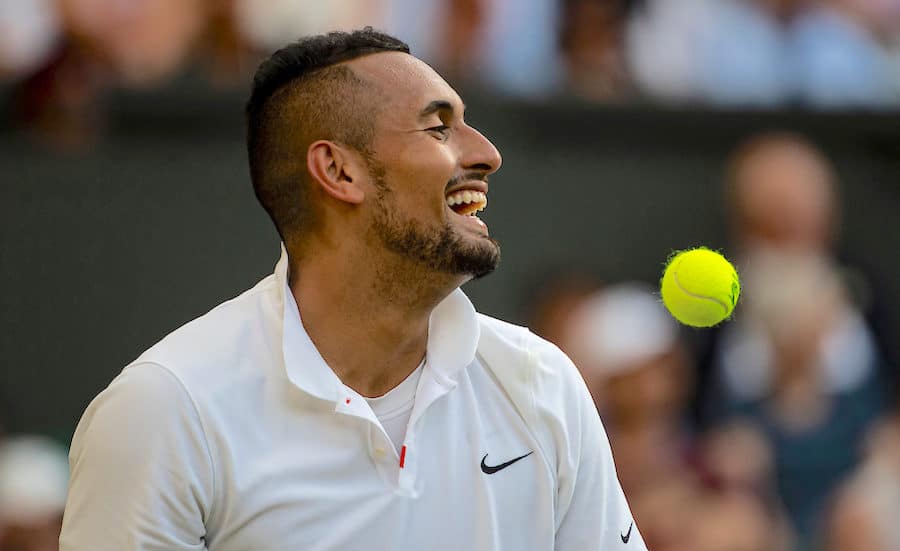 Nick Kyrgios stirs growing Novak Djokovic feud with hilarious gesture
Nick Kyrgios was in typical controversial mood as he used a Novak Djokovic fan to stir up the squabble between the two players
Nick Kyrgios has never been one to let a war of words get the better of him and never was this more in evidence than in Washington this week when he was asked by a fan to sign his shirt. It just so happened that the fan was wearing a 'Novak' t-shirt.
As you can see in the video posted on social media below, Kyrgios decided to sign his own name across the word 'Novak' on the shirt and then proceeded to draw a big black cross on the shirt. At the same time, Kyrgios can be heard saying, "That's what I think of you and your shirt" after he's drawn the cross.
Looks like @NickKyrgios is having fun with the fans in Atlanta… ? pic.twitter.com/PjtoDLHwWq

— Philip Fama (@tweener_head) July 25, 2019
Kyrgios has been commenting on Djokovic's perceived need to be loved by the fans for some time. In his recent 'No Challenges Remaining' podcast episode he said,
"I just feel like he has a sick obsession with wanting to be liked. He just wants to be like Roger. For me personally — I don't care right now, I've come this far — I feel like he just wants to be liked so much that I just can't stand him. This whole celebration thing [the 'boob-throwing' celebration] that he does after matches, it's like so cringe-worthy. It's very cringeworthy.
"He's an unbelievable player, he's a champion of the sport; one of the greatest we'll ever see. He probably will, honestly, I reckon he will get the Grand Slam count, I reckon he will overpass Federer.
"We're talking about a guy who pulled out of the Australian Open one year because it was too hot. No matter how many Grand Slams he wins, he will never be the greatest for me.
"Simply because, I've played him twice and like, I'm sorry, but if you can't beat me, you're not the greatest of all time. Because if you like look at my day-to-day routine and how much I train and how much I put in, it's zero compared to him."
But Djokovic has made subtle hints lately that he's getting tired of the barbs sent his way by Kyrgios. He 'Liked' a post on Instagram talking about Kyrgios and his potential not being fulfilled because of his perceived mental frailty.
Nick Kyrgios has announced he will be playing doubles at the Citi Open in Washington next week with Stefanos Tsitsipas, another player he's been sparring with on social media.
Look ahead to the rest of 2019 with our guides to every tournament on the ATP Tour and the WTA Tour. If you can't visit the tournaments you love then do the next best thing and read our guide on how to watch all the ATP Tour matches on television in 2019. To read more amazing articles like this you can explore Tennishead magazine here or you can subscribe for free to our email newsletter here