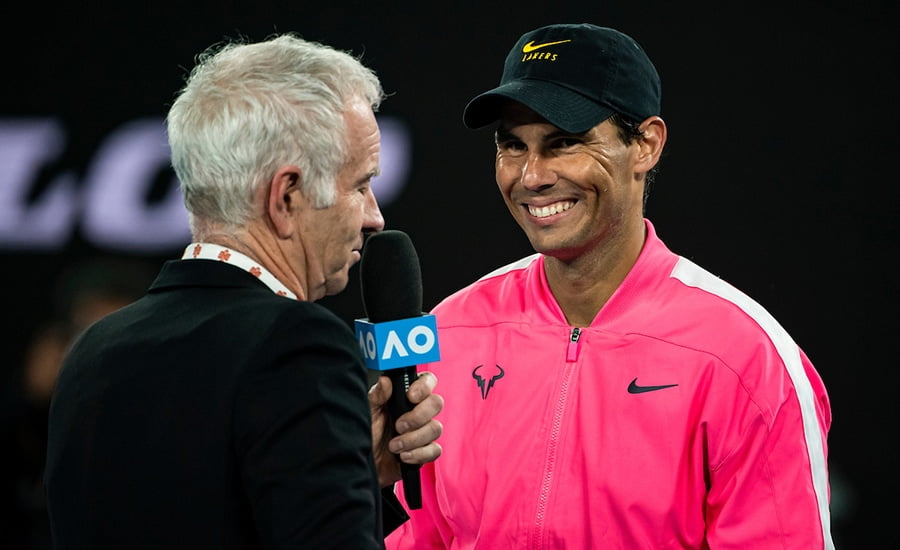 'Nick kyrgios is one of the brightest talents on tour,' says Rafael Nadal following Australian Open scare
Rafael Nadal has described Nick Kyrgios as 'one of the highest talents we have' after the pair played out an absorbing contest at the Australian Open.
Kyrgios came up just too short, losing in four sets, but he certainly gave Nadal a bloody nose in Melbourne.
There has been significant animosity between the two in the past, but it appears there is something of a truce borne of a fresh layer of mutual respect between the two now.
"When he's playing like today with this positive attitude, he gives a lot of positive things to our sport," Nadal said after his fourth-round win.
"So I encourage him to keep working like this because he is one of highest talents that we have on our tour.
"I like the Nick Kyrgios during the whole of this tournament."
On the match itself, Nadal said he was happy to get through what was undoubtedly a tough match.
"It was a very tough match. It seemed in the beginning I had a little bit of control but against Nick you never have control."
Nadal had one worrying moment when he dropped serve when 5-4 in the fourth, meaning he needed a tiebreak to get over the line.
"That's part of the sport," Nadal added.
"Accept that and then I tried to recover mentally and find the level of my tennis."
Rafael Nadal will now face a quarter-final against the in-form Dominic Thiem.
Keep up to date with all the action at our tennis news section. Win amazing tennis prizes by entering our competitions. Learn more about your favourite players including Roger Federer, Rafa Nadal and Novak Djokovic. Check out the latest kit in our tennis gear reviews. Receive regular updates with our legendary newsletter or read in depth features with stunning photography in tennishead magazine. Can't visit the tournaments you love? Check out our guide on how to watch tennis on TV. Don't miss a thing with our Live Scores service. Follow tennishead on social media at Facebook, Twitter, Instagram & YouTube