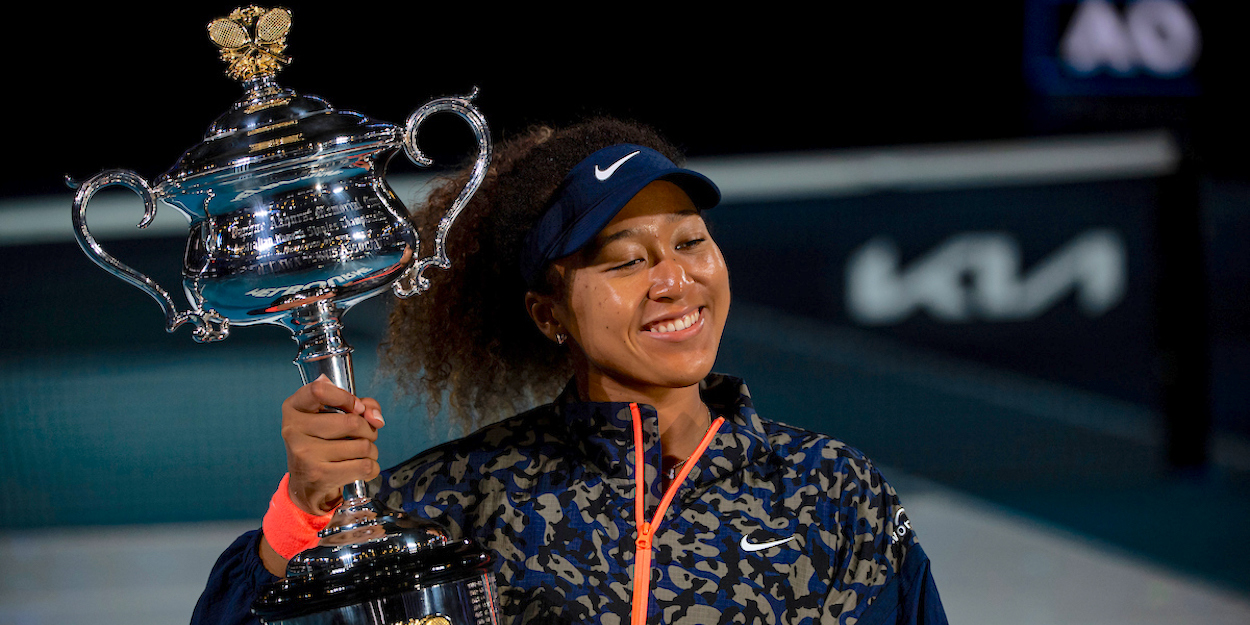 Naomi Osaka: Now for Paris and Wimbledon
Among current women players, only the Williams sisters have won more Grand Slam singles titles than Naomi Osaka. Although the 23-year-old Japanese has yet to reach the second week at either Roland Garros or the All England Club, few doubt that she will eventually conquer both clay and grass.
A dozen or so years ago, when Naomi Osaka was still a Florida schoolgirl rather than a four-time major winner, Wim Fissette got his first big break coaching his fellow Belgian, Kim Clijsters. Despite her European roots and the fact that her first appearance in a Grand Slam final had been at Roland Garros, Clijsters was not particularly prolific on clay. Part of what Fissette saw then informs his work now as Osaka's coach.
With Clijsters, Fissette noticed that as soon as she started to miss a few balls on clay, regardless of how well she had been playing, she would question her tactics. "She would doubt her game plan," he said. "She would think: 'Oh, maybe I should have gone bigger on this ball, maybe I should have been more patient on that ball.' I think when you don't have a lot of experience of success on those surfaces, it's easy to start doubting.
"So if Naomi plays on a hard court and she goes for a forehand winner and misses, she will say: 'OK, next time I will make it.' But maybe on those [other] surfaces she will think: 'Oh, maybe I should have hit with a little more margin, maybe I should have done this.' So for me, we have to use opportunities to play a lot of matches, hopefully be successful, but otherwise also learn from those losses eventually. Then I'm sure she will be successful on both surfaces. Maybe this year, but if not this year, probably next year. But I don't see any restrictions of her playing well on those surfaces.''
---
All seven of Osaka's career titles have been won on hard courts, yet she has never reached a final nor defeated a top 20 player on clay or grass
---
Naomi Osaka, who has won four of the last six Grand Slam tournaments played on hard courts, said after adding a second Australian Open victory last month to her US pair that her priority for the rest of 2021 – in whatever form Covid-19 permits the circuit to continue – is to become more comfortable on clay and grass. Her hard-court prowess is not in doubt given that she has spent most of her life competing on little else.
All seven of Osaka's career titles have been won on hard courts, yet she has never reached a final nor defeated a top 20 player on clay or grass. She thinks she does not play badly on continental red dirt, but has just not had the success others have expected. Her best string of results on clay was her most recent, in 2019, when she reached the semi-finals in Stuttgart and the quarter-finals in Madrid and Rome and won two matches at Roland Garros before losing to Katerina Siniakova in straight sets.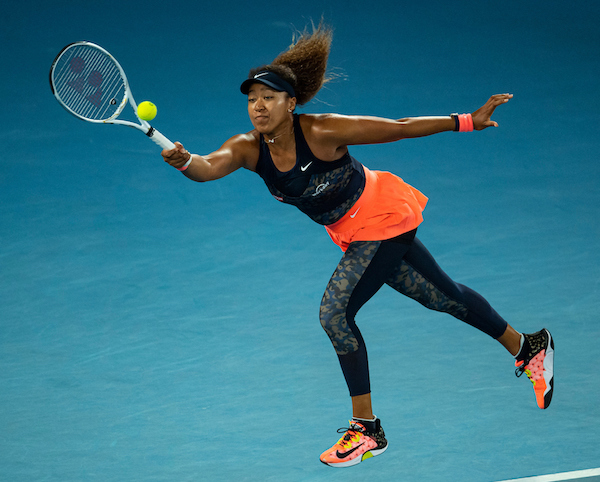 Expanding her all-surface proficiency fits with the 23-year-old's oft-stated desire to become more consistent throughout the season, rather than "just randomly popping up and winning a Grand Slam". With the sure footing beneath her Nikes and the reliable bounce feeding into her strike zone, Osaka's combined Melbourne Park/Flushing Meadows record is 43 wins and just seven defeats; at Roland Garros/Wimbledon she has won 10 matches and lost seven, with no visit lasting more than three rounds.
Not yet.
Naomi Osaka agrees that with more exposure to her two least familiar surfaces, there is no reason why the results should not come. So which one will be first? "Hopefully clay because it's the one that's sooner,'' she said. "I didn't play juniors, so I didn't grow up playing on grass at all. So I honestly think I'd have better luck on clay, because I think last year I didn't play bad at all. It's just something that I have to get more used to.''
In the meantime Osaka is going from strength to strength. Her 6-4 6-3 defeat of Jennifer Brady in the final of Australia's Quarantine Open was more functional than flashy, yet served both to underline her status as the dominant current force in the women's game – whatever the pandemic-perverted rankings may say – and trigger a discussion about just what she is capable of elsewhere. Having increasingly become the face  and voice of the Women's Tennis Association, its most marketable and highly-paid figure is building a Grand Slam record to match her status. Among active players, only the Williams sisters have won more.
Mats Wilander, who won seven Grand Slam titles, thinks that Osaka will end up with at least 10, with the most potential for improvement on her volleys and sliced backhand. "I think the only question mark on her now is can she get comfortable on clay and can she get comfortable on grass at Wimbledon, because then there is four majors she should be able to win," the Eurosport analyst said. "But at the moment she is the best hard-court player we have had in the women's game since Serena Williams was at her best.''
---
"I think the only question mark on her now is can she get comfortable on clay and can she get comfortable on grass"
---
The caveat is that, as the former player-turned commentator Pam Shriver posted on social media, all-time greats need to win majors on more than one surface. It is notable, however, how few former players say it is a matter of "if" Osaka wins on other surfaces. The assumption is clearly ''when".
Jim Courier, who won four Grand Slam titles and commentated at the Australian Open for Channel Nine, said: "She's got a lot of runway in front of her. Surely she's going to win some Wimbledons; her game should be really good for the grass. The clay is something that I think eventually she can win. It's feels like she'll have that career Grand Slam at some point.''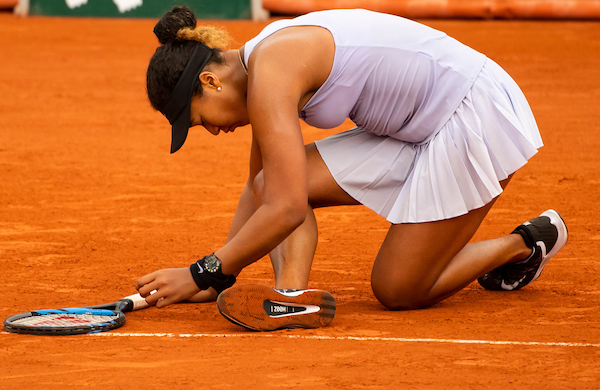 Alicia Molik, a former world No 8, agreed. "She'll be looking to peak for the other Slams, and because she is one of the best servers in the world I do believe she can have success on every single other surface if she's able to treat it just like … the Australian Open, like a hard surface,'' Molik said.
Brady, the runner-up in Melbourne, noted the increasing homogeneity of playing conditions, which might also assist Osaka. "Wimbledon is playing more like a hard court, maybe even slower, Roland Garros is playing pretty good, faster," Brady said. "Obviously her serve is going to be tough to return on grass.''
Naomi Osaka had already enjoyed four full seasons as a top 100 player before the coronavirus pandemic disrupted last year's calendar and Fissette believes she has both the time and the game to grow on grass and clay. Grass may be the more challenging, however, as Osaka has admitted that she fears slipping or falling on the surface and has had to be reassured that would be no great calamity. It is, perhaps, as Fissette suggests, that her lack of junior experience means that no other top-20 woman would have spent less time on the green stuff so far. Since 2014, when Osaka turned pro, she has played only 32 matches on grass (and 59 on clay).
Yet Naomi Osaka is also proving herself to be a quick learner. During her extended preparation for last year's US Open, she practised not only on hard courts but also a little on clay, despite later electing to skip the French Open for health reasons. Fissette noted both how naturally she moved and her physical strength and comfort when sliding (a signature Clijsters move, of course), which suggests the physical side would be less problematic than those related to strategy or confidence.
"Honestly, for grass, I can definitely say it's an issue of experience, because I don't really feel comfortable on the surface, but I think every year that goes more, I learn more, I talk to more people,'' Osaka told the WTA Insider Podcast. "There are some people that can tell how the ball's going to bounce by the height of the blade. I don't even understand what that means, but I guess they're that experienced. So hopefully I'll get there one day.''
There are zero questions about Osaka's big-match temperament, however. In the open era, she joined Roger Federer and Monica Seles as the only players to have won their first four major finals. She credits her big-match temperament to the aforementioned lack of junior competition and the desire to shine whenever she was playing and someone was watching. It was always more fun that way – and still is.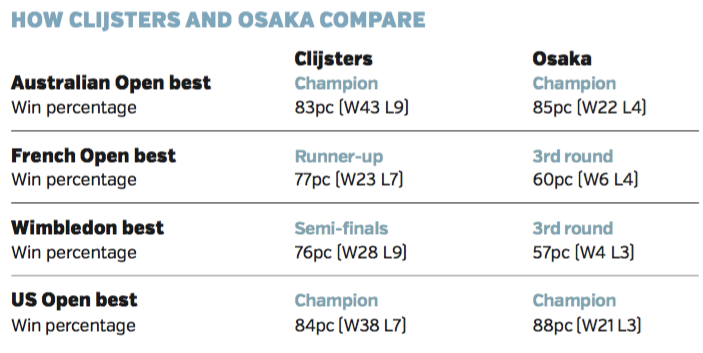 John McEnroe applauds a young woman "growing into herself… becoming the person that she didn't even know she could be. That's a great thing. I believe that will help her tennis, too.'' His fellow ESPN analyst, Chris Evert, sees a player with the tools to dominate, including a nuclear serve to rival Serena Williams' and a forehand powered by exceptional racket head speed.
"She still has so much room to improve,'' Evert said. "She can learn to be softer with her hands. She can learn how to volley. But, boy, she has that power quotient in her favour. I think she's the player in the future to look out for.'' And, increasingly, the present.
Interesting to reflect, then, how Clijsters compares. The Belgian mum-of-three had won four singles Grand Slam titles before her latest comeback: two Australian and two US, so all of them on hard courts. In a different era, and now with a coach in common, the suspicion is that a younger Naomi Osaka will have conquered a full repertoire of surfaces by the time her blossoming career is done.