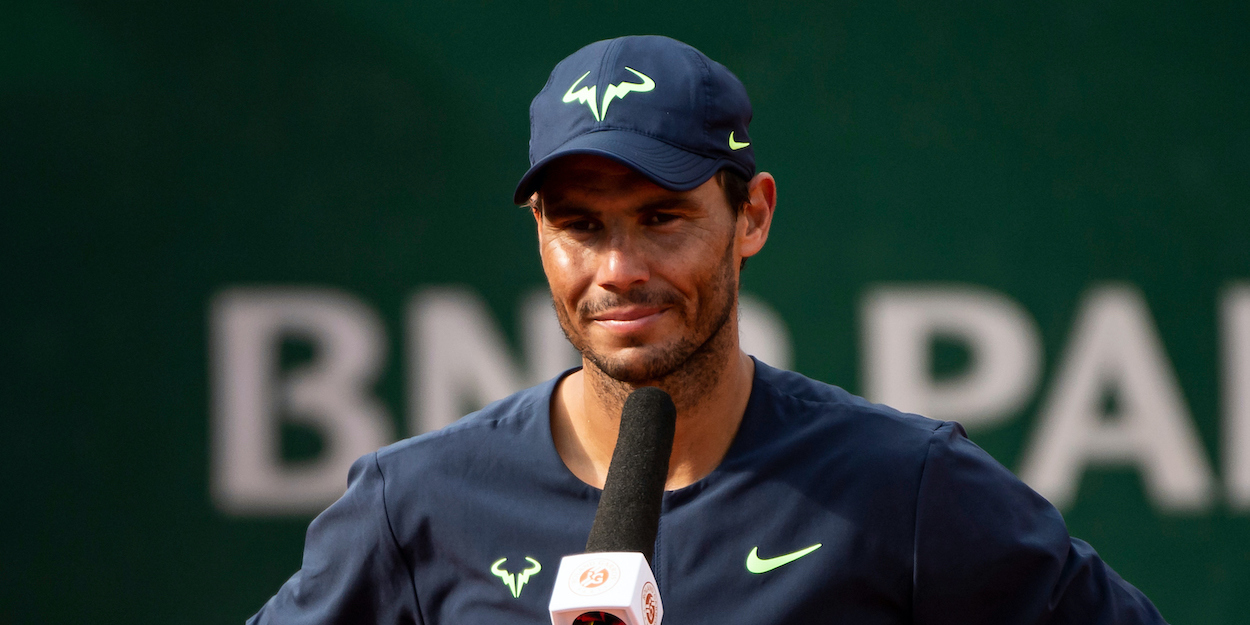 Nadal pulls out of Roland Garros
And the news was not good. Wearing a large blue strapping on his left wrist Nadal said: "Well, just, hello. I'm here to announce that I have to retire from the tournament because I have a problem in my wrist that I have had a couple of weeks."
Nadal started the tournament knowing that his left wrist was not in great shape. It is an injury to the sheath of the tendon, which has become inflamed and is getting worse. He first felt pain during his quarter-final win over Joao Sousa at the Madrid Open earlier this month.
"I felt something against Sousa in Madrid," said Nadal. "Next day in Madrid against Andy [Murray] I played with mesotherapy [an analgesic anti-inflammatory injection] to [numb] a little bit the place and to have less pain and it worked because I could play."
After his semi-final defeat to Murray, Nadal then went to Barcelona for MRI scans before heading to Rome, where he played, taking only anti-inflammatories for the pain. When asked if he thought he would have to have surgery he said not, but that perhaps if he played more then he would.
"The reason I pulled out today is just that I can't play the forehand," said Nadal. "Angel [Nadal's doctor] says he cannot inject anaesthetics into my wrist for five more games. He says it's impossible. I needed five more matches [to win a 10th title at Roland Garros]. But if my wrist cannot withstand five more matches, I simply cannot play."
Today is probably one of the toughest press conferences in my career", he added. "Taking the decision to withdraw, to retire from a competition which is the most important in my career, to reach that decision you can imagine how tough it was. I will not play before I have recovered entirely. It is a very tough moment because you wait for these two weeks for the whole year, and to have to retire today is very bad news for me."
He managed a philosophical moment: "The only thing that I can say is bad luck and that's part of our life. At the same time, for nine times in my career I have been able to be healthy here and to win this tournament. Now is a tough moment, but is not the end," he said.
With neither Roger Federer nor Rafael Nadal now in the French Open, only the second time in 16 years that neither have been in the third round of a Grand Slam, tournament director Guy Forget admitted the news was unfortunate.
"As much as he wanted to go on court, and I know he wanted to try tomorrow his doctor just told him, don't do it," said Forget. "Rafa is a very passionate man. He plays with passion. That's why people love him all around the world. You know, so it is a painful decision for him to withdraw. You know, my thoughts go to him, and I hope he is going to recover really quickly, because I think the game needs him."
Forget, who only a few days ago found himself talking about the weather, was now commenting on a big blow for the tournament.
"I think you all know we are very close with Rafa. We love him dearly. He is one of our biggest champions ever. He certainly is the biggest one here at the French Open. The fact he's pulling out is very painful. He was willing to play tomorrow. He didn't want to make this announcement, but the people around him, his physicians, told him not to play, because the risk was that the tendon could break. It would take forever to come back.
"I think he made the right decision. We hope he's going to recover quickly. We hope he will be ready for Wimbledon, although it will be difficult. This is a race against time. You notice he was wearing something against his arm, and he will be receiving medical care as early as today. He's now in a phase of recovery."
Whether Rafa will be able to compete at Wimbledon remains to be seen.
"We're gonna work hard to be ready for Wimbledon," Nadal said. "For the moment I need a couple of weeks of rest. Then we're going do the treatment, and we hope the treatment works well. We expect to recover quick, and to be ready for Wimbledon. But it's not the moment to talk about that. It's just a moment to go day by day, to work hard. I hope to have a fast recovery."