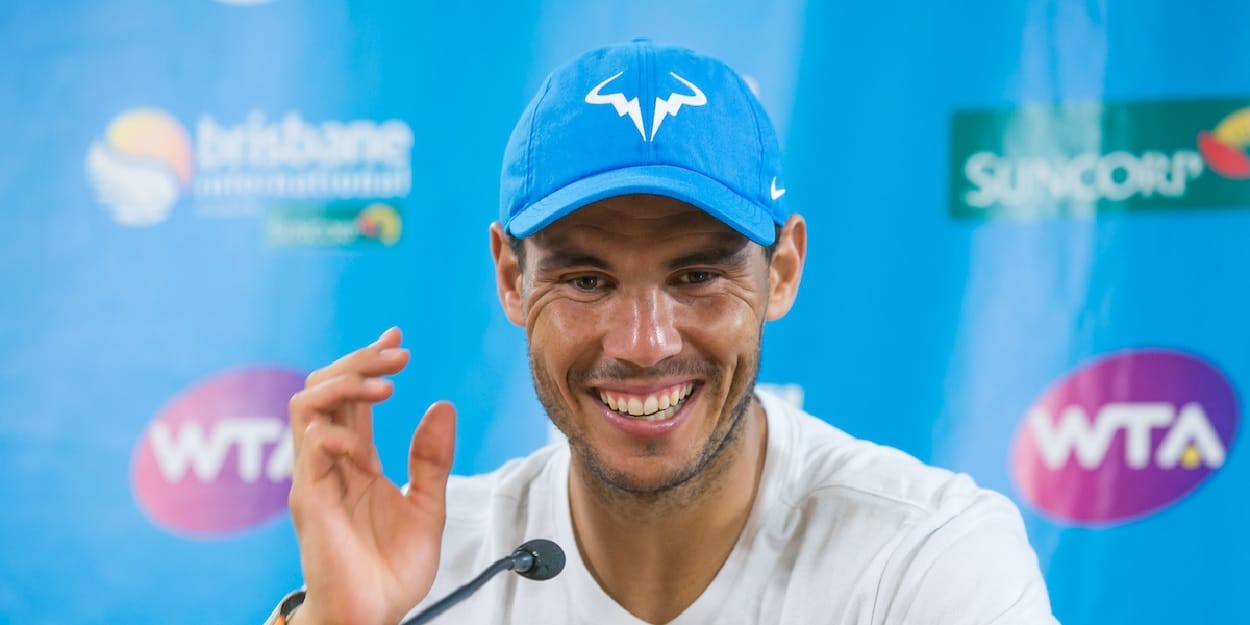 Nadal discusses life, tennis and technology with Federer and Murray
Rafael Nadal is the latest tennis star to take to Instagram Live during quarantine, where, after one or two teething problems, he was joined by fellow former world no. 1s, Roger Federer and Andy Murray.
The 19-time Grand Slam champion Nadal began his first ever stream by referencing the COVID-19 situation, reassuring fans that, "I am doing ok, can't complain," but then quickly moved on stating that this was, "not a moment to be sad," and that he intended to provide some entertainment and relief for those watching all around the world.
As part of a Q&A session, one fan asked Rafa how he stays motivated having already achieved so much. The Spaniard responded by saying, "I love what I am doing […] I want to keep doing the things that I like," so it does not appear that the soon-to-be 34-year old has retirement in his sights just yet.
Whilst he may not show his age on the court, Nadal betrayed himself by next spending a good few minutes attempting to add his long-time rival and friend, Roger Federer, to the conversation. This was much to Andy Murray's amusement who commented below that, "This is brilliant… he can win 52 French Opens but not work Instagram."
**Sorry to interrupt but we wanted to inform you that the latest 164 page, print issue of tennishead magazine is now FREE for everyone to order (It normally costs $25/£12). There is a small shipping cost but we'll deliver anywhere in the world. Or you can order a copy for yourself and a free copy for a friend.**
When he finally did get Roger on screen, the pair exchanged niceties before discussing various things ranging from their families, their starts in tennis and how they both played a lot of football at a young age, and how their practice has been going during this unforeseen downtime. Nadal claimed to have done very little and joked, "I hope to remember something when I come back!" Federer then commented on his knee surgery, saying, "I just want the knee to be good. It doesn't matter when I return."
Roger then asked his ofttimes nemesis about being a lefty. Nadal is right-handed day-to-day life but revealed that when he started out, he played both his forehand and backhand double-handed and his left-handed play developed outwards from there.
After a few more technical difficulties, Nadal was next joined by Andy Murray. They discussed their upcoming participation in the Madrid Open's virtual tournament, which kicks off on Monday. Nadal joked that he had been practicing non-stop before admitting that he had in fact only played one match so far. Murray, who is not featured in the game, said that he had been practicing using the Nadal model, but was dismayed to discover that the programmers seem to have given the strikingly resilient Spaniard a notably low level of in-game endurance.
Before signing off Nadal laughingly said, "Next time I'm going to be more ready!" With the ATP and WTA coming together for the weekly Tennis United web series, and other top players such as Djokovic and Wawrinka streaming similar chat sessions through Instagram Live, fans look set to get plenty more opportunities to see a glimpse into the off-court lives of the game's top stars.