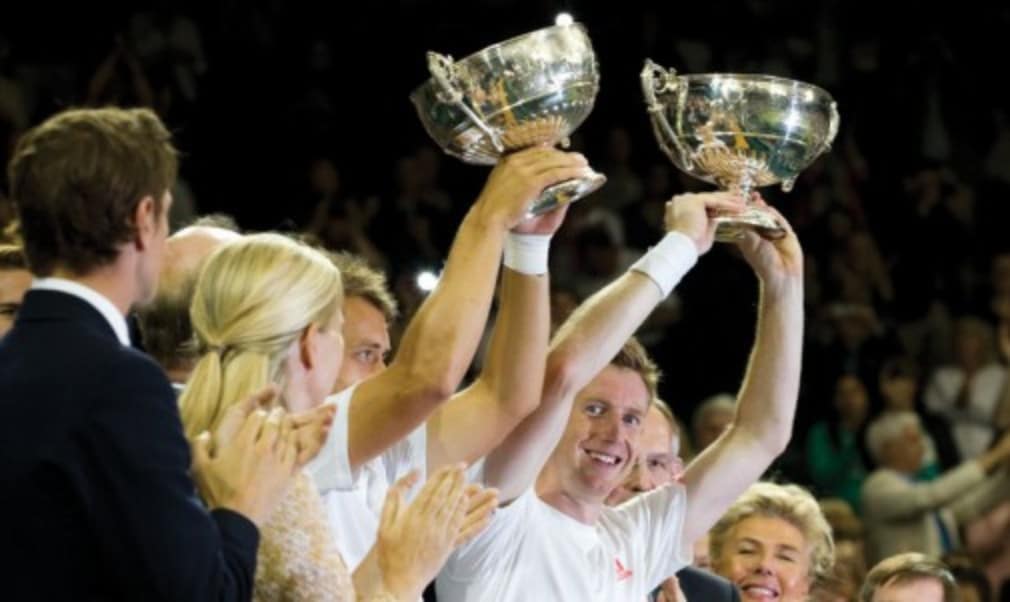 My Wimbledon: Jonathan Marray
Originally published on 30/06/14
My earliest Wimbledon memories are watching it on the telly, coming home from school and watching. I liked Boris Becker – I remember he lost to Pete Sampras one year and I was really disappointed about that. Watching Wimbledon was what got me into tennis in the first place, and I went down to my local club and as I started playing I got more and more into Wimbledon every year.
I came down for the first time when I was teenager and queued up overnight. I remember my brother was a bit older than me so him and his mate went up to the village for a beer and I had to save our spot in the queue. I came down with my brother and my sister another year and by the time we got into the grounds I was so tired from queuing overnight that I was falling asleep during the matches!
I remember getting a ticket on the old No.1 Court to see Goran Ivanisevic – he was a big favourite. I think I also saw Jeremy Bates once or twice when he went on a good run to the fourth round. Andre Agassi was another big favourite of mine, but I never got to watch him in the flesh.
Playing at Wimbledon was my goal when I first started playing tennis and I achieved that in 2002 when I played doubles with Dave Sherwood. We played out on Court 4 and lost in straight sets. I was pretty nervous – I remember I was serving first and hit two double faults for the first two points of the match! We ended up winning the game but we lost pretty convincingly in straight sets – I think I was too nervous to really enjoy the actual experience of playing. But I've played a few times now and it's always great to come back and play here.
I'll never get fed up of talking about winning the men's doubles title with Freddie Nielsen in 2012. I'd only dreamed of winning a Wimbledon title – we were wildcards and we'd only played one or two matches together before – it was a proper fairytale. Going into the semi-finals against the top seeds Bob and Mike Bryan I was feeling pretty confident, but obviously I wasn't thinking ahead because every match is a tough one. I had played the Bryans at Wimbledon once before with Richard Bloomfield and I had a bit of a shoulder injury so I didn't go in very confident to that match but we'd had some wins and were playing well and we had nothing to lose. Freddie and I were kind of unknown and being in the semi-finals was massive for us and there wasn't a huge amount of pressure – when you come up against the Bryans you're not expected to win. We played well, served well and I remember we went 5-0 up in the fourth set tiebreak but they got it back to 5-4 and then Freddie played a great point to get us to match point. We were playing on Court 12 – I remember there was no HawkEye and they were getting annoyed with a few calls.
The final was amazing – the chance to play on Centre Court for the first time. It was a bit surreal walking out onto Centre. I kept thinking, 'is this really me? Am I really walking out on Centre Court to play a final at Wimbledon?' Even though we hadn't played together I'd known Freddie for years and years, since we were both 18. He has been a friend throughout the way so it was nice to do it with him – it was an amazing feeling.
We're still really good friends. Our paths don't cross that much throughout the year but we'll send a text and keep up to date, how things are going. We're both Liverpool fans so we've got that in common too. He's playing singles so we're not really meeting up at many of the same tournaments – just the Slams.
My trophy is generally in the club in Sheffield where I train because they've got Nick Matthew the squash player so he's got all his trophies there too – he's got a lot! My brother coaches there too, so rather than being in a box at home they've got it in a nice display cabinet there. But I brought it down with me this year because my aunt is a teacher and she has been asking me for two years to come into her school and talk to the kids.