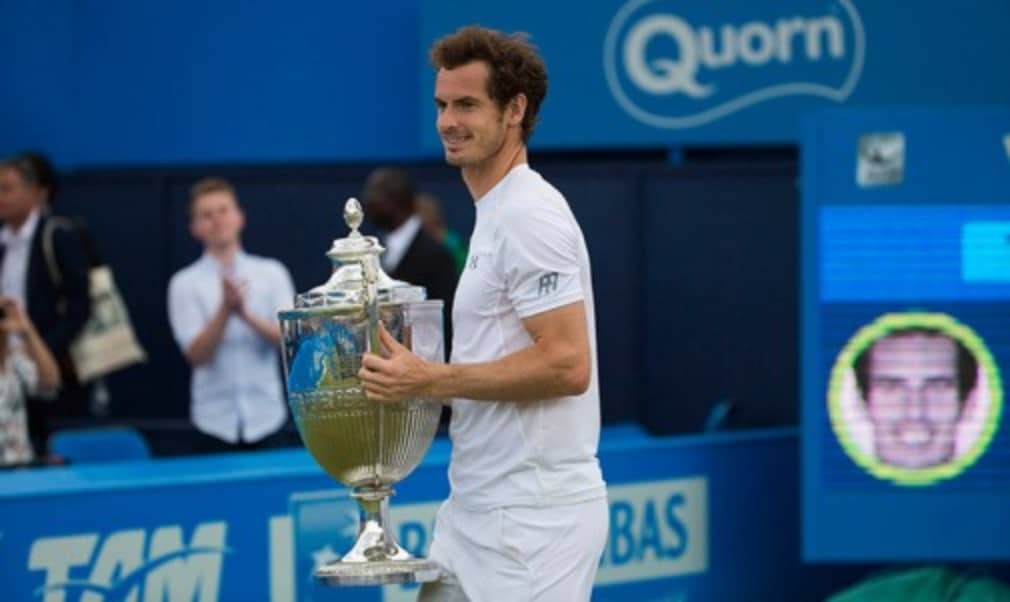 Murray wins fourth Queen's crown
Originally published on 21/06/15
The world No.3 produced a masterful display of grass court tennis to become only the fifth player in the Open era to win four titles at the prestigious grass court event, joining John McEnroe, Boris Becker, Lleyton Hewitt and Andy Roddick.
Murray, who had to complete his semi-final against Viktor Troicki earlier in the day after rain disrupted play on Saturday, returned to court to complete an impressive straight-sets victory in an hour and four minutes.
The South African had saved match point in his first round match against four-time champion Hewitt on Monday and had upset No.2 seed Stan Wawrinka in the second round.
The South African had served 96 aces in his first four matches, and took his total to 106 with another 10 in the final, but a combination of superb defence and some creative shot making saw the Scot outplay Anderson on Centre Court. Anderson dropped just five points on serve in the opening set, but crucially for Murray four of those points came in the fourth game as the Scot got his racket on a 141mph first serve before Anderson dumped his smash into the net as the top seed broke for a 3-1 lead.
Murray had won four of their previous five encounters, including a straight-sets victory at Wimbledon last year, and it was a commanding performance from the home favourite, who thrilled the crowd with a stunning lob-dropshot combination to break for a 3-2 lead in the second set and put himself firmly on course for victory.
"That was a very good performance, both the matches today were good performances," said Murray, who beat Troicki 6-3 7-6(4) earlier in the day. "I played a little bit better as the week went on so it's been a great week for me and hopefully I will continue that form through to Wimbledon."
After winning his 34th career title, Murray will now turn his attentions to the Championships, where he will attempt to repeat his efforts of 2013, when he won at Queen's before going on to become the first British Wimbledon men's singles champion since 1936.
"I'm playing better than [in 2013] I feel that it's extremely difficult to win these events and everyone is improving all of the time," he said. "When you're playing against some of the greatest players that have ever played you need to keep working hard and trying to get better and I still feel that there's things I can improve and learn on and I'll just keep trying to do my best and hopefully play like that more often."