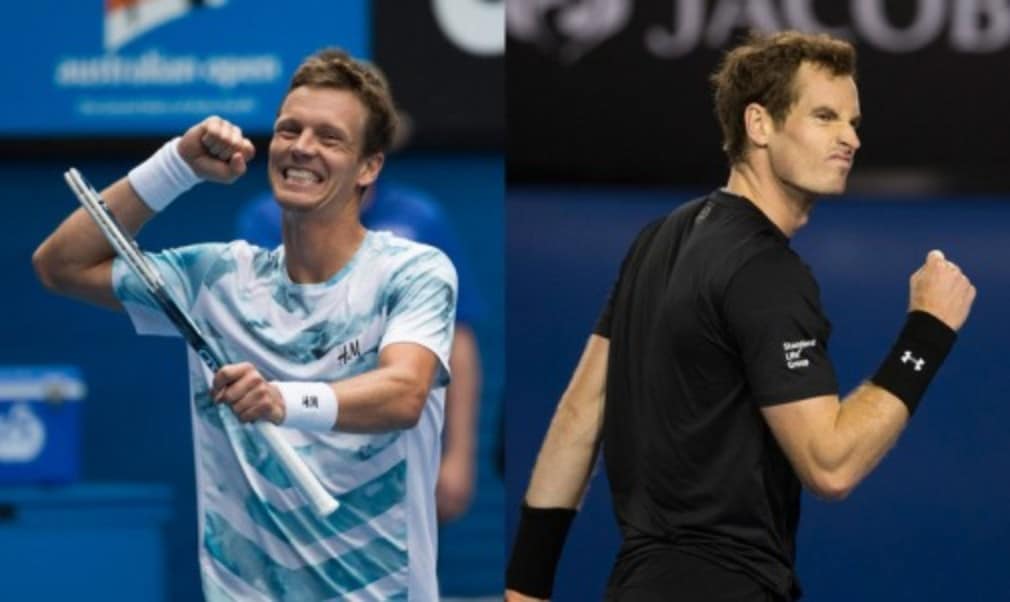 Murray focused on Berdych test
Originally published on 28/01/15
Murray and Dani Vallverdu have been friends since they met at the Sanchez-Casal academy in Barcelona as teenagers, and after initially traveling with Murray as hitting partner, the Venezuelan was employed by the Scot as a coach.
Vallverdu started working with Berdych after leaving Murray's team at the end of last season, and the Czech gave the 28-year-old credit for helping him finally snap a 17-match losing streak against Rafael Nadal in the quarter-finals.
While Berdych admits "it might be an advantage" to have the inside knowledge of Vallverdu as he prepares to take on Murray on Thursday night, Murray says it is unlikely to have any impact on the outcome of the match.
"Watching is one thing and seeing someone's game, but when you actually get on the court with them things are actually a lot different," said Murray. "It seems like you might be able to attack certain areas of someone's game or something that they do might look really good, but what matters is when you're on the court can you exploit those things, that weakness. That weakness, is it as weak as you think?
"It's completely different when you're out there on the court, in my opinion. I also know what Dani thinks of Berdych's game because he's told me, so it works both ways."
It won't be the first time that Murray has come up against a familiar face in the opposition's box. While he comfortably beat Marcos Baghdatis four times in a row while the Cypriot was working with his former coach Miles Maclagan, he admits he is not sure how he will feel about seeing one of his best friends in Berdych's box.
"When I finished working with Miles MacLagan he started working with Baghdatis. I played against Baghdatis a few times. I played him at the Olympics. I played him in Tokyo with Miles there," he said.
"With Miles there I didn't really have an issue with it. But, I don't know, maybe I'll find it weird on the day. But it's just something that you deal with as a player. My goal isn't to beat Dani; my goal is to beat Berdych. So I don't think about that."
While Murray refused to speak about what he thought Vallverdu would offer Berdych by way of tactics, he acknowledged that the Czech was a dangerous opponent.
"He's a big guy," he said. "He strikes the ball very well. Yeah, he serves well. Yeah, he's fairly calm on the court. I think he manages emotions fairly well. He's obviously played extremely well this tournament so far. Just by looking at the results, he's had some good wins and played well in Doha. He'll be coming into the match with confidence."
Order of Play: Thursday 29th JanuaryŠ—å
Rod Laver ArenaŠ—å
11am
J Rojer (NED) & H Tecau (ROU) [6] v S Bolelli (ITA) & F Fognini (ITA)
NB 1:30pm
Ekaterina Makarova (RUS)[10] v Maria Sharapova (RUS)[2]
Serena Williams (USA)[1] v Madison Keys (USA)
7:30pm
Tomas Berdych (CZE)[7] v Andy Murray (GBR)[6]
H Leconte (FRA) & M Philippoussis (AUS) v J Bjorkman (SWE) & P Cash (AUS)