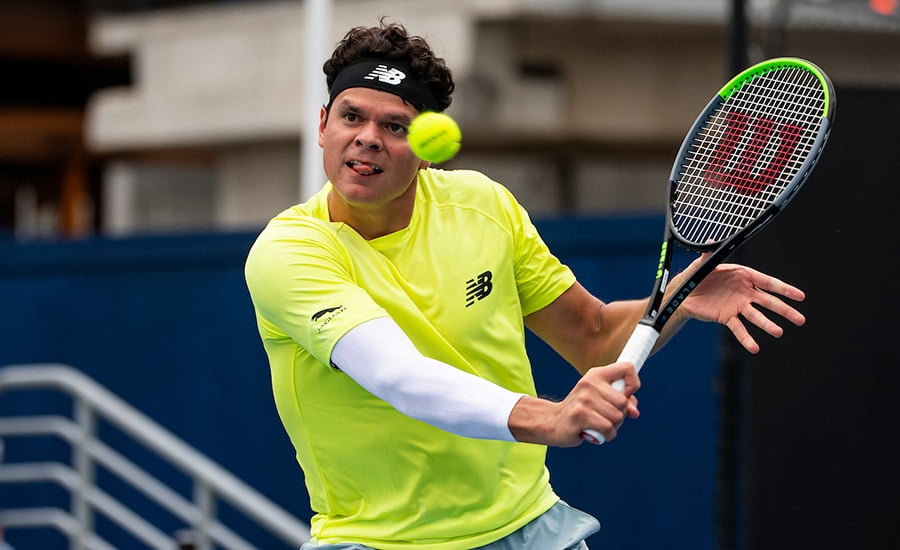 Milos Raonic hopeful injury problems are behind him after easing into Australian Open second round
Milos Raonic is hopeful his injury troubles are behind him after he made a strong start to his Australian Open campaign.
Raonic has been as high as number three in the word in his career, but he has suffered a series of injuries that have severely hampered his progress.
That includes a variety of injuries that kept him out for large portions of the 2019 season, but he impressed at the Australian Open, winning his rain-delayed opener 6-2, 6-1, 6-3 against Lorenzo Giustino.
"I was able to train for about six, seven weeks straight without any hindrances, no setbacks," said Raonic when asked by reporters if he was fir again after injury.
"I was thankful for that. I came out and I was able to play in Doha and train before Doha, train here without anything. It's been fortunate so far."
Raonic was just a single game away from winning his match on Monday before the rain intervened, but he was happy to be able to get the job completed on Tuesday without any fuss.
"To start off in that way," he added, "especially not having played a lot of matches.
"To play a pretty clean match and obviously to come back today and be efficient, all of those things are positive, something I can build off of."
Milos Raonic will play either Cristian Garin of Chile or Stefano Travaglia of Italy in round two.
Keep up to date with all the action at our tennis news section. Win amazing tennis prizes by entering our competitions. Learn more about your favourite players including Roger Federer, Rafa Nadal and Novak Djokovic. Check out the latest kit in our tennis gear reviews. Receive regular updates with our legendary newsletter or read in depth features with stunning photography in tennishead magazine. Can't visit the tournaments you love? Check out our guide on how to watch tennis on TV. Don't miss a thing with our Live Scores service. Follow tennishead on social media at Facebook, Twitter, Instagram & YouTube