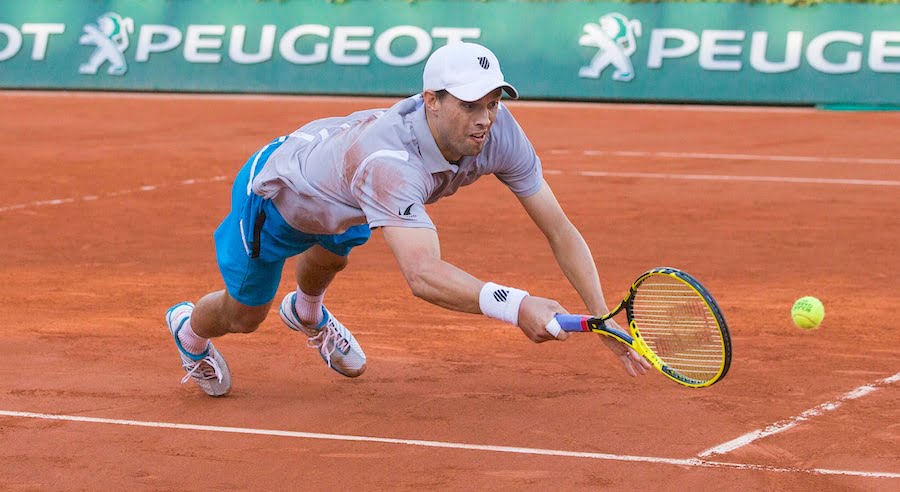 Mike Bryan at 40, exclusive interview: "The scar is huge"
Mike Bryan became a serial champion with his brother Bob, but had to find a new partner this summer because of his twin's hip injury. The outcome? In Bob's absence, 40-year-old Mike broke the record for Grand Slam men's doubles titles and became the oldest world No 1 in history so we sent Tennishead Editor Paul Newman to interview him
Never mind this being the age of the thirty-somethings. After what Mike Bryan has achieved perhaps we should be looking forward to a time when it will be the forty-somethings who will be dominating the sport's major prizes. Amidst all the focus this summer on the likes of Novak Djokovic, Rafael Nadal, Serena Williams and Angelique Kerber, it was 40-year-old Bryan who struck what was arguably an even greater blow for the older generations.
Four years after winning his last Grand Slam title, Bryan won both Wimbledon and the US Open to become the first player in history to win 18 Grand Slam men's doubles titles. Perhaps even more remarkably, titles 17 and 18 were won without his twin brother Bob, who has been out since May with a hip injury, although he hopes to return at the start of next year.
Between February 2001 and April 2018 Bob and Mike Bryan won 116 titles together. Bob has never won a men's doubles title without Mike, while Mike's only successes without his twin, until this summer, had been in two minor events in 2002.
After Bob's injury forced the Bryans to retire during the Madrid final in May it soon became clear that he would be facing a lengthy period on the sidelines. Mike was unsure whether he wanted to carry on playing with a different partner, but Bob encouraged him to do so.
"You never know if you're ever going to play Wimbledon again and it's a special feeling going back to the All England Club," he added. "I just decided to savour it and to appreciate the opportunity of playing there again, though I had no expectations."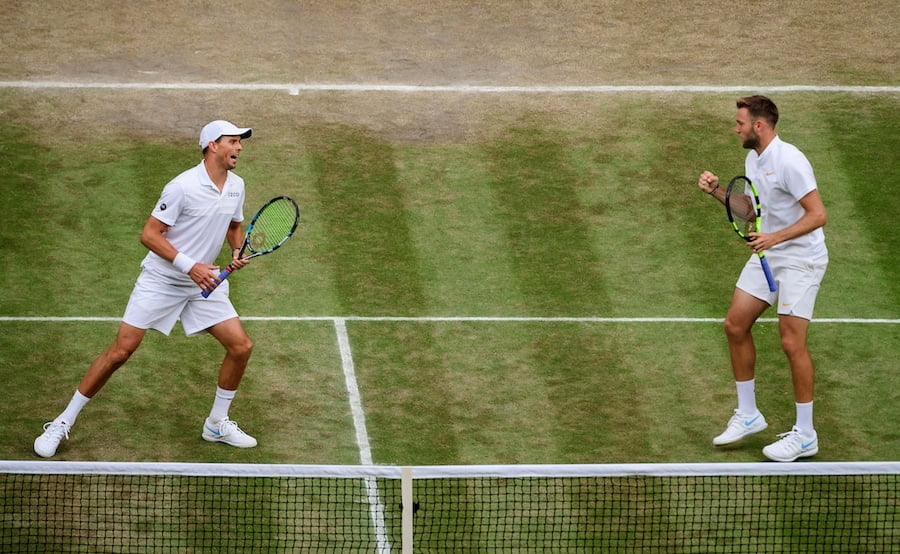 Mike teamed up with Jack Sock, his Davis Cup colleague, and the pair went on to enjoy a remarkable summer. The younger man's shot-making and his partner's consistency and doubles nous proved a formidable combination. At Wimbledon they won three five-set marathons, saved match points in the third round and were on court for more than 18 hours in their six matches before beating Raven Klaasen and Michael Venus in the final.
Bryan and Sock lost two of their three matches together in two tournaments in the build-up to the US Open, but hit the ground running at Flushing Meadows, where they dropped only one set before beating Lukasz Kubot and Marcelo Melo for the loss of just four games in the final.
 "I definitely miss Bob and I can't wait for him to come back, but Jack has been a good replacement," Mike told tennishead. "I've been lucky to play with Jack. He actually loves doubles. For a great singles player he actually gives it his all and he really wants to do well."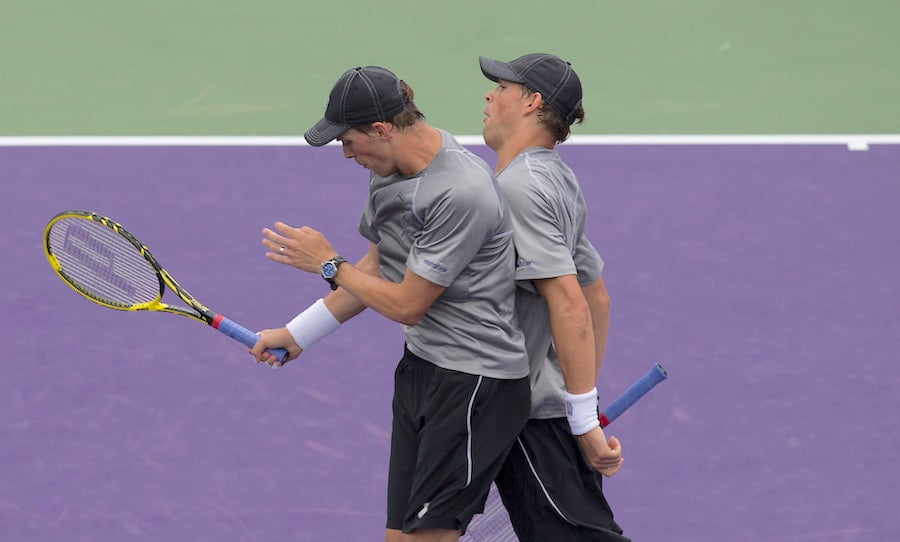 Has Mike ever shared a chest bump – the celebration which has long been the twins' trademark – with Sock? "I went to do it at Wimbledon, but Jack was like: 'That's your thing. I can't do it. That's too weird'."
Not having Bob around has been a very different experience for Mike. "Bob and I are always together," he said. "We're in the gym together and we go and practise together, whereas Jack and I just meet for a pre-match warm-up and then we go out there and play.
"There's not a ton of strategy when Jack and I play. We don't have a lot of drawn-up plays. He's just using his talent and I'm trying to be solid. That's made a good team because we complement each other. He's such a good athlete and he brings big weapons."
Although Bob has been in daily contact with his twin he has not been watching his matches because he gets too nervous. "He said he didn't watch a single point at Wimbledon," Mike said. "But I talk to him after the matches and he's supportive. He'll give me a scouting report on the next opponent. He's working behind the scenes and he's not jealous or bitter. We really support each other."
Bob had an operation in August but is hoping to be fit to return in time for the start of the 2019 season. "He was suffering from a bone spur," Mike said. "The scar is huge – 10 inches – but they didn't have to cut through any muscle. They went around everything. They said the recovery will be a lot quicker, as long as he strengthens it with his range of motions."
The twins are hopeful Bob will be fit to play again in the new year – but what if he is not? "We've talked about what might happen if he can't come back or if he's having a hiccup in his recovery," Mike said. "If that's the case we'll have to see. It's obviously more fun and more enjoyable when he's out there, but it's also cool playing with Jack. He's a good friend and we've been successful so far."
In July Mike regained the world No 1 ranking in doubles for the first time in three years. He is the oldest player ever to top the world rankings, which is a testament to both his continuing commitment and his fitness.
"I've taken my health and my body seriously," he said. "I take it to another level with my stretching and diet. I've been dairy-free and gluten-free and working on my diet since 2003. I don't skip a day with my massages and stretching. I've got a good trainer and I travel with a bunch of equipment like massage guns and different rollers. I just don't leave anything to chance.
"I spend more time on my body than on my tennis, even though a lot of it is the monotonous, boring stuff that you don't want to be doing. I always warm up for an hour, then cool down for maybe an hour and then have treatment. You have got to be on it, from the feet all the way to the neck."
Bryan also gives himself time to recover after long matches and manages his schedule carefully. "You have to know when to take weeks off because you can get a little fried mentally if you're going from one tournament to the next," he said.
"Sometimes I will build in a day off in the middle of a tournament when I don't even touch a racket and don't even think about tennis. I'll just go and do something else, go to a park with my girlfriend or something. It's experience. You have got to know that it works for you. Everyone is different. I just know my body really well."
When the day finally comes to retire, what does he expect to do? "Something with Bob, for sure," Mike said. "We'll probably do something in tennis, whether it will be focusing more on our foundation or something else.
"Bob's already been thinking about it, because he's had some time. He's been brain-storming what he wants to do and I'll join him. Right now we're going to try and get him back out here and go out on our own terms, so he doesn't have to go out on an injury. It would be nice to team back up one more time."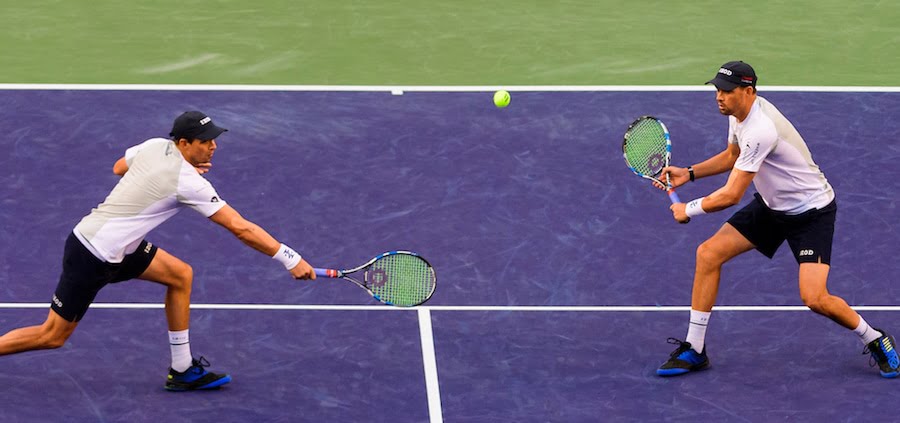 'I remember the losses better than the victories'
The Bryans have won 116 titles together over 17 years, but how many can Mike remember? Tennishead set him a test: to name the opponents they had beaten in three of their less famous triumphs.
Memphis 2001: "Jonathan Stark and Alex O'Brien. We won 6-3, 7-6." (Correct)

Houston 2009: "Maybe Isner and Querrey? No, change that, it was Ryan Sweeting and Jesse Levine. We won 6-1, 6-2." (Correct)

Sydney 2012: "I'm trying to picture it. Was it Rojer and Tecau? No? You'll have to tell me. I'm not going to get that one." (They beat Matthew Ebden and Jarkko Nieminen 6-1, 6-4)
He added: "That's a good test. I don't think Bob would have got that last one either. You remember the losses better because you don't sleep at night afterwards. You're up thinking about every point."
To read more amazing articles you can explore Tennishead magazine here or you can subscribe for free to our email newsletter here