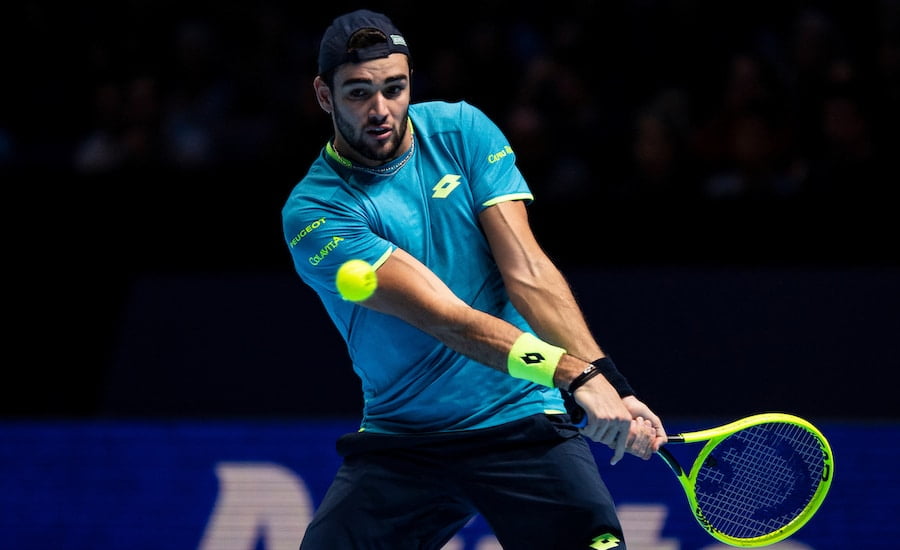 Matteo Berrettini makes history for Italians at Nitto ATP Finals
Day 5 at the Nitto ATP Finals saw Matteo Berrettini defeat Dominic Thiem in dead rubber.
Matteo Berrettini made history at the Nitto ATP Finals becoming the first Italian ever to win a match at this tournament. The player was on his best form against Thiem winning the first set after just 47 minutes. He maintained this momentum in the second set and a half volley brought them to match point before he beat Thiem 7-6(3), 6-3 with a beautiful drop shot. 
In the opening set both players exchanged breaks, before Berrettini dominated Thiem 7-3 in the tie break.
Across the 3 matches he's played in at the tournament Berrettini has shown improvement across each game. He reads the game beautifully and his combination of spin and pace is executed perfectly. The Italian's confidence built up over the Thiem match which could be seen on his face as he led the second set. 
After the game the player professed how proud he was to win the match and to make history for his country at the tournament. He said it had been an "unbelievable season" and was very happy with his performance. The player added that even though he didn't expect to make it to the Nitto ATP Finals this year he hoped to return there next year. 
Berrettini's opponent Dominic Thiem was already safely through to the semi finals before this match after his impressive win over Novak Djokovic earlier this week. Thiem has previously been called a clay-court specialist, but this year he has developed his game and can now perform to the highest level on hard courts. Three out of his five ATP titles in 2019 were won on hard courts clearly showing he has been training hard to adapt his play for different surfaces. 
This match with Berrettini was certainly not the best the Austrian has played at the Nitto ATP Finals, this his only loss of the 3 matches he's played. The frustration could be seen on his face as he kept trying to hit with extreme power only to see the ball fly out. It is possible the Austrian was trying to conserve his energy for Saturday's semi final.
Thiem now moves on to the semi finals. Berrettini will go home to Italy knowing he's had the best season of his life.
Look ahead to the rest of the tennis year with our guides to every tournament on the ATP Tour and WTA Tour. Can't visit the tournaments you love? Read our guide on how to watch all the ATP Tour matches on TV. For more news, explore Tennishead magazine here or subscribe to our free email newsletter here.