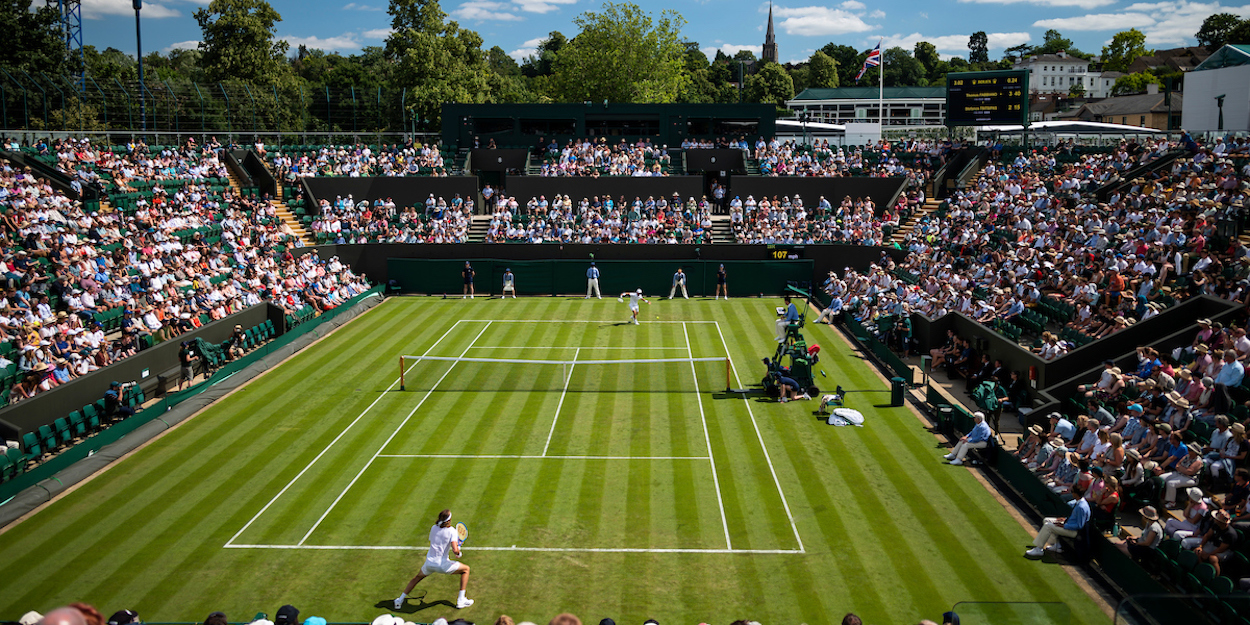 Marcus Willis defies the odds to qualify for Wimbledon
Just a few weeks ago, Marcus Willis was considering taking a coaching position in the USA and quitting the sport for good. But his new girlfriend persuaded him not to go.
The decision paid off. On Monday the former British junior No.1 will make his Wimbledon debut, having come through six qualifying matches just to be in the main draw.
Last week Willis only just scraped into the LTA's Wimbledon qualifying play-offs for British players; his ranking securing him the final spot in the 16-player draw. Having secured his wildcard for Wimbledon qualifying, he pulled off a scalp in the first round at Roehampton, coming from a set down to beat top-100 player Yuichi Sugita – seeded No.4 in qualifying – 1-6 6-4 6-1, before a straight sets win against the highly-rated Russian teenager Andrey Rublev.
A 3-6 7-5 6-3 6-4 victory over Russian world No.228 Daniil Medvedev on Friday secured his place in the main draw, where he will face Ricardas Berankis, with the reward a potential second-round meeting with seven-time Wimbledon champion Roger Federer for the victor.
"I've got a lot of belief in myself – there's a lot of players that I can beat in the first round," Wilis told tennishead. "It's the best result of my career so far, but I'm confident I can go further, if not this year then in the years to come. I'll start peaking in my latter years like every one else."
It is a remarkable turnaround for Willis, who has been coaching at Warwick Boat Club to earn money while training, and had been playing league tennis in France and Germany last month.
"I had to cancel some of my lessons this week – I wasn't expecting to get through," the 25-year-old admitted. "I've been playing well in the league matches but had absolutely no practice on grass so I wasn't expecting to play this well but I always believed I have the level in me."
Victory against Medvedev guaranteed Willis a cheque of £30,000 – the prize money for a first-round loser at the Championships this year – but he insists he will not quit his coaching job, for the rest of the season of the season at least.
"Obviously I don't play tennis for the money, hence why I'm playing again, but it's great," said Willis, who is currently without a coach. "It's tough to keep yourself going on the tour these days. Even losing in the first round of qualifying would have been £3,750 which is a great pay day but I'm just going out there trying to win a tennis match and the money is an added bonus really.
"Coaching and training is working really well for me so I'm not going to change anything. I'll stick to my original plan and start again on tour in January or February."
One of the reasons behind Willis' recent form is some string technology developed in Canada. So-Stab, which is undergoing some rebranding and will be launched in the UK later this year, uses an algorithm to create personalised stringing tensions to increase the size of the sweetspot on the racket.
"It's fantastic," Willis said. "The strings feel lovely. I feel great, I'm timing the ball superbly, and I'm definitely improving. I don't quite know how, I don't know the ins and outs of it but I feel better on the ball so it's working, I'm not going to change it."