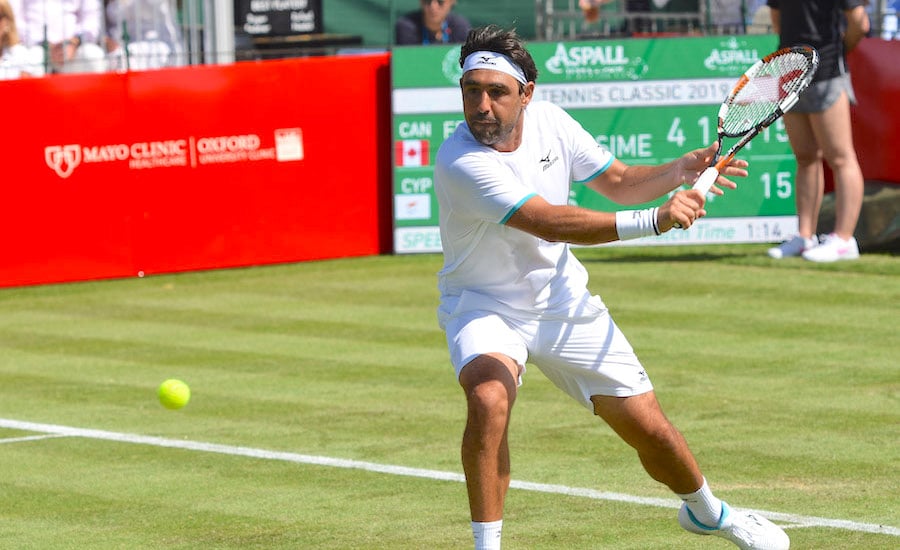 Marcos Baghdatis to join host of legendary players at Champions Tour season ending London finals
Marcos Baghdatis waved an emotional goodbye to the main ATP Tour when he played his last match at Wimbledon this year but his fans will be delighted by the recent announcement
Marcos Baghdatis is renowned for his passion and love of the game so it's no surprise that he isn't yet ready to hang up his racket completely. In fact he will now have to face some of his oldest rivals when he meets them over the net at London's iconic Royal Albert Hall for the season ending finale to the Champions Tour.
Over its 22 year history, Champions Tennis has boasted some of the game's biggest names, including John McEnroe, Pete Sampras, Bjorn Borg, Boris Becker, Stefan Edberg, Pat Rafter, Goran Ivanisevic, Tim Henman, Marat Safin, Juan Carlos Ferrero and Andy Roddick. It now looks like 2019 will add to that bumper list with Baghdatis joining David Ferrer and Martina Hingis as first time players on the tour.
With the action getting underway at the Royal Albert Hall on the 28th November, Champions Tennis is the final event of the ATP Champions Tour and offers a four-day tournament full of fast-paced action and world-class tennis from the legends of the game.
The tournament, now in its 23rd year, will follow a brand-new format for 2019, which sees players work together in three teams as they compete for the coveted Champions Tennis trophy. The teams will be led by fan favourites Rusedski, Henman and Ivanisevic who will each be joined by two other legends.
Each day will be comprised of an afternoon and an evening session – with four matches per session; two competitive singles matches, one competitive doubles match and an entertaining exhibition doubles match. The team with the most wins will then be crowned champions following the ATP Champions Tour Final on the Sunday night.
Marcos Baghdatis said, "I'm really looking forward to picking up my racket and playing alongside some of the game's biggest names. Since retiring after Wimbledon I've really missed the game and I can't wait to get back on the court. It's a real honour to play at the Royal Albert Hall – what an amazing venue!"
Tickets to the event are now on sale and can be purchased via the Champions Tennis website, www.championstennis.co.uk
Look ahead to the rest of 2019 with our guides to every tournament on the ATP Tour and the WTA Tour. If you can't visit the tournaments you love then do the next best thing and read our guide on how to watch all the ATP Tour matches on television in 2019. To read more amazing articles like this you can explore Tennishead digital magazine here or you can subscribe for free to our email newsletter here