Madison Keys exclusive interview: Beating the bullies
Madison Keys is helping a generation of girls to 'be kinder to themselves and each other'. The American star tells Tennishead Editor Paul Newman about her work for the FearlesslyGirl anti-bullying organisation
Tennis players are accustomed to being in the spotlight, but most let their rackets do the talking. Madison Keys, however, is growing used to being on stage with a microphone, using her celebrity status to help others.
Keys is an ambassador for FearlesslyGirl, an internationally recognised anti-bullying organisation. Six days before this summer's US Open, at a time when she might have been expected to be out on the practice court, in the gym or meeting sponsorship commitments, Keys was in the main interview room at Flushing Meadows, talking not to tennis reporters but to a group of mostly teenaged girls about some of the challenges they face today.
FearlesslyGirl was started in Canada seven years ago by Kate Whitfield when she was still in high school. She has become a respected author, speaker and "social entrepreneur" who aims to empower girls, raise their self-esteem and help them fight bullying. The organisation wants to inspire girls "to be kinder to themselves and each other, putting an end to girl-against-girl bullying". Keys is helping to spread the word in the United States and elsewhere.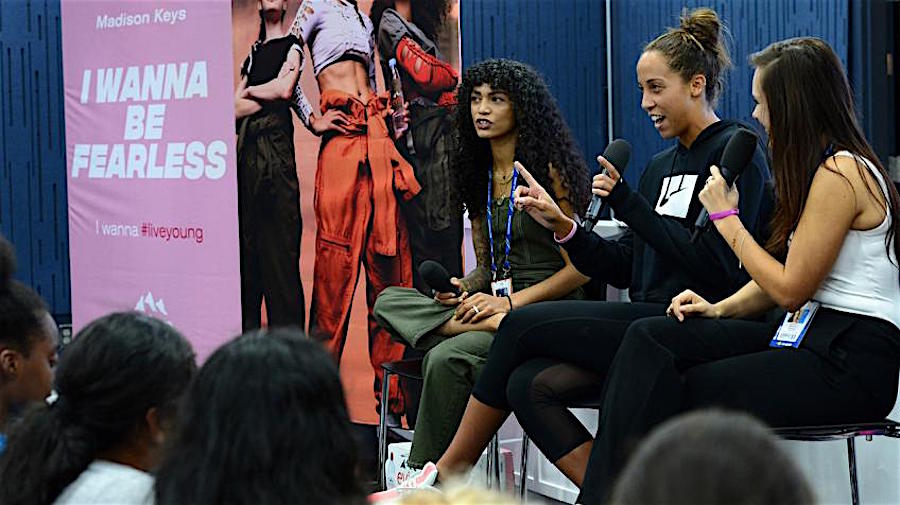 Tennis is one of many walks of life in which online bullying has been a cause for concern. Young players are particularly at risk because they are often competing in unfamiliar parts of the world, away from family and friends, with social media sometimes their main means of contact with others.
While Keys does not see face-to-face bullying as an issue in tennis, it continues to be a problem online for many players. Keys herself has faced online abuse ever since she turned professional at 14.
"That's why I relate to it so well," the 23-year-old American told tennishead. "I was lucky enough never to be bullied when I was growing up, but I have Twitter and Instagram and that was a big thing for me. I think for so many kids at school it's not face-to-face bullying any more, it's a lot more online. So being able to relate to them on that level has been really helpful."
Like most players, Keys knows the abuse will get worse when she loses a match, with gamblers accusing her of costing them money. She was also the target of what she called "negative comments" in the wake of a television interview in which she talked about online bullying.
"A lot of people said that they didn't think I should talk about it and should just leave it alone," Keys recalled. "But I don't think that's healthy. There are a lot of kids who are committing suicide because they're getting bullied and aren't talking about it. They've no help and don't know what to do.
"When I hear that, people can say whatever they want to me. If I have three people come up to me and say 'My daughter finally talked to me about what was happening and now I can help,' I will take whatever negativity comes my way."
Before she linked up with FearlesslyGirl, Keys was already thinking that she could use her position to help others. "I felt so many things in the world were so negative and sad that I felt like every time I turned on the TV something terrible was happening," she said. "I felt like I wasn't doing enough to help make more positive things happen."
After her attention was drawn to FearlesslyGirl's work, Keys immediately wanted to help. "It's something that comes naturally to me in a way, having two younger sisters," she said. "I never actually went to high school, but I had a lot of friends who did and my sisters do. I felt like if we could talk to girls when they were younger and struggling and more willing to open up and talk to each other, it could help 10 years down the road when they're all adults."
She added: "My mum always talked about doing little things, just trying to make the world a little better, and I felt like I had a platform that I could actually use for good and talk about positive things."
Keys has been a central figure at FearlesslyGirl "summits", where girls take part in group discussions and activities designed to boost their self-esteem. One was streamed online and watched by nearly 20,000 people. Keys said she had been "more nervous than I have ever felt in a match", but the feedback made it all worthwhile.
"There have been so many comments from girls who have sent me direct messages or tweets," Keys said. "Some say: 'You standing up and talking about these things has made me feel confident enough that I can do it.' They've said that it helps tremendously. I've had parents come up and say the same thing, so it's been really great."
While Keys has learned to cope with the online abuse she has suffered – "You have to have a thick skin" – there are still times when it hurts. "It's more when they start to bring family members into it, things like that," she said. "That's when I think for most of us it's an immediate feeling of anger."
One Canadian player, Rebecca Marino, gave up tennis because of depression and cyber-bullying. "I was getting some comments that were really hurtful," she told the Reuters news agency. "I was getting messages that I should die, that I should go burn in hell, that I'm a dumb ass, an idiot, that I lost them money, a wide variety of things – and that is just scratching the surface."
Marino returned to tennis this year, but online bullying remains a problem within the sport. British players are among those who have suffered terrible abuse on social media. Heather Watson revealed that she had death threats aimed at her family and messages wishing she had cancer, while Kyle Edmund said last year that he had received a number of threatening messages after losing a match in Indian Wells. One anonymous abuser said: "You need to be brutally raped and slaughtered."
Keys thinks that one of the best ways to handle online abusers on Twitter is to retweet the messages and encourage her own followers to report them. "A lot of these people don't want you to bring them out into the spotlight," she said. "I think in some ways people are less likely to do it if they have a feeling that they could have to take some responsibility for what they're doing and if other people actually see what they're writing."
She also believes that continuing to highlight cases of abuse will keep the pressure on social media companies to take action. "We need to have the conversation and we need to show that it's a universal issue," she said. "If we're not talking about it then these companies might not even feel the need to do anything about it."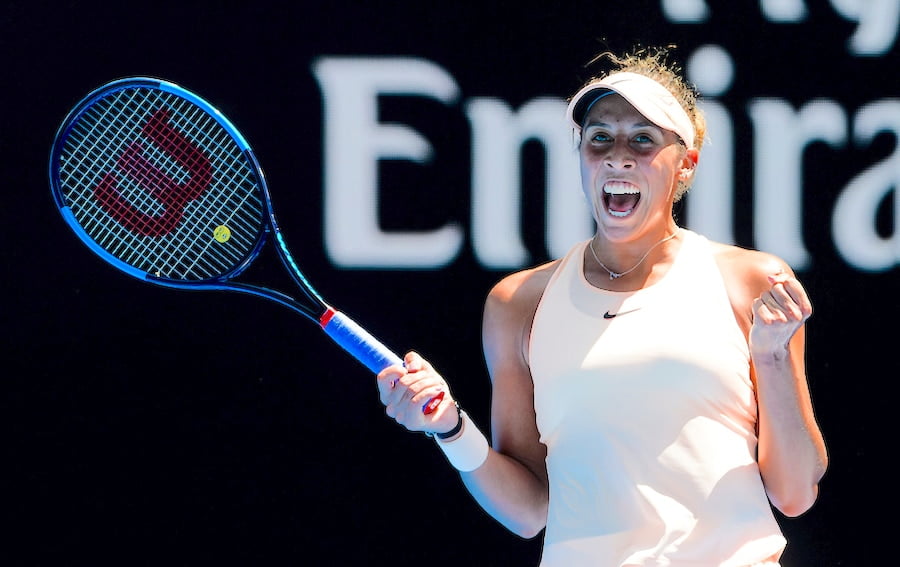 Grand Slam consistency
Madison Keys enjoyed another fine year in Grand Slam competition but for the second season in a row the last weeks of her campaign have been troubled by injury. After suffering with a wrist problem towards the end of 2017, the 23-year-old American has had to deal with a knee issue since this year's US Open. She retired hurt during the second set of her second-round match at the Wuhan Open and withdrew from the China Open after the first round.
Although Keys failed to match her achievement in reaching her first Grand Slam final at last year's US Open, she has continued to perform well at the biggest events in 2018. The former world No 7 made the semi-finals at the French and US Opens, the quarter-finals at the Australian Open and the third round at Wimbledon.
To read more amazing articles you can explore Tennishead magazine here or you can subscribe for free to our email newsletter here