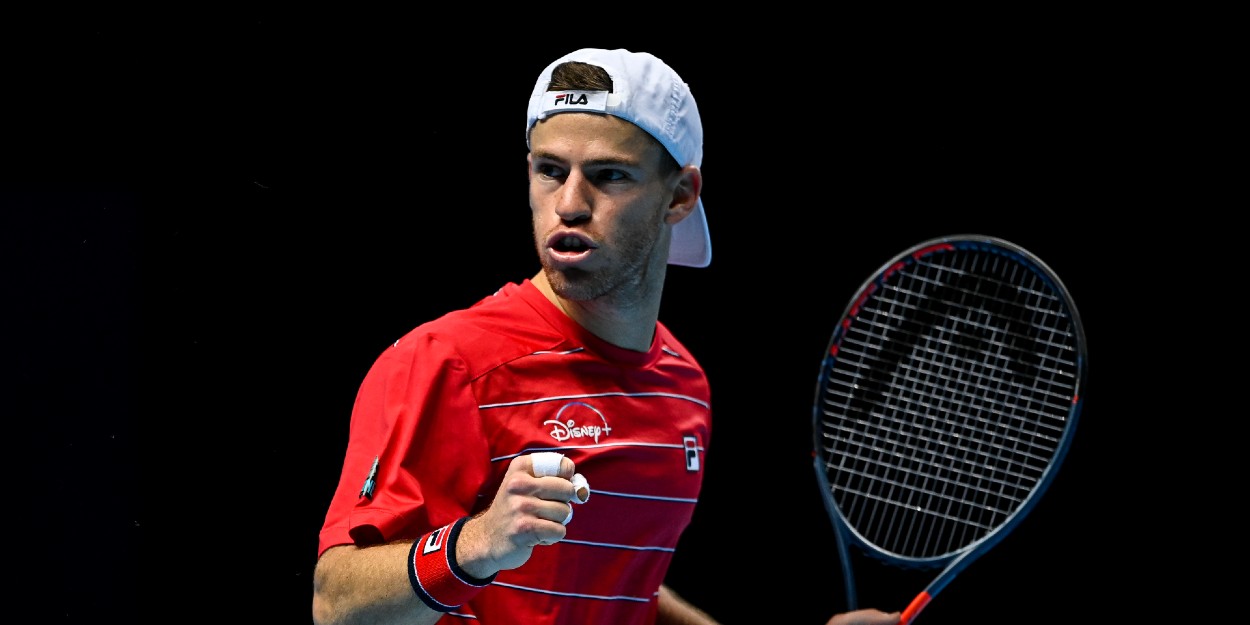 "Looking back, it was a tough situation" Diego Schwartzman relates his tough childhood with career success in exclusive interview
The appearance of Diego Schwartzman in the Nitto ATP Finals was evidence of the resilience that has characterised his family's story for many decades
Although his first experience of the Nitto ATP Finals was a harsh one, Diego Schwartzman could at least reflect on the fact that his mere presence at the season-ending showpiece event had been testimony to the remarkable resilience of the 28-year-old Argentinian and his family. His great grandparents fled Europe to escape the Holocaust, his parents saw their business collapse during a financial crisis and for years Schwartzman was unable to play any tournaments outside South America because he could not afford to do so. Considering his family history, it seems almost churlish to point out that he has also achieved his success despite standing only 5ft 7in tall, which makes him by some margin the shortest player in the world's top 100.
Schwartzman, who lost all three of his matches on his ATP Finals debut, told his remarkable family story on the ATP's official website earlier this year. "I have Jewish roots and my great grandfather on my mum's side, who lived in Poland, was put on a train to a concentration camp during the Holocaust," he said. "The coupling that connected two of the train's cars somehow broke. Part of the train kept going and the other stayed behind. That allowed everyone trapped inside, including my great grandfather, to run for their lives. Luckily, he made it without being caught. Just thinking about it makes me realise how lives can change in a heartbeat.
"My great grandfather brought his family by boat to Argentina. When they arrived, they spoke Yiddish and no Spanish. My father's family was from Russia and they also went to Argentina by boat. It wasn't easy for all of them to totally change their lives after the war, but they did."
Schwartzman's parents used to run a very successful clothing and jewellery business, but lost almost everything when Argentina went into financial meltdown. "My family had no more business," Schwartzman told tennishead. "Just me, my two older brothers, my older sister and my parents trying to make a living for us. Because we didn't have a lot of money, it was really tough to start playing tennis, or any sport for that matter. We really couldn't afford it. But I played as much as I could."
---
"It's not easy for the families from Argentina whose sons are trying to play tennis"
---
Schwartzman, who was born and raised in Buenos Aires, played tournaments only in Argentina for most of his junior days. He played in only one junior Grand Slam event, losing in the first round of qualifying at the US Open, and was never a top junior.
Of the first 96 tournaments he played as a senior, 91 were in South America, most of them in Argentina. The other five were on a short trip to Europe when he was 19. "Coming from South America, every single step you have to do in tennis, it's really expensive," Schwartzman said. "It's not easy for the families whose sons are trying to play tennis. It's really difficult. But at the time I was lucky because we had a lot of tournaments in Argentina and South America, which we don't have now. At that time we had maybe 20 Futures a year in Argentina and a few Challengers in Argentina and other countries around."
In his early days Schwartzman travelled to tournaments with his mother. "There was never a TV and at almost every tournament we went to we had to share one bed," he told the ATP website. "We stayed once at a hotel because a room cost only two pesos. It was the same thing over and over, but we had no choice. This is what we could afford.
"At one point, we were even selling rubber bracelets that were left over from the business my family had. We did anything we could do to get money to pay for trips to tournaments and the travel costs. Looking back, it was a tough situation. But at the time, it was funny. I helped my mum selling the bracelets and so did some of the other players. Between matches we would all run around with a bag of bracelets to see who could sell the most and my mum would give them 20 per cent of the money."
Does Schwartzman think that his family background helps him to put any problems in perspective on those occasions when not everything is going right with his tennis? "Sometimes, yes," the world No 9 said. "From where I am right now, I can see that. And when you see things [in the cold light of day], for sure you think about that. I've reached a lot of goals in my career, maybe more than I thought I could when I was young. When I look at my family, at my mum's experiences and before my grandfather, I know that we had a lot of difficulties on the road."
Schwartzman admitted that he had been "devastated" to be told by a doctor when he was 13 that he would never be taller than 5ft 7in. In modern times nearly all the most successful male players have been at least 6ft tall; Andre Agassi was an exception at 5ft 11in. The average height of the seven players who finished above Schwartzman in the 2020 year-end world rankings is 6ft 3in.
---
"I've reached a lot of goals in my career, maybe more than I thought I could when I was young"
---
Hardly an interview or press conference goes by without Schwartzman being asked about his height, but he invariably responds with grace and respect, pointing out his other strengths, such as his speed around the court and his mental toughness. "I have a lot of different things," he said. "Maybe players who are two metres tall can do different things."
Schwartzman has had most of his best results on clay, though he points out that his height can count against him on the surface "because on clay the ball is bouncing more than on indoors". He thinks that Roland Garros offers his best chance of success at Grand Slam level, though he agrees with a smile that he might have to wait "a few more years" until Rafael Nadal has retired before he could contemplate winning there.
Nadal has ended Schwartzman's run at four of the last 11 Grand Slam tournaments, including this year's French Open, where the Argentinian made the semi-finals of a Grand Slam event for the first time. Three weeks earlier he had beaten Nadal, for the first and only time in their 11 meetings, in the quarter-finals in Rome, where he went on to reach his first Masters Series final.
Schwartzman's career has been a story of steady progress. He first made the world's top 100 in 2014, the top 50 in 2017 and the top 20 in 2018 before finally cracking the top 10 this October. Having earned his place at the ATP Finals for the first time, he had a baptism of fire against Djokovic but went on to take a set off Alexander Zverev before facing Daniil Medvedev.
"They know how to play big, big matches one day after another," Schwartzman said. "I have to learn about this tournament. It's all new for me. At other tournaments you play against the best guys on the tour, but only in the quarter-finals, semi-finals or final. My first match – at a new tournament and in a new place – was against Djokovic."
While the continuing excellence of the likes of Djokovic and Nadal means that opportunities for other players at the highest level are limited, Diego Schwartzman took encouragement from Dominic Thiem's victory at the US Open. "Dominic is helping a lot of guys – Zverev as well, playing the final there – to think: 'OK, we can do it.' But it's really difficult to beat these guys in five sets at a Grand Slam. They're really, really good."
---