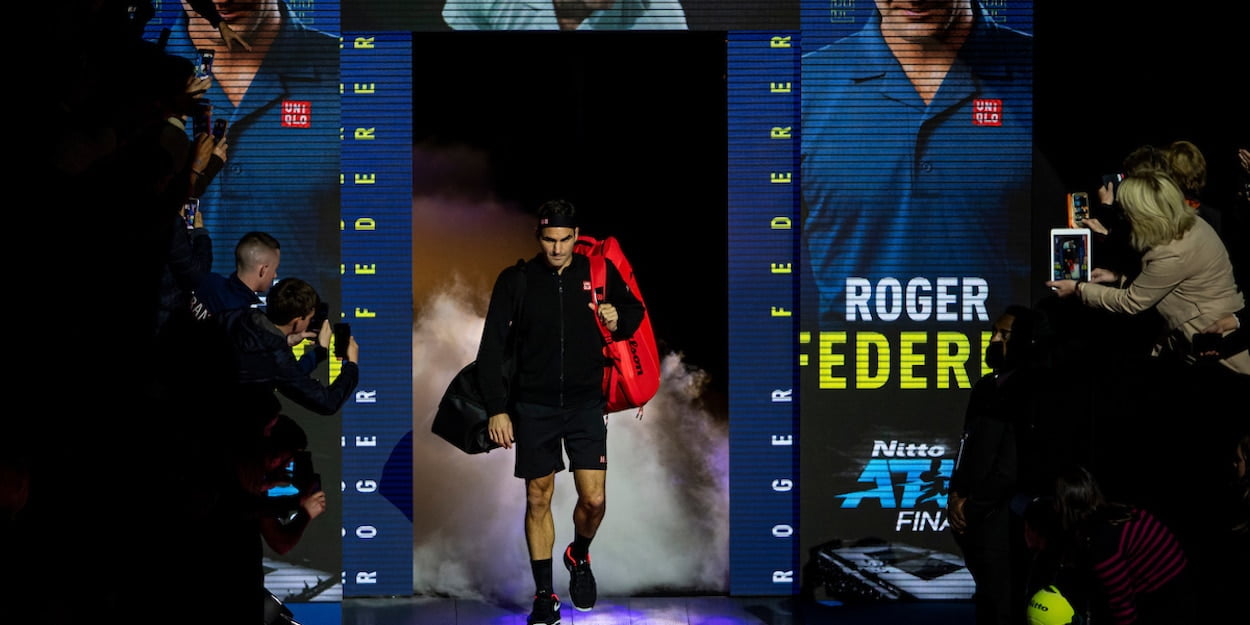 London has shown how Britain can stage great tennis events like the ATP Finals
Losing the ATP Finals is a setback for tennis in this country and we should be working hard to bring more tournaments here
It can be easy to take things for granted. The end-of-year Nitto ATP Finals have become so embedded in the British calendar that for many fans a visit to London's O2 Arena in November has become an annual ritual. From the moment it was first staged there in 2009 the tournament became an instant hit with British tennis fans, who now flock in their thousands every year to the Greenwich Peninsula to watch the world's best male singles and doubles players compete in a spectacular stadium. By the end of next year the total attendance at the O2 will have topped three million.
**Sorry to interrupt but we wanted to inform you that the latest 164 page, print issue of tennishead magazine is now FREE for everyone to order (It normally costs $25/£12). There is a small shipping cost but we'll deliver anywhere in the world. Or you can order a copy for yourself and a free copy for a friend.**
However, once the last ball has been struck at next year's Finals the tournament will be moving to Turin. British fans can hardly complain: the ATP is a worldwide organisation and its flagship event has moved to different venues around the globe ever since its launch in 1970. By the end of next year London and New York will be the cities to have hosted the tournament on most occasions (13 times).
For British fans, nevertheless, this is a major loss. While all the world's best players come to Britain for up to five weeks every summer for the grass-court season, the rest of the calendar is pretty well bare in terms of top-class international tennis. In the past there was at least the prospect of the country staging Davis Cup ties, but under that competition's new format home fans might not see their team in action from one year to the next.
This year's Fed Cup ties in Bath and London – the first in that competition to be staged in Britain for 26 years – were a major success, but with the women's team event following its male equivalent next year by moving its finale to a single week in a single venue (for the moment, Budapest), it could be a long time before British fans see their national women's team in action again.
The success of Davis Cup and Fed Cup ties staged in Britain, coupled with the huge appeal of the World Tour Finals, has helped to fuel year-round interest in tennis. Returning to a situation where the grass-court season is the only period of the year when top players come to Britain will reinforce the belief held by many that we are not a tennis-loving country but a Wimbledon-loving country.
Twelve months ago I expressed in these pages the hope that the Lawn Tennis Association would do everything in their powers to keep the World Tour Finals. Securing another extension for London was probably a forlorn hope, but as we prepare to say farewell to the year-end finals you would hope that efforts will be made to bring other top-class events to Britain.
The signs at the moment are not promising. Indeed next summer's grass-court season in Britain is likely to be weakened by the recent announcement that the women's tournament at Edgbaston will be downgraded from a Premier to an International event. That week's Premier tournament will be staged instead in Berlin, which will as a consequence attract a stronger field. Britain's Johanna Konta might have a difficult decision to make that week: whether to go in search of better competition and more ranking points in Berlin or whether to play at Edgbaston.
The LTA brought a new Challenger tournament, the Murray Trophy, to Glasgow this year, but you would hope that was just a start. Moving events on the ATP or WTA calendar from one city to another is not a straightforward process, but it can be done. Lyon, for example, will be hosting a new tournament on the WTA circuit in March, meaning that French cities will be hosting five men's or women's tournaments – including the men's Paris Masters in November – outside the traditional build-up to Roland Garros.
Of course, money sometimes talks. Manchester made what was apparently an impressive bid to host the year-end WTA Finals, only to lose out to Shenzhen. This year's Shiseido WTA Finals were the first to be staged in the Chinese city and offered staggering prize money of $14m (about £10.9m). Ashleigh Barty, the eventual champion, won $4,420,000 (about £3.4m), which was the biggest winning cheque ever paid out in tennis.
Competing with Asian and Middle Eastern countries for the right to stage tournaments can be a huge challenge, but Britain has much to offer. The experience at the O2 Arena has shown that we can match anybody when it comes to staging great events in front of packed and enthusiastic audiences.