Leaked email suggests Australian Open vaccination rule change
In an email sent to WTA players last night, it appears that unvaccinated players will now be able to compete in the Australian Open.
In an effort to "clear up false and misleading information", the leaked email sent by the WTA Players' Council highlights the restrictions set to be put in place to allow unvaccinated players entry to the country, and in turn, participation in the Australian Open.
This comes after Australian federal immigration Minister Alex Hawke said last week that there would be no rule changes for tennis players, explaining that unvaccinated players would not be allowed entry into Australia.
The leaked email states that "because Victoria's vaccination rate will hit 80% at the end of the week and 90% next month, it has been confirmed that conditions for players at the Australian Open will improve significantly."
There are a number of conditions and requirements outlined in the email that will need to be followed by both vaccinated and unvaccinated players. Vaccinated players will not be required to quarantine upon arrival, but must provide a negative test within 72 hours of departure, and must test within 24 hours of arrival.
Vaccinated players will also have no ongoing restrictions imposed upon them and will have complete freedom of movement.
However, unvaccinated players will face a number of restrictions, namely being required to quarantine upon arrival and submit to regular testing. The email also states that unvaccinated players will have to provide a negative test within 72 hours of departure, and will be required to go through mandatory hotel quarantine for 14 days upon arrival.
Additionally, Australian Open qualifying will now be held at Melbourne Park, instead of the previously re-arranged qualifying rounds that were set to take place in the United Arab Emirates.
The WTA Players' Council requested confidentiality, with the email reading "we ask that everyone please keep this information confidential until the government makes an official announcement."
All of these changes and conditions come subject to government confirmation, with the email stating, "it is not 100% resolved yet but we do expect a further update from Tennis Australia on this topic on our player call scheduled for Friday."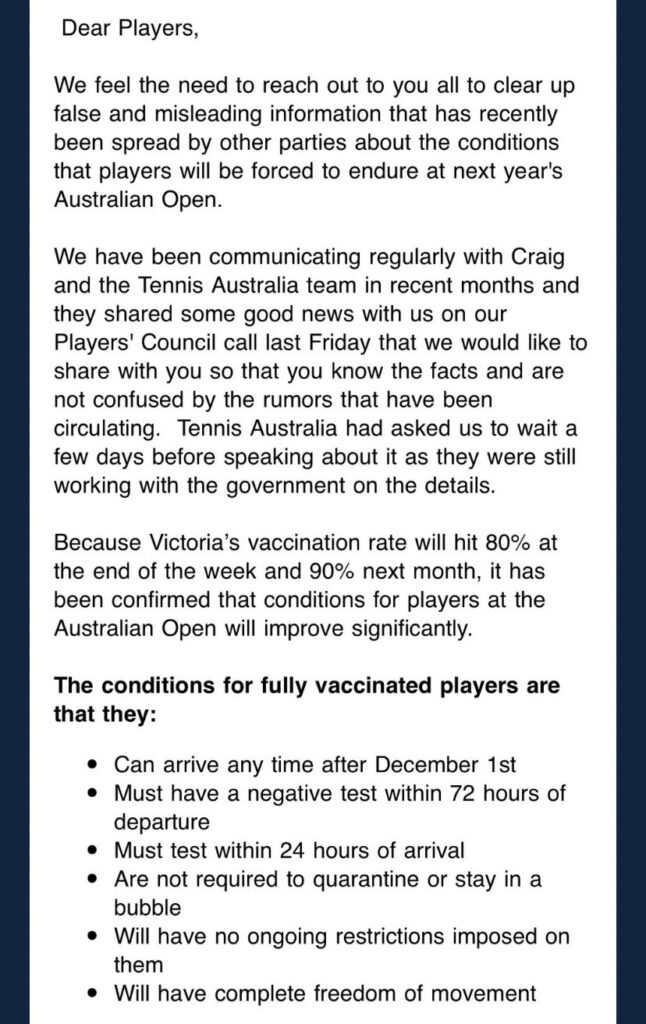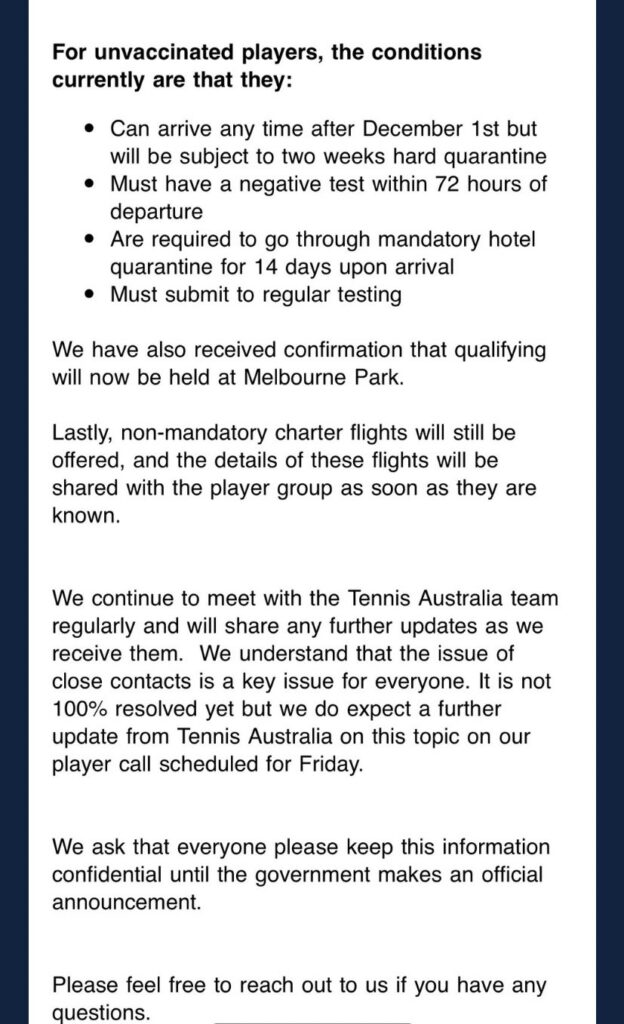 A copy of the leaked WTA Players' Council email