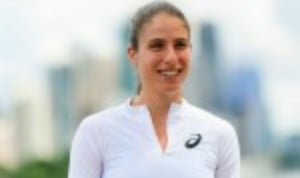 Konta ready for Keys
Originally published on 30/12/17 00:00
Konta has not played in Brisbane since 2013. Back then things were very different. As a 21- year-old, Konta lost in the qualifying stages to Lesia Tsurneko. Five years later Konta returns to Queensland ranked inside the Top 10, a position she has occupied for the last two years.
Does she see herself as a different player? "Well on paper, rankings and results-wise, yes, I am," she said, talking to tennishead before the start of the tournament.
"I don't know if I can really remember how I was or what I was thinking back then. I do remember it was the first year my ranking was high enough to play qualies for the Australian Open. It was actually the first time I came back to Australia since I left in 2005, so that was also an interesting experience. I would love to think that I am older and wiser."
Konta, who ended her 2017 season after Beijing, with an injury to her left foot, has not played a competitive match for three and a half months.
"After Beijing I didn't play any tennis for about 6 weeks, although I still stayed physically active," she said.
"But I mainly was just at home, cooking a lot, baking a lot. I went to Hungary for five days to visit family, my sister and nephew and brother-in-law came to London for three and a half weeks, so I was at home mainly, but it was good."
Konta also revealed that she has had to spend some time in the pre season re-training her body because of the compensations her body had made throughout the season working around the foot injury.
"It was more of almost re-teaching my body a way to be able to load through that side, through that foot."
"That takes a bit of time," she said. "But I am definitely fit and healthy to go here and looking forward to competing for real."
Konta recently played exhibition matches against Simona Halep and Jelena Ostapenko in Thailand.
"It was good to be back playing competitively and I really enjoyed it. I missed it a lot. I am really looking forward to getting the season started, and starting to compete again."
Her very "real" first round opponent here in Brisbane is US Open finalist Madison Keys. The pair has played before. In 2016, Konta won a tight three set match in Beijing, which she recalls. "We played a really good match, a very good match, a long one and a competitive one."
"She's a big player with big shots, and a lot of the times she will make you feel like you are not having much say in what's going on out there, but that's the kind of player that she is."
Brisbane International gets underway on Sunday 31 December at Queensland Tennis Centre.