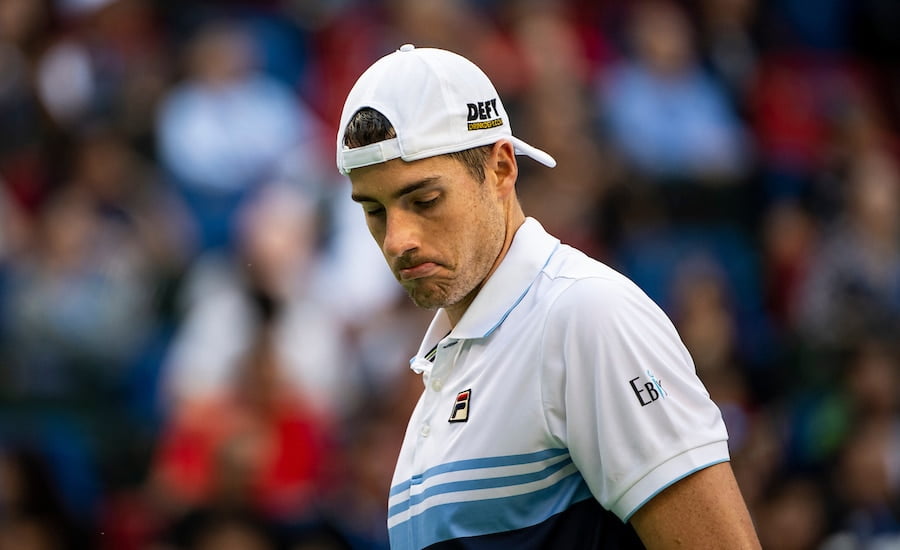 John Isner tournament schedule 2020
American star John Isner has once again won the title of the year-end ace leader at the 2019 Rolex Paris Masters. What will 2020 hold in store for this gentle giant?
John Isner has held the top spot for aces at the end of the season for the fourth consecutive year and seventh time since he went pro, with 1,032 aces in 2019. The player also managed to secure himself the 15th title of his career in 2019 at the Hall of Fame Open in Newport, RI, USA.
Isner was forced to miss three months worth of playing in the 2019 season after he broke his left foot. He made it all the way to the final at the Miami Open in March hoping to retain his 2018 champion title. During the final against Roger Federer he began feeling pain in his left foot, but carried on playing until the match was finished, only to be defeated. He later discovered the pain he felt was a stress fracture that would keep him out of play for a while. Though it was not such a terrible thing according to the player, as it meant he could spend more time with his newly born daughter.
John Isner began the 2019 season at No.10 but gradually fell down the rankings that year to No.19, likely due to the time he spent off the court. Will he be able to bring himself back into the ATP Tour top 10 in the 2020 season?
For more John Isner news click here
John Isner provisional 2020 schedule is as follows:
JANUARY
ASB Classic (January 13 – 18)
Australian Open (January 20 – February 2)
FEBRUARY 
New York Open (February 9 – 15)
Delray Beach Open (February 14 – 23)
Acapulco, Mexico (February 24 – 29)
MARCH  
BNP Paribas Open (March 9 – 22)
Miami Open (March 25 – April 5)
APRIL
US Men's Clay Court Championships (April 4 – 12)
MAY & JUNE
Madrid Open (May 4 – 10)
Italian Open (May 10 – 17)
Lyon, France (May 18 – 24)
Roland Garros (May 24 – June 7)
JULY
Wimbledon (June 29 – July 12)
Hall of Fame Open (July 14 – 21)
BB&T Atlanta Open (July 25 – August 2)
AUGUST
Citi Open ( August 1 – 9)
Coupe Rogers (August 7 – 16)
Western and Southern Open (August 15 – 23)
US Open (August 31 – September 13)
SEPTEMBER 
Laver Cup (September 25 – 27)
Chengdu Open (September 28 – October 5)
OCTOBER 
China Open (October 4 – 11)
Rolex Shanghai Masters (October 11 – 18)
NOVEMBER 
Rolex Paris Masters  (November 2 – 8)