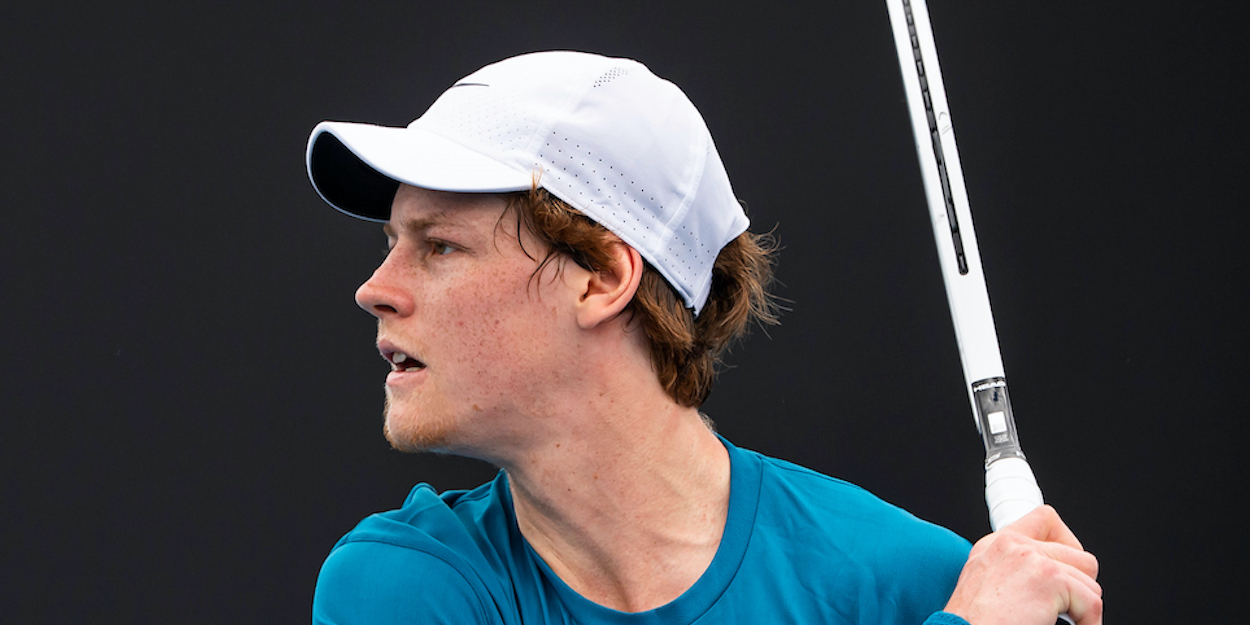 Jannik Sinner the next-generation superstar – how does his career start compare to the greatest?
While predictions made about the future career of Jannik Sinner are just that, predictions, we can take a look at the teenage Italian's progress so far on the tour to get a taste for why he is being mentioned in such high regard.

Junior Career
It is worth keeping in mind that Jannik Sinner entered the competitive tennis world by a path separate from many top professionals, including Roger Federer and Rafael Nadal. Both Nadal and Federer had lengthy junior careers, culminating in Nadal turning professional at the age of just 15 and Federer winning the 1998 Wimbledon Boys' Singles at 16.
Having made the commitment to formal tennis training at 13, Jannik Sinner opted for a different route and forwent many of the top junior tournaments, including never entering any of the junior Slams. Instead, the Italian chose to play ITF Futures events, securing his first professional main draw win in January 2018 at the age of 16. 
Given their disparate modes of entering the tennis spotlight, it is worth considering their respective rises by time since entering the ATP rankings, rather than by age. 
Ranking progression 
Jannik Sinner acquired his first ATP singles ranking on 12th February 2018, coming in at World No. 1592. He broke into the top-100 for the first time on 28th October 2019, just 89 weeks later. 
Such a jump is comparable to the rise of both Roger Federer and Rafael Nadal. Federer took 104 weeks from entering the rankings to achieve the same feat, while Nadal took 82 weeks.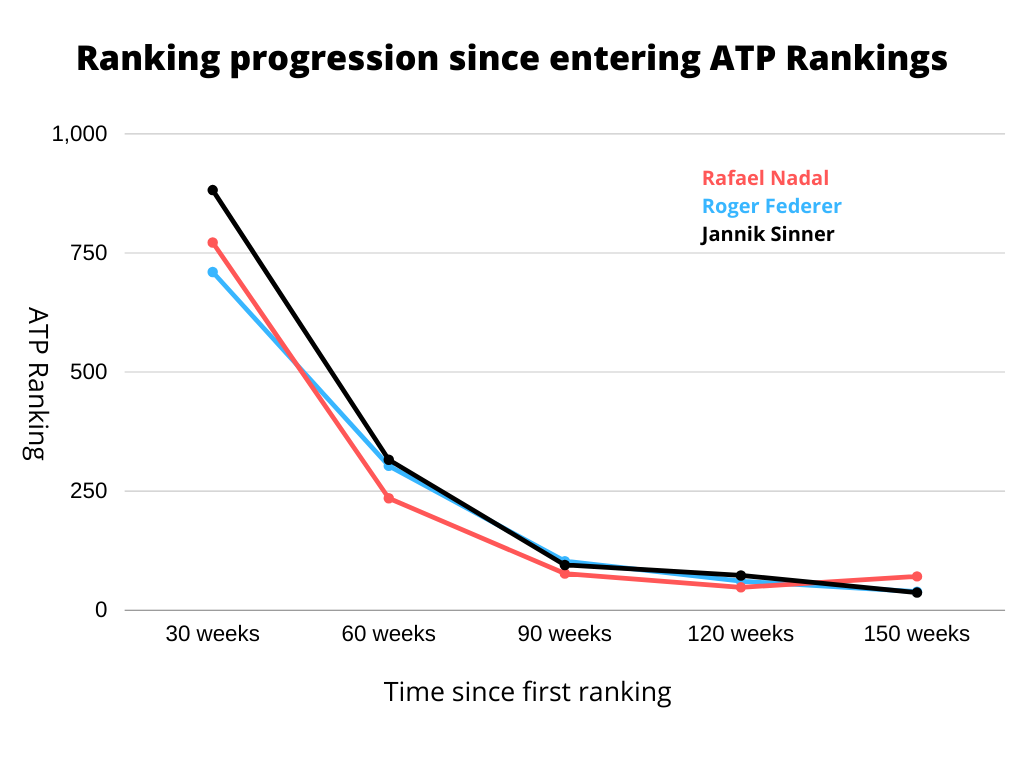 Another measuring guide would be the time taken to reach the top-50. Jannik Sinner is currently ranked 34 in the world. He first made the top-50 on 12th October 2020, 139 weeks after gaining his first ATP points. Roger Federer took 128 weeks, while Rafael Nadal took just 97 weeks. 
However, it is important to note that within Jannik Sinner's timeframe the ATP rankings were frozen for 23 weeks between 16th March – 24th August 2020 due to the COVID pandemic and suspension of the ATP Tour. Subtracting those frozen weeks, Sinner took 116 active tour weeks to reach that milestone, between Federer and Nadal. 
Federer and Nadal did both drop out of the top-50 for brief periods, whereas Jannik Sinner has not done so yet. 
 
Time since entering the ATP rankings (weeks)
Player
First time in Top-100
First time in Top-50
First time in Top-10

Roger Federer

104

128

243

Rafael Nadal

82

97

187

Jannik Sinner

89

139 (116 active tour weeks)

–
First professional titles
For the sake of this section, professional titles include ITF Futures tournaments, ATP Challenger Tour events and ATP Tour events, the third, second and first-tier tours respectively. 
Roger Federer won his first professional title, an ATP Challenger event, in Brest, France, on 31st October 1999, 110 weeks into his rankings journey. Rafael Nadal won his first title on the ITF Circuit in Alicante, Spain, after just 42 weeks in the rankings. For parity of tour levels, Nadal won 5 more Futures titles before his first ATP Challenger title in Barletta, Italy, 79 weeks after breaking into the ATP rankings. 
Jannik Sinner won his first title at an ATP Challenger event in Bergamo, Italy, after 54 weeks in the rankings. He then won his first ITF Futures title a week later in Trento, Italy. 
Moving to ATP Tour-level tournaments, Federer won his first title in Milan, Italy on 4th February 2001, 176 weeks since his first ranking. Nadal achieved the same in Sopot, Poland on 15th August 2004,  a time of 151 weeks. 
Jannik Sinner won his first ATP title in Sofia, Bulgaria on 14th November 2020, just 143 weeks after entering the rankings. Again, if you consider the 23 week ATP hiatus during 2020, Sinner achieved this milestone even faster, after just 120 active tour weeks.
 
Time since entering the ATP rankings (weeks)
Player
First ITF Futures Title
First ATP Challenger Title
First ATP Tour Title

Roger Federer

–

110

176

Rafael Nadal

42

79

151

Jannik Sinner

55

54

143 (120 active tour weeks)
So, Jannik Sinner was either comparable or faster at achieving each of his first titles at the three tiers of the sport.
Grand Slams
Of course, here is where Jannik Sinner cannot be compared to when Federer and Nadal won their first Grand Slams, because the Italian has not yet won a Grand Slam tournament. The next best thing might be to compare first times reaching the second week of a Grand Slam, i.e. reaching a Slam quarter-final. 
All three men achieved this feat at the same tournament, on the clay of Roland Garros. Roger Federer did so in June 2001, after 193 weeks. Rafael Nadal made the quarter-finals of the 2005 tournament, en route to winning his maiden Slam title, almost exactly as long as Federer took. 
Here, Jannik Sinner sets himself apart. He reached his first Grand Slam quarter-final at Roland Garros 2020, only 138 weeks after entering the ATP rankings, a full year earlier than Federer or Nadal, even without considering the ATP pandemic hiatus.
Finally, while Sinner only has about a year to beat Nadal's meteoric rise to his first Grand Slam, he more than four years to do it quicker than Roger Federer did.
 
Time since entering the ATP rankings (weeks)
Player
First Grand Slam quarter-final
First Grand Slam final
First Grand Slam title

Roger Federer

193

406

406

Rafael Nadal

192

193

193

Jannik Sinner

138 (115 active tour weeks)

–

–
Up until this point, Jannik Sinner has kept pace with the career landmarks of Roger Federer and Rafael Nadal, but only time will tell how much further he can keep it up.