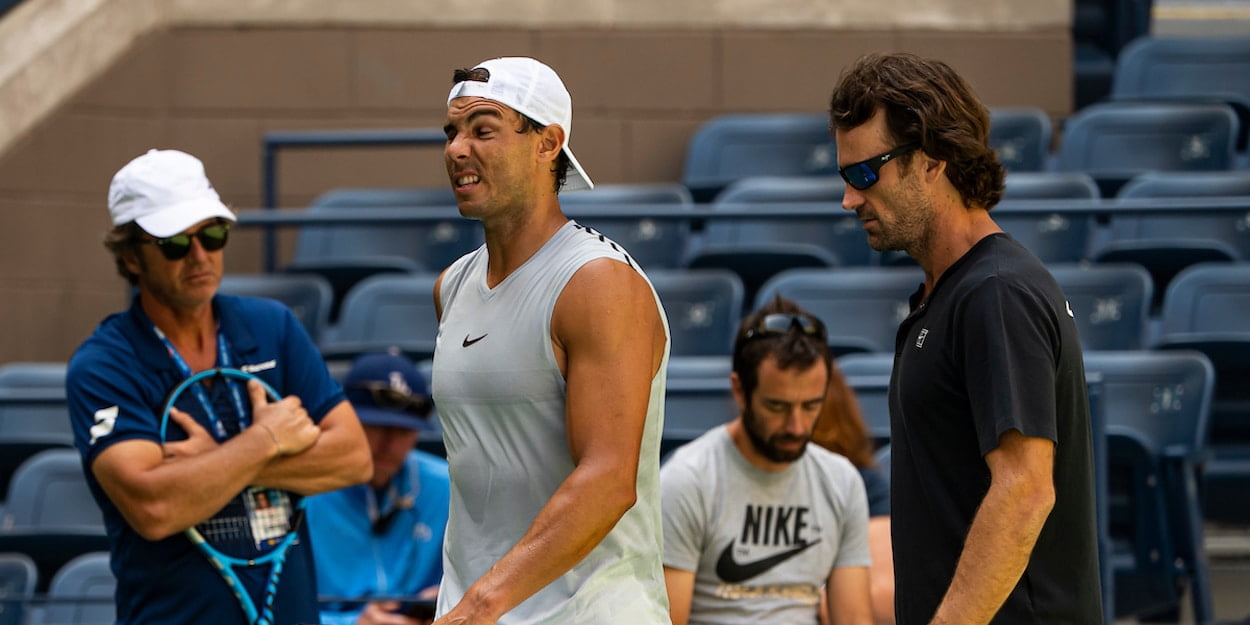 "I've never fired anyone" Could enduring success for Rafa Nadal be down to this reason?
The close-knit team that supports Rafa Nadal are one of the key factors behind his enduring success. Tennishead Editor Paul Newman looks behind the Spanish scenes
The off-season can be a time for change, when players make big decisions about their future. For members of some entourages it can be a time to wonder whether you will still be employed come the start of the following season. Almost every player has faced that difficult moment when they have to tell a coach or a trainer or a physiotherapist that their services are no longer required. But not Rafa Nadal.
"I've never fired anyone," the 33-year-old Spaniard said earlier this year. "I don't think any coach that I have had in my career has ever been afraid of telling me the truth or being honest with me because he feared for his job."
**Sorry to interrupt but we wanted to inform you that the latest 164 page, print issue of tennishead magazine is now FREE for everyone to order (It normally costs $25/£12). There is a small shipping cost but we'll deliver anywhere in the world. Or you can order a copy for yourself and a free copy for a friend.**
It is clearly one of the secrets of Nadal's enduring success, which in 2019 showed no sign of slipping. It has been another extraordinary season for the 12-times French Open champion, who finished it as year-end No 1 for the fifth time. In winning the French and US Opens Nadal took his tally of Grand Slam titles to 19, one short of Roger Federer's all-time record, while no other player can beat his total of 35 Masters Series titles. He has qualified for the year-end ATP Finals 15 years in a row.
Nadal surrounds himself with people he has known for much of his life. His family have always played a big part in his tennis, providing stability and support on his travels, while his professional colleagues are nearly all Spanish, most of them fellow Mallorcans.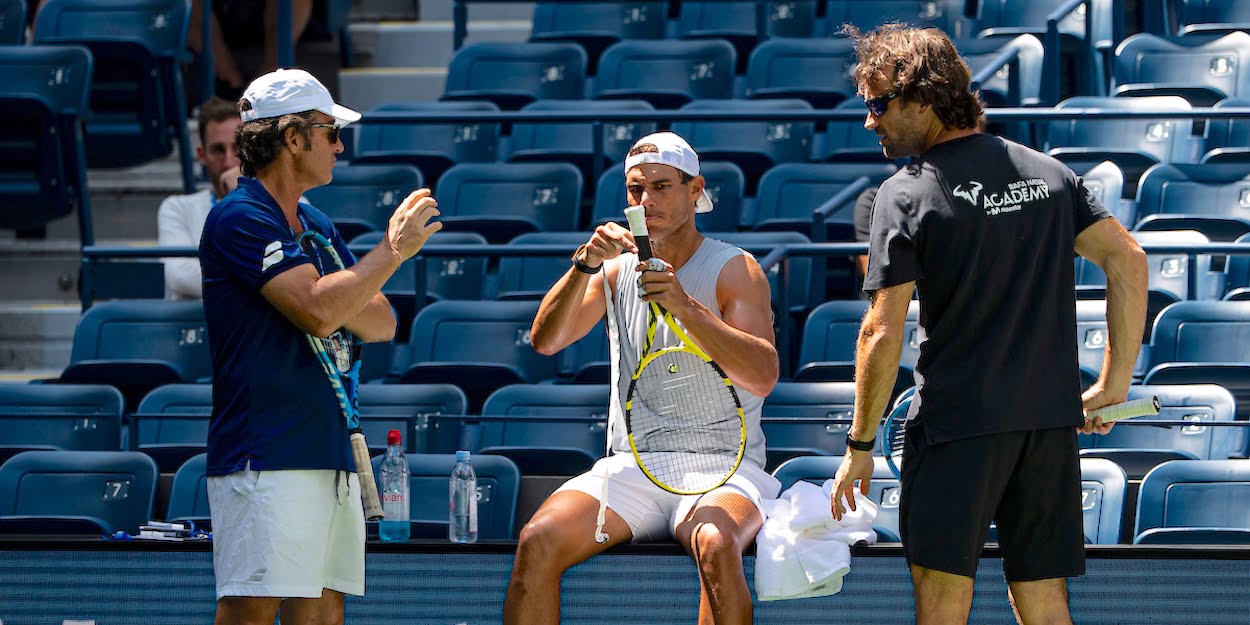 From the age of four until the end of 2017 Rafa Nadal was coached by his uncle, Toni, who now heads the tennis academy opened by the player in his home town of Manacor. One of his two main coaches today is Carlos Moya, a former world No 1 who is also from Mallorca and has known him since he was a boy. The other is Francisco Roig, who has his own academy in Barcelona and has worked alongside Toni and Moya. Tomeu Salva, a Mallorcan who has been a friend of Nadal's for more than 20 years, is a coach at the world No 1's academy and sometimes travels with him as part of his coaching team.
Rafael Maymo and Joan Forcades, Nadal's physiotherapist and fitness trainer respectively (both Mallorcans), are also long-time members of his entourage, as are Carlos Costa, his manager, and Benito Perez-Barbadillo, his publicist. Angel Ruiz Cotorro has long been his trusted doctor.
"I normally try not to find excuses from my team," Nadal told tennishead at this year's Nitto ATP Finals when asked about his entourage. "When I'm losing and when I play badly I always try to look at myself. I know I've had a lot of success with them and I've had this long relationship with the same team.
"There is only one way to work – to respect each other and to have a very good personal relationship. It's more than a work relationship. For me personally it's something even more important than tennis. I like my team in a human way – in a professional way too of course – and I feel comfortable like this. I always like to have long-term relationships. It's the same with my sponsors, with my friends and with my team. I feel happy like this. When I'm at the tournaments I feel like I'm with my family. For me it works well. For other people it's different, but that's how I like it."
Toni, Nadal's uncle, is clearly the person who has had the greatest influence on his career. "I played tennis because of him," Nadal says. "Without him I would never have played tennis. I practised only with him until I was 12 years old."
One of the reasons for their enduring relationship might have been the fact that Nadal did not pay Toni directly as his coach. Early in his career Toni agreed with his brothers Sebastian (Nadal's father) and Miguel Angel that he would continue with his share of the family business but that his main job would be to coach Rafa.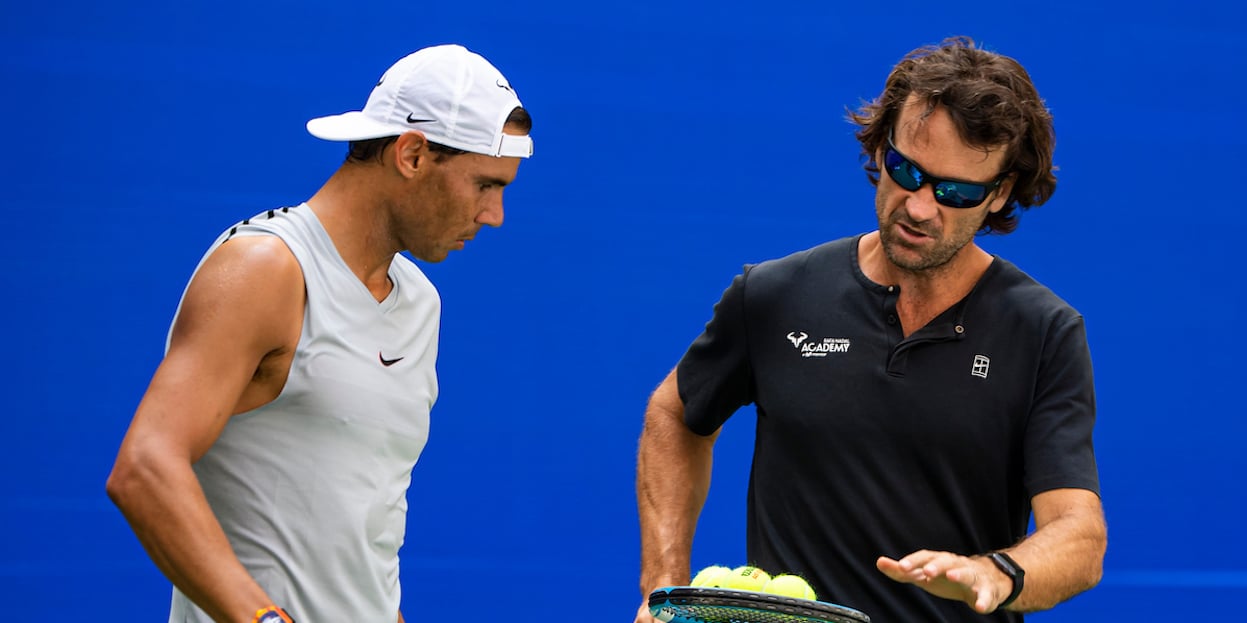 Moya joined the coaching team at the end of 2016 and had a year working alongside Toni before taking over the reins. However, the 1998 French Open champion had known Nadal for many years before that. They practised together regularly from Nadal's earliest days on the tour until Moya's own retirement in 2010.
"I've been part of his life," Moya said on joining Nadal's entourage. "I've seen him grow up as a player and as a person. I first met him when he was 12. I know his whole evolution, I know his family and I know his team very well. I think it's easier because I know how much I can push him and what I can expect from him."
Moya has been keen to use modern technology in his work with Nadal. The tweaks made to Nadal's serve this year were partly a result of video analysis of the player's service action at his academy in the off-season. Moya, who also uses statistical analysis to help with his match planning, liaised with Roig on the serve after sending the videos to him in Barcelona.
"I've always liked using technology, but in my time as a player there was not much access to data," Moya told the ATP's official website earlier this year. "In this area, tennis was a bit behind compared to other sports, but now it has caught up. Stats are by no means the most important thing to rely on, because there are a multitude of factors that make a player who he is and what he achieves, but it definitely helps to have some knowledge to go by in terms of data when looking at our strengths and weaknesses, and those of our rivals."
Salva meanwhile has the advantage of having played doubles alongside Rafa Nadal. Just five months older than him, he first met the future world No 1 when they were seven. They reached two tour doubles finals together in 2007, but at 21 Salva retired from regular competition and focused instead on coaching. He eventually joined Nadal's academy and is now a member of his personal team.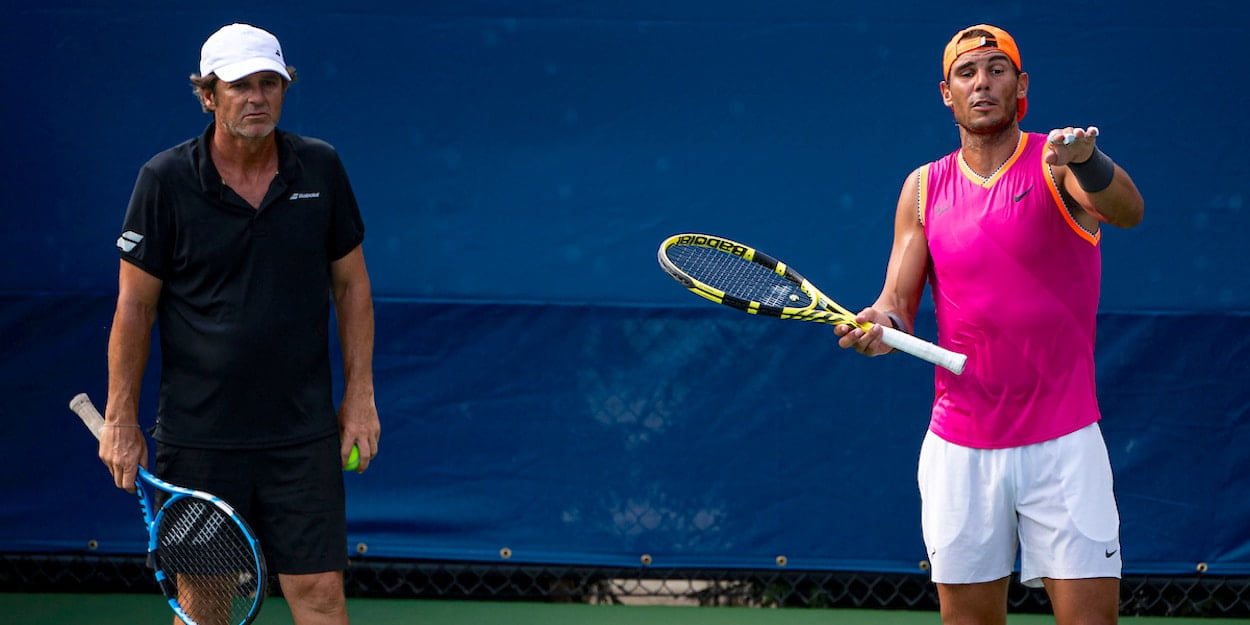 "The important thing is to have a group of people around you who feel free enough to tell you if you are doing things right or not," Nadal said. "When you are often changing people around you it's difficult to find this confidence.
"Tennis has a problem in that normally the player pays the coach and the physio, the team. That sometimes creates an atmosphere in which the people who are around the player are a little bit more scared about telling the player the truth. To build this confidence, the player needs to give them the confidence that they can tell you what is the real thing for them, not what you want to hear all the time. In my opinion, it's difficult to build that in a short period of time. If you have the same team for a long time, of course they know that their jobs are not in danger if they say certain things."
Having a strong and supportive team around him was particularly important for Nadal earlier this year. In the spring he was troubled by a number of physical issues and admits that he was struggling mentally. "I was too worried about my health and, to be honest, too negative," he said. "Mentally I lost a little bit of energy because I had too many issues in a row. It's tough when you have to deal with one and then another."
Things started to turn around for Nadal at the Barcelona Open in April, after which he embarked on the run which would eventually put him back on top of the world. "For me it was so important that at these moments I had my team, my family and all the right people around me," he said.