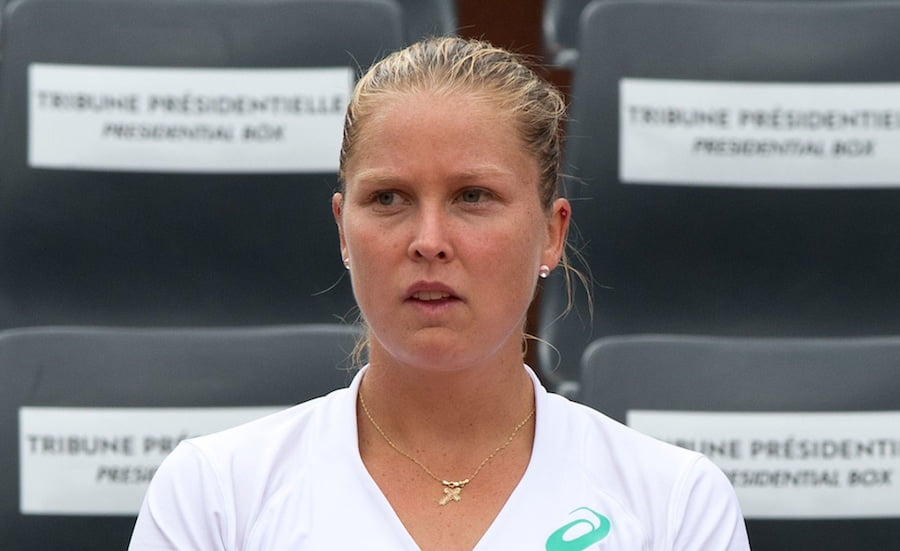 "It's very tough mentally, being away from something you love" Shelby Rogers talks exclusively about the pain of injury
Shelby Rogers reached the quarter final of the 2016 French Open before a horror injury forced her into a long break from the game. We spoke to her about her perfect return and much more
You enjoyed your best run at a Grand Slam tournament when you reached the French Open quarter-finals in 2016. Is it your favourite Grand Slam event?
"I think so, though playing at the US Open is always super special for any American."
You grew up playing on green clay in your home city of Charleston in South Carolina. How different is it to European red clay?
"It's a bit slower, a little finer, but the movement's the same and the structure of the points and the strategy as to how you want to play is similar. Some of my best results have come on clay."
You returned to competition at the Charleston tournament this year after 13 months out following knee surgery. Was it always the intention to return at your home event?
"I would have liked to start a little bit sooner, maybe at a smaller tournament, but in the end it was the perfect story. Everyone says the first match back after a long break is the hardest, so I was very happy to start with a win [against Evgeniya Rodina]. I had thought about that moment for a really long time and it was even better than I had imagined."
When you hurt your knee at Indian Wells last year did you sense that it was serious?
"Yes, absolutely. I suffered the injury in the second set. I probably shouldn't have finished the match, but I just didn't want to quit. After I came off the court I sat on the ground and said I didn't want to go and see the doctor because I knew it was bad. I could feel it. I couldn't walk. I just wasn't ready to hear the news yet. I just sat there. Everyone was staring at me and thinking: 'When's she going to move?' In the end I got an MRI that day which confirmed what was going on."
How much did you miss tennis during your break?
"I think the low point was during the French Open. I didn't watch a single ball. After that I kind of accepted it. I did a lot of mental work and got over it. I said: 'OK, this is where you are now. Make the most of this situation.' I took the opportunity to do some commentary work with the Tennis Channel, which was an amazing experience."
What else did you do with your time off?
"I learned a lot about myself and about life and how to be normal for a little bit. I got to do things that you don't normally have the opportunity to do because we travel so much. I saw my family and friends, took weekend trips. But at the same time the physical therapy was very difficult and I think much harder than I expected."
What other things did you do apart from the physical rehab work?
"Mental work. It's very tough mentally, being away from something you love. It's your whole life and all of a sudden it's taken away. It's very difficult. I was on crutches for three months and had a lot of down time to fill. I did some psychology classes on line and just tried to stay busy."
Why psychology?
"I've always been very interested in how people work and react to situations and why people are the way they are. And at the same time as tennis players we're always around people. It's a very mental sport."
Do you use a sports psychologist?
"Yes – and I think everyone should. I think it's very helpful, in any sport. And whether you're an athlete or not, it's just a really great option to be able to talk to someone who's unbiased, who's outside of your circle, to give you a good perspective."
Could you see yourself working as a sports psychologist one day?
"I've got a lot more schooling to do before I really commit to that, but I think that being a sports psychologist would be a really fun thing for me."
You played tennis with Barack Obama at the White House's Easter Egg Roll in 2016. Is he a good player?
"He's very good. It was a really cool experience. Sloane Stephens was there and my mum, but it was crazy because while we were on site at the White House they went into full lockdown because there was some sort of threat. I don't know exactly what happened, but all of a sudden you saw all these secret service people coming out. It was like the real deal. It felt like it was straight out of a movie."
You have a reputation as very emotional person. What's the one thing that's guaranteed to make you cry?
"Anything involving the military I get pretty worked up about."
Do you have any people in your family with a military background?
"Yes, my grandpa and my great-uncle were in the air force and they're definitely a big presence in my family. I love hearing the stories about them, the history involved, and just how tough they were and how much they were willing to sacrifice for others. I cry very easily – happy, sad, angry, frustrated, hungry. I'm like a little kid."
Shelby Rogers fact file
Age: 26
Born: Mount Pleasant, South Carolina
Lives: Charleston, South Carolina
Height: 5ft 9in
Tour-level debut: US Open 2010
Best Grand Slam performance: French Open quarter-finals 2016
Highest world ranking: No 48 (January 2017)
Rankings breakthroughs: top 200 April 2013; top 100 November 2014; top 50 August 2016
Keep up to date with all the action at our tennis news section. Win amazing tennis prizes by entering our competitions. Learn more about your favourite players including Roger Federer, Rafa Nadal and Novak Djokovic. Check out the latest kit in our tennis gear reviews. Receive regular updates with our legendary newsletter or read in depth features with stunning photography in tennishead magazine. Can't visit the tournaments you love? Check out our guide on how to watch tennis on TV. Don't miss a thing with our Live Scores service. Follow tennishead on social media at Facebook, Twitter, Instagram & YouTube