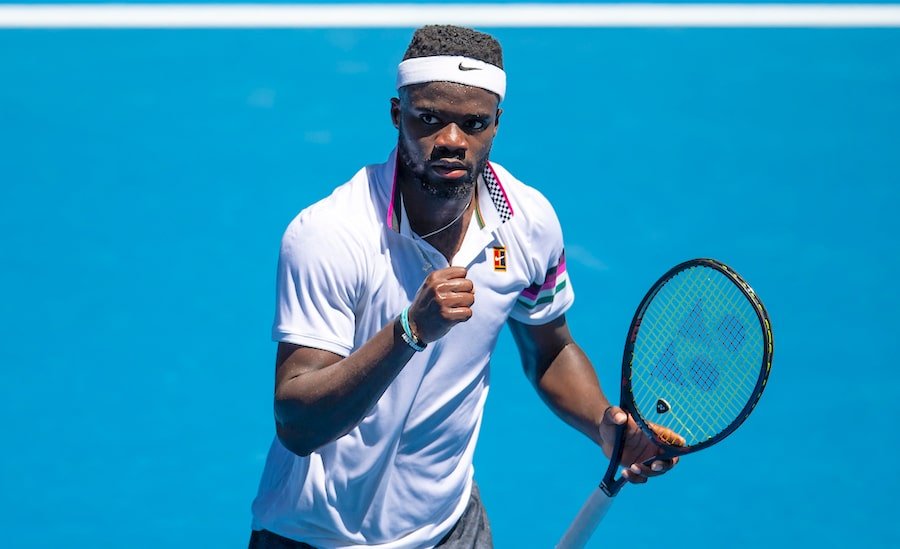 "It's probably France Tiafoe" James Blake and Michael Chang talk exclusively about America's search for the next Grand Slam champion
In 42 years of Grand Slam competition the United States has never had to wait this long for a men's singles champion. James Blake and Michael Chang tell Paul Newman why they have sympathy with the current generation of Americans and why they think Frances Tiafoe could be the one to end the hurt
The United States has been the most successful nation in the history of men's international tennis but you would hardly have guessed that from the last decade and a half. It is 16 years since an American man won a Grand Slam singles title and for all the promise shown by the likes of Frances Tiafoe, Taylor Fritz and Reilly Opelka, the wait for the next champion looks likely to go on for a while yet.
When Andy Roddick won the 2003 US Open it was the 12th year in a row that an American had won at least one of the four Grand Slam tournaments. The 63 Grand Slam tournaments since then represent the longest run without an American victory since Grand Slam competition began with the first Wimbledon in 1877. Other than the current sequence, the longest previous run of Grand Slam events without an American victory was the 30 tournaments that separated Tony Trabert's 1955 win in New York with Chuck McKinley's 1963 Wimbledon triumph.
The 1990s and early 2000s were a particularly successful era for American men's tennis thanks to the excellence of Pete Sampras, Andre Agassi, Jim Courier and Michael Chang, but since then a European foursome have monopolised the biggest prizes. Roger Federer, Rafael Nadal, Novak Djokovic and Andy Murray have won 57 of the last 65 Grand Slam men's singles titles. No American man has even reached a final since Roddick lost to Roger Federer at Wimbledon in 2009.
James Blake was one of those who tried in vain to extend the domination of Americans beyond the Sampras-Agassi era. Blake, who got to No 4 in the world rankings but never reached the semi-finals at a Grand Slam tournament, told tennishead: "It's been pretty incredible to have three of the greatest players of all time playing in one era. That makes it tough for anyone outside that group to win Grand Slams. Those top guys are continuing to play at an incredible level. They're getting better and better as the years go by."
While it is true that the "Big Four" have kept a firm grip on the sport's major honours for the last decade and a half, there have been times in recent years when American men have looked barely capable of mounting any sort of challenge. In 2013, for example, no American men made it to the last 16 of any of the four Grand Slam tournaments for the first time in history. That was also a year when, for the first time ever, the top 20 in the men's world rankings did not feature a single American.
Blake, who retired in 2013 and is now the tournament director at the Miami Open, remembers the pressure he felt to emulate his predecessors. "I remember very vividly being asked where the next Agassi, the next Sampras or the next McEnroe would be coming from," he said. "Andy [Roddick] took the brunt of that, which helped the rest of us. I know Andy felt a lot of that pressure.
"It's tough because the American men were so dominant in the 70s and 80s and even into the 90s. The fans became so used to Americans being in Grand Slam finals every time. Now I think there's the realisation that it's a much more globalised sport and it becomes more and more difficult for one country to dominate.
"In the past you didn't have champions from Serbia or from Asian countries. You didn't have a lot of other opportunities throughout the world to be successful. It was the power countries of America, Australia, France and England. Now there's way more globalisation. In general that's good for the game."
Chang thinks there is less pressure on young Americans now than there was on the Roddick-Blake generation. "It was probably a little bit unfair to compare them with the previous generations because I don't know long it will be before you have another generation like ours," he said. "Not only did we have Jim, Andre, Pete and myself, but you could also include players like Todd Martin and MaliVai Washington. We had such an incredible depth in US men's tennis."
The 1989 French Open champion agrees that the recent lack of success in terms of Grand Slam titles has actually eased the pressure on the current generation of American men, even when they are playing at the US Open. "I think they're just trying to take it match by match," he said. "There's no pressure on them to go out there. Nobody's expecting them to go out there and win championships."
Chang thinks that strength in depth was one of the factors behind the remarkable success of his generation. "It fuels the competition," he said. "It fuels the desire and the belief, the discipline, the hard work."
Blake agrees. "I think for that generation there was a real rivalry," he said. "They weren't calling each other to hang out for dinner and stuff. Andy [Roddick], myself and Mardy [Fish] did it in a different way. We wanted to beat each other as bad as we could on the court, but afterwards we wanted to hang out. We were friends. We had friendly rivalries.
"I think this generation is similar. Steve Johnson, Jack Sock, Frances Tiafoe, Opelka – all those guys get along great. They help each other, they push each other. And whichever way makes you the most successful, I think it does help to have that group mentality."
He added: "I think the pressure's off [the current generation of Americans] until they get into a situation where they're going to get asked about it. When they get to the quarter-finals or semi-finals of a Grand Slam and there's more talk about 2003 being the last time this happened, I think there's going to be a lot more pressure.
"Right now there's a group of them in a similar situation. Once one of them breaks out and becomes the certified star, the one where the hope is put on their shoulders, then it's going to be a matter of that person really needing to be able to handle that pressure pretty well."
Blake is optimistic about the future. "I think overall American tennis is still in a strong position," he said. "The Davis Cup team has done fairly well, John Isner has had a lot of good results, when Jack Sock's healthy he's had some good results, the young guys coming up, like Tiafoe, Opelka and Fritz, I think they've got chances. But it's going to take a little bit more time."
Which of the new generation does Blake see as the best prospect in terms of potentially winning Grand Slam titles? "In my opinion it's probably Frances Tiafoe," he said. "I think he's got the most tools. Right away that puts more pressure on him, so I feel like I probably shouldn't say that! But he's a good athlete, he moves really well, he works really hard. I think he still has ways to improve, which makes it exciting for me to see how he gets better and matures and grows on the court."
Chang agrees that Frances Tiafoe is the best prospect but includes players like Jared Donaldson and Tommy Paul in the mix of Americans with big potential. "We haven't had as good a crop of young Americans since our generation," Chang said. "Hopefully they will continue to mature, continue to grow and continue to improve. It's been great to see some of their results and hopefully we'll see more and more of that."
Keep up to date with all the action at our tennis news section. Win amazing tennis prizes by entering our competitions. Learn more about your favourite players including Roger Federer, Rafa Nadal and Novak Djokovic. Check out the latest kit in our tennis gear reviews. Receive regular updates with our legendary newsletter or read in depth features with stunning photography in tennishead magazine. Can't visit the tournaments you love? Check out our guide on how to watch tennis on TV. Don't miss a thing with our Live Scores service. Follow tennishead on social media at Facebook, Twitter, Instagram & YouTube