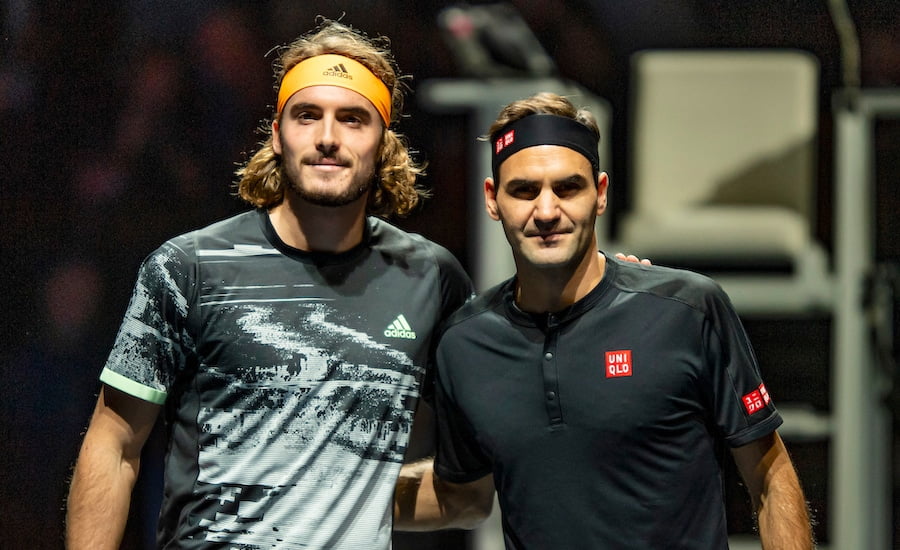 "It's going to be very beneficial for his career" Roger Federer identifies Tsitsipas strength
Roger Federer is renowned for having one of the best of all time but thinks that Stefanos Tsitsipas could be knocking on his door in this specific area of the game
Roger Federer says that because Stefanos Tsitsipas is tall and can loop his backhand or hit down on it then this will benefit his whole career. Federer is referring to a skill that some single handed backhanders find tricky which is to hit topspin and slice equally as well when only using one hand. Famously Federer went through a stage of his career when he played Nadal a number of times and struggled with a high ball on his backhand. Federer has subsequently worked through that and can now see in Tsitsipas the same level ability that he's managed to achieve with that specific shot.
Federer was speaking after his heartbreaking loss in the semi finals of the ATP Finals to the young Greek who went on to win the final against Dominic Thiem.
Federer was asked if he saw any similarity between the two young players Tsitsipas and Thiem in terms of their one handed backhand when he said, "Yeah, a little bit. Like most one-handers, they come at a certain time. I was expecting them, to be honest, because already in Basel he hit quite a lot of backhand-down-the-lines again me, but I don't think his backhand down the line today was the difference maker. The difference was elsewhere, you know.
"But, yeah, he has it, you know, and he's tall and he's strong up there. He can loop it and come down on it, and that's why also I believe he's good on faster courts and on slower courts. It's going to be very beneficial for his career.
"You know, obviously it's his footwork that's always on the aggressive side. Any short ball will be attacked, and I think he does that very, very well. He's one of the best at that in the game."
Roger Federer has risen back to no.3 in the world but the Australian o[pen in 2020 will be his next competitive match as he's declared that he won't be able to play any of the traditional warm up tournaments in Australia.
Look ahead to the rest of the tennis year with our guides to every tournament on the ATP Tour and WTA Tour. Can't visit the tournaments you love? Read our guide on how to watch all the ATP Tour matches on TV. For more news, explore Tennishead magazine here or subscribe to our free email newsletter here.