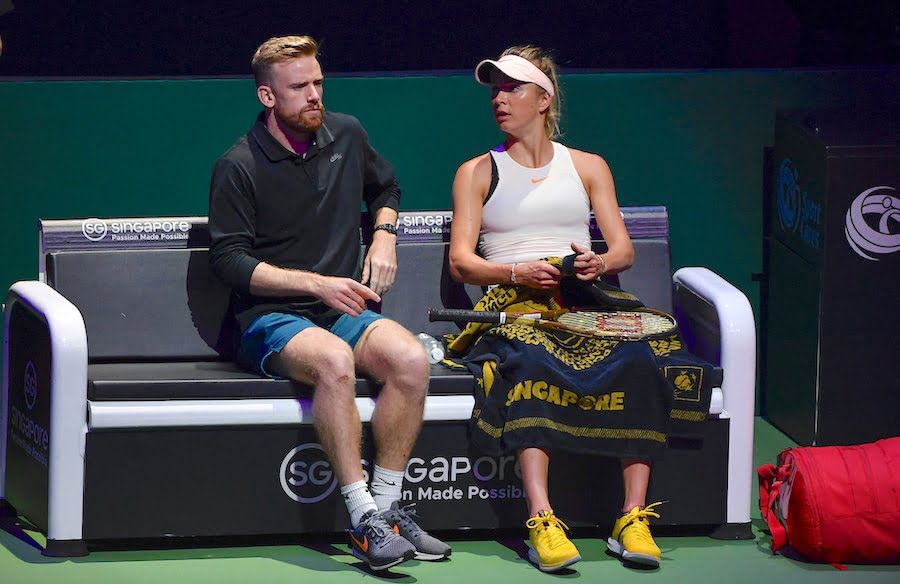 Is the player or the tennis coach in charge? A revealing look behind the scenes of professional tennis
Players pay their tennis coach, but it is the coaches who give the instructions. In the wake of a flood of changes on the women's tour in recent months, Stephen Towers investigates what can be a tricky relationship between players and coaches
It can be one of the most delicate relationships in tennis. Players employ a tennis coach, yet in practice it is usually the coaches who are in control, telling their charges what they are doing right and wrong. The nature of the relationship can be a challenge for all parties involved and is perhaps behind some of the turmoil that has seen so much chopping and changing between players and coaches at the top of the women's game.
How else to explain some of the remarkable changes of personnel over the last five or six months? Angelique Kerber, for example, recruited Wim Fissette as her tennis coach at the end of 2017 after a year in which she failed to win any titles and slipped from No 1 in the world rankings to No 21. Under Fissette's guidance in 2018 Kerber won Wimbledon and reached the semi-finals at the Australian Open and the quarter-finals at the French Open, yet even before the end of the season the German parted company with her coach. Kerber went on to recruit Rainer Schuettler as his replacement.
If Kerber's parting from Fissette raised plenty of eyebrows, news of the split in February between Naomi Osaka and her coach, Sascha Bajin, was even more of a shock. Bajin, who used to be Serena Williams' hitting partner, started working with Osaka at the end of 2017, when she was the world No 68. After winning the US Open last September and the Australian Open this January the Japanese sat on top of the world rankings, but within days of her Melbourne triumph Bajin was looking for a new employer.
Those were the most surprising coaching changes in recent months, but there have been plenty more. Indeed, there were so many that at the Australian Open the Women's Tennis Association provided the media with a daily "coaching carousel" guide.
Johanna Konta recruited Dimitri Zavialoff as her new tennis coach after parting with Michael Joyce, who then teamed up with Eugenie Bouchard. Maria Sakkari, having parted company with Thomas Johansson, hired Mark Petchey. Madison Keys started working with Jim Madrigal, a former coach of Bryan Baker and Tennys Sandgren. Fissette reunited with Victoria Azarenka, Sam Stosur turned back to her childhood coach, Nick Watkins, after ending her partnership with Josh Eagle and Elina Svitolina made Andrew Bettles her main coach following her split with Thierry Ascione.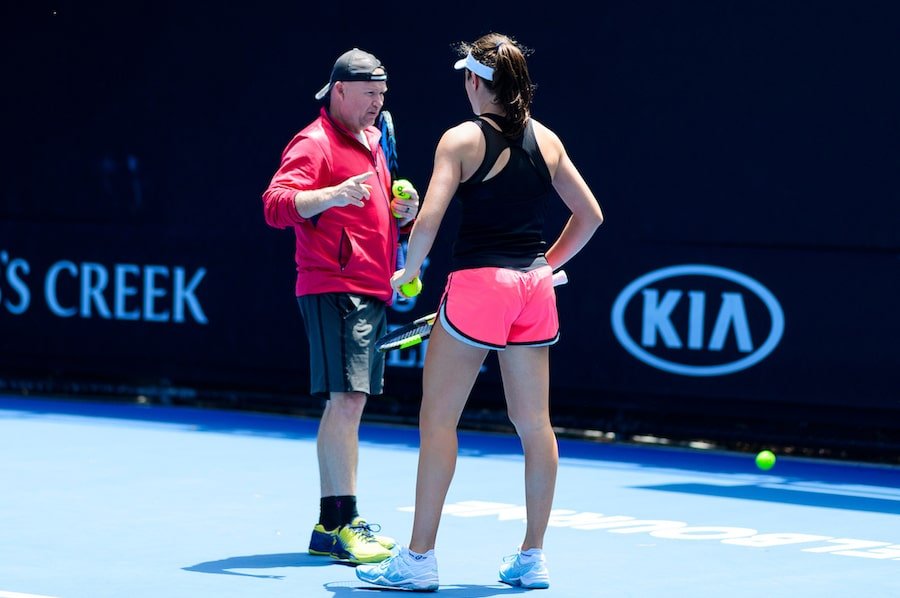 Meanwhile Simona Halep went into the 2019 season without a coach after Darren Cahill decided to spend more time with his family. A short trial with Thierry van Cleemput, David Goffin's former coach, ended with Halep still searching.
There are clearly many different reasons behind such changes, but Jiri Vanek, Petra Kvitova's coach, agreed that in tennis the relationships between players and coaches can be much more complicated than those in team sports. In football, for example, the club employs the coach, whose authority over the players is very rarely called into question.
"In tennis the player is like the guy who is owning the [football] team," Vanek said. "The team pay the coach, who is in a stronger position because he's the one who decides, for example, which players he wants to have on the field.
"But in tennis it's always up to the player. Sometimes a player can be not nice to their coach. They take it like they pay you and they almost own you. It's up to the coach, if he is strong enough, to tell the player what is wrong, what is not wrong. Sometimes you just have to stay quiet. With Petra, though, we have everything clear and she's totally nice."
Most players and coaches are reluctant to explain why their partnerships end. Poor results are often a reason, while personal frictions are also inevitable. The relationship can be an intense one as two people who had never previously spent time with each other are suddenly thrust together. It can mean the player and coach spending most of their days with each other, whether on or off the court.
Disagreements about pay can be behind some splits. In the wake of her parting with Bajin, Osaka insisted that she would not say "anything bad" about her former coach and said she was "really grateful for all the things that he's done". She described a suggestion that their split was about money as "one of the most hurtful things I've ever heard" and added rather mysteriously: "I think my reason is I wouldn't put success over my happiness."
Kerber said that she and Fissette had simply disagreed about future plans. Intriguingly, the Wimbledon champion said that one of the attractions about Schuettler, compared with her previous coaches, was that the former world No 5 used to play at a high level.
"He knows how it is to be under pressure, to have emotions on court," she said. "He understands my thinking. On court he is also a hard worker. He loves the sport like me. We are both really trying to do our best. We have the passion."
While nearly all the top players employ their own coaches directly, some work with coaches provided by their national federations or by the academies where they are based. This can make the relationship less personal and more business-like, which is what some players and coaches prefer. For the coaches in particular it can mean that they are not answerable only to the player and do not rely entirely on that player for their living.
Danielle Collins reached the semi-finals at this year's Australian Open with a United States Tennis Association coach in her corner. Collins generally practises at the IMG Academy in Bradenton, Florida but her coach, Mat Cloer, is based at the USTA National Campus in Orlando, where she trained in the close season.
Does Cloer think such an arrangement makes for a better player-coach relationship? "It definitely could make it easier," he said. "I think it depends on the relationship between the player and the coach. I know some coaching relationships that are great, where the player employs the coach. I don't know if there's a right or a wrong or if one situation is better than the other. I think it just comes down to how the player and coach view each other and the respect factor."
The fact that most coaches are considerably older than their charges can give them a natural authority in their relationship, though that does not apply to Bettles and Svitolina. At 26 Bettles is less than two years older than Svitolina. The Briton started out as a hitting partner for Ana Ivanovic when she was coached by Nigel Sears and worked as an assistant to Thierry Ascione when the Frenchman coached Svitolina. He became Svitolina's main coach when she parted company with Ascione last year.
"I don't think the age thing makes a difference," Bettles said. "I don't think it's a problem with us. She respects me and I think I've earned her trust and respect over the years we've been working together."
Svitolina agrees. "He's young and I think that's why he understands me very well as a person, not only on the court but off it as well," she said. "We share the same views on tennis and that's why I think it's working well.
"We have worked with a few experienced coaches before, so he's learning very, very quickly. Of course there are some things that we don't agree on and it's normal. We are both humans, and sometimes we are different. We have different opinion on things. But in the end, you have to be clear with what I have to do on court. That's the main thing and that's what we're working on."
Despite all that, there can be no doubt about the nature of the relationship. "I am the boss," Svitolina said with a smile.
Look ahead to the rest of 2019 with our guides to every tournament on the ATP Tour and the WTA Tour. If you can't visit the tournaments you love then do the next best thing and read our guide on how to watch all the ATP Tour matches on television in 2019. To read more amazing articles like this you can explore Tennishead magazine here or you can subscribe for free to our email newsletter here