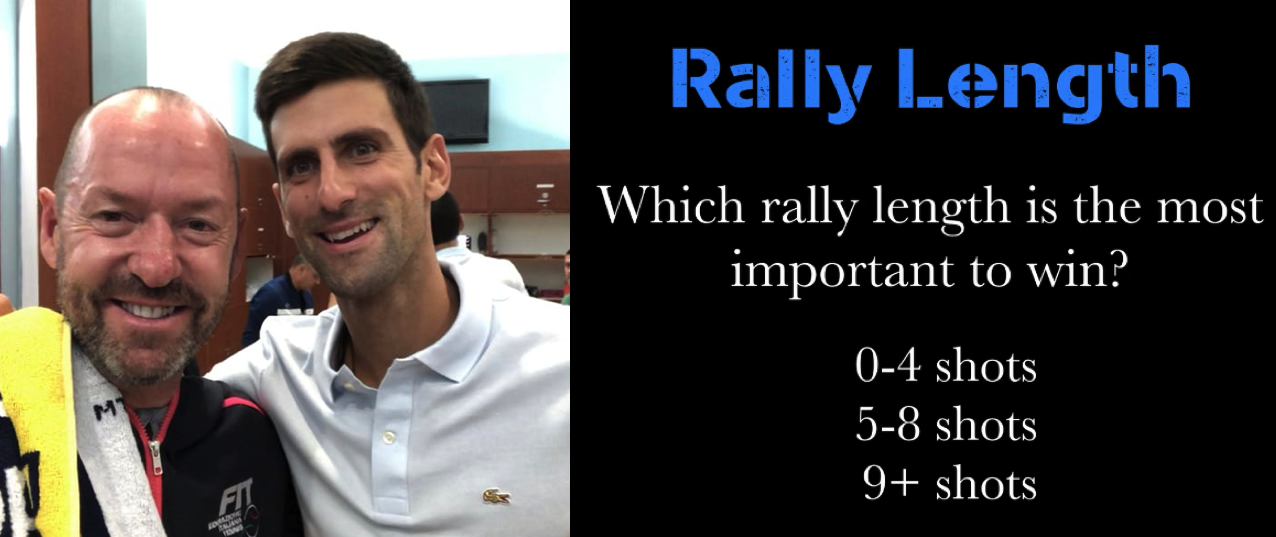 "Is consistency overrated?" says former Djokovic coach in exclusive Tennishead interview
Are we practising the wrong way? Craig O'Shannessy thinks so and he's proved it by using real life data to analyse the way that most tennis matches are won. He reveals all in this superb interview with Tennishead
We were lucky enough to have an hour-long exclusive interview with the world's leading tennis tactics and strategy analyst, Craig O'Shannessy. Craig has coached some of the world's best players such as Novak Djokovic and now he's turned his talents and experience towards the amateur club player in an effort to help them use data and analysis to improve their game. To benefit directly from Craig's online coaching courses visit BrainGameTennis.com.
We asked Craig about his renowned analysis of the 4 shot rally and how that data can be used by club players to help them improve. This is what Craig had to say…
"It goes back to when the ATP Tour started collecting data in 1991. We used to practice on court thinking that consistency was the bedrock of our game and in some instances it is. Because as a beginner if you can hit the ball 4 times in a row then fantastic, but when we started looking at the data we asked ourselves is consistency overrated?
"In 2015 I was at the Australian Open and I noticed a new statistic showing rally length of 0-4 shots, rally length 5-8 shots and rally length of 9+ shots and I was fascinated because we'd never ever counted the length of each rally. So I looked at the data and found it pretty compelling.
"Looking at tournament players, is consistency the best thing that you can focus on?
"When I looked at the data from the 2015 Australian Open for rally length I started with the fact that these players are the most consistent tennis players on the planet, but when we looked at the stats it was CRAZY!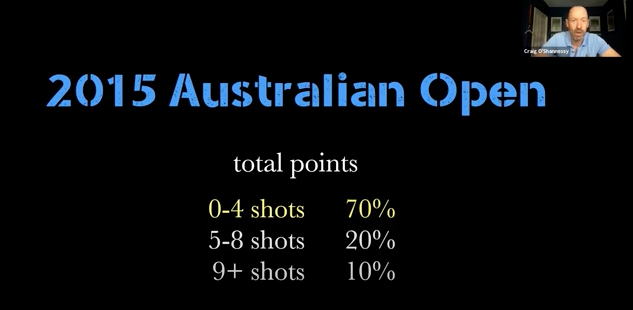 "I'd been in tennis for a long time and I'd never noticed that 70% of the men's rallies at the Australian Open 2015 only lasted between 0-4 shots. So I sat back and gathered 2 key points from this data:
The player is only hitting the ball in court maximum of twice in a 0-4 shot rally, so this means that for 7 points out of 10 in the top level of tennis each players is only hitting the ball a maximum of 2 times

Then I looked at the 10% of rallies that last 9 shots of more and realized that when we practice we are practicing rallies that only apply to 10% of the points played in a match – so our practice court is broken
"And these numbers are almost identical at the recreational level of tennis. So the very important part of this for club players is to look at which rally length is the most important to win?
"Did you win or lose your match? And for the people that won a match they may have won the war but within that war there were 3 battles….
0-4 shot rallies
5-8 shot rallies
9+ shot rallies
"You'd think if someone won a match then they were probably better in every individual battle – but which rally length has the greatest correlation to winning a match?
"We analysed 5 men's Grand Slam tournaments…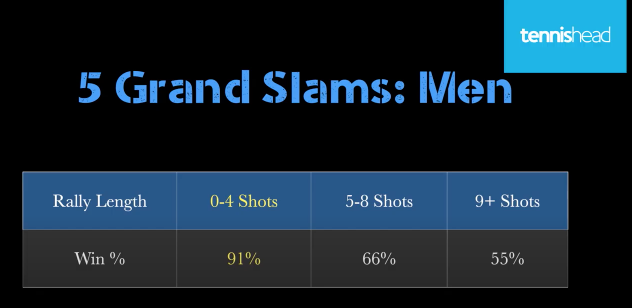 "If the player won the match they had won 91% of the 0-4 shot rallies, they'd won 66% of the 5-8 shot rallies and just 55% of the 9+ shot rallies – bear in mind that the starting point is 50% because it's a 2 player match.
"And this analysis of winning happens at every level of tennis. I've coached at clubs for 30 years and fed balls 10 hours a day and lets be honest, how much better is the average club player going to make their forehand? It's tough.
"But imagine if that club player realized that if they won the 0-4 shot rallies they would win 91% of their matches. So maybe they should focus on improving their serve and their serve + 1 shot and the same for their return and the return +1 shot as well?
This analysis really matters for club players as its helping them to use the match data to organize their practice court.
Now watch the full fascinating interview with Craig:
---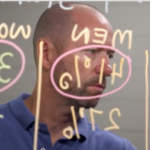 Craig O'Shannessy is the creator of Brain Game Tennis. For 20 years he's been involved in tennis as a coach to players like Kevin Anderson and also with Dustin Brown when he famously beat Rafa Nadal at Wimbledon. More recently Craig's been working as a match analyst at Wimbledon and for the ATP Tour. He has also used the unique insights from his match analysis software dartfish to guide players such as Novak Djokovic with analysis of opponents and performances.
Craig has been writing for tennishead magazine for a number of years and is now working with us on this series of features aimed at using his statistical skills to help you improve your tennis game.
Visit BrainGameTennis.com for your free guide on the '8 ways to force an error' and to find out more about Craig, the world's best tennis strategy coach.