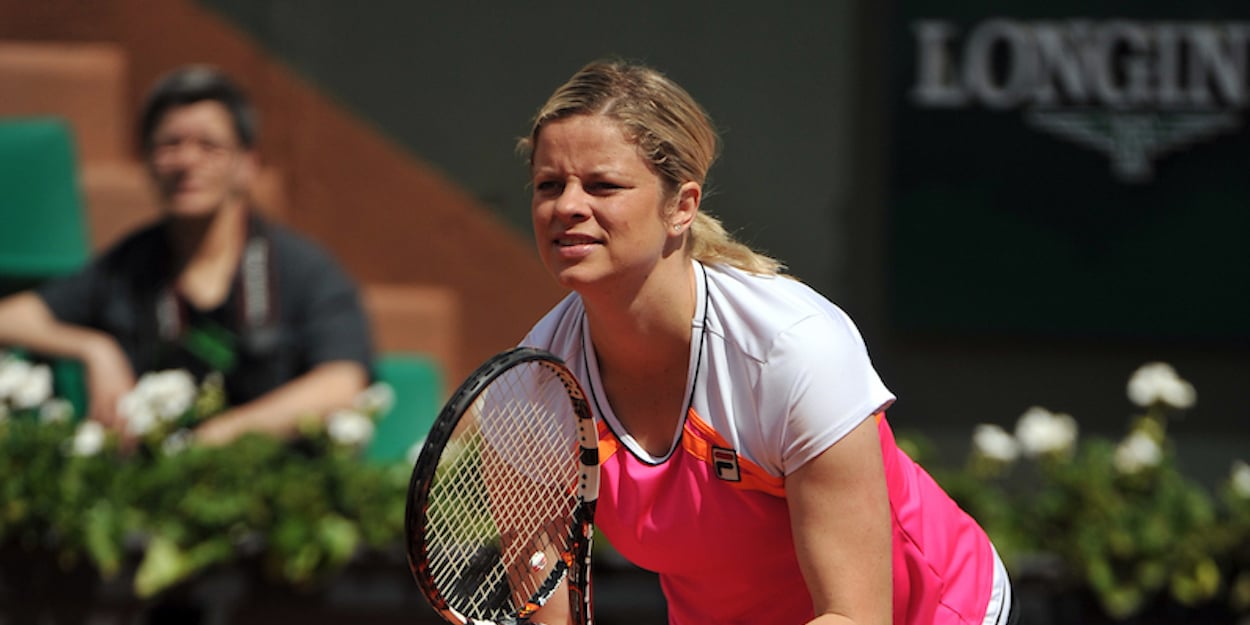 "In four years I'm not going to be able to do this challenge." Kim Clijsters opens up on her return to tennis
More than seven years after she retired from tennis for the second time, Kim Clijsters is returning to competition. Paul Newman hears the reasons behind the former world No 1's decision
Kim Clijsters is happily married with three children, has her own academy near her home, relishes her work as a TV commentator and has enjoyed competing in "legends" events around the world. The 36-year-old Belgian can also look back on a career that brought her worldwide popularity, not to mention six Grand Slam titles (four in singles and two in doubles), a Fed Cup triumph and 20 weeks at the top of the world rankings.
When you have tasted the thrill of competition at the highest level, however, memories are not always enough. More than seven years after retiring for the second time – having made a successful comeback in 2009 following the birth of her first child – Clijsters will be back competing next year.
Despite not having played on the tour since her second-round loss to Laura Robson at the 2012 US Open, Kim Clijsters is two years younger than another mother, Serena Williams, who played in two Grand Slam finals this summer. The examples of Williams and other mothers who have returned to competition have inspired Clijsters, who has had two more children since ending her first comeback.
"I've been on the sidelines, in the commentary booth, seeing Serena compete and fight at the highest level and I think it's amazing," Clijsters said. "But I also admire other women like Mandy Minella and Victoria Azarenka who are also trying to balance [their lives] and get great results out there. It's not that Serena in particular was the inspiration, but I love seeing it and I love seeing that there are so many mothers now in our sport who are trying to be at the highest level of our game."
She added: "I have girlfriends now who at times struggle to find 'me time' and find their passion and find the time to live for their passion and still balance being a mum. I'm 36 years old. I know in four years I'm not going to be able to do this challenge."
Clijsters' daughter, Jada, who celebrated with her in Arthur Ashe Stadium in 2009 and 2010 after she won her second and third US Open titles, is now 11, while her brothers, Jack and Blake, are six and three respectively. Clijsters and her husband, Brian Lynch, a former basketball player, are happy that the time is right for the former world No 1 to return to tennis. "It fits in with my family life," Clijsters said. "I feel like during the day now I have the time. Our three children go to school so I have time during the day to do it."
Jada, who accompanied her parents to the Australian Open this year, played her part in family discussions about her mother's comeback. "She's excited about it," Kim Clijsters said. "She's like: 'Mum, if you want to try it, just go for it.' She always says: 'You tell me to go for it, so why don't you try to do it? It would be cool.' It also definitely motivates me that she plays basketball and at times we train together and learn from each other."
The idea of a second comeback had been in Clijsters' mind for several months before she announced her return in September. Once again, it appears that Wimbledon played a part in her decision. Playing in the test event under the new Centre Court roof 10 years ago helped to reignite the flame that led to her first return, while appearing in the first matches under the new Court One roof this May was another reminder of what it was like to play on the world's biggest stages.
Although Kim Clijsters has yet to determine what tournaments she will play, she will not be contemplating anything like a full schedule. The Women's Tennis Association's rules for returning mothers and for older players mean that she should be able to pick and choose. Former Grand Slam singles champions can request as many wild cards as they want: given Clijsters' standing and popularity, it is hard to imagine anyone turning her down.
"There are no limits and no obligations for me to fulfil to go back on tour," she said. "If everything goes the way that I would like it to go and everything runs smoothly then it's really all in my control to go to the tournaments and to ask for a wild card."
Clijsters plans to have her family with her at some tournaments and appreciates that there will be others that she will have to miss. "I know that this process is not going to be possible if I'm going to be away from home for three or four weeks without my family," she said.
"My youngest are still very young, so for them it's not that big a deal, but for Jada it is. You also have her opinion. As long as we're open and we communicate openly and she has the opportunity to come to a couple of tournaments here and there, then I think that's good enough. But she obviously also wants to be around her friends and in her basketball team and I don't want to take that away from her at all."
She added: "The goal is to start [at the beginning of] 2020. If I can get to a level that is good enough where I can think 'OK, I can compete at the highest level', then I will do that. But if I feel in December that I'm not even close, then I will change that plan. If I'm ready I would obviously love to be a part of Australia, but there so many things that I can't control up until then, so it's hard to commit."
For the moment Kim Clijsters is concentrating on rebuilding her fitness. "I know that if I want to be able to compete with these girls then I'm going to have to be the fittest that I've ever been and to be able to move like I did in the past – and I think that's going to be a lot tougher now than it was nine years or so ago," she said.
Asked about the level of tennis being played today compared with when she last competed, Clijsters cited this year's finals of the Australian Open (Naomi Osaka against Petra Kvitova) and Wimbledon (Simona Halep against Williams) as examples of how high current standards are.
"Those were moments where I do think that the level and the power that a lot of the women bring is higher than maybe in the past," she said. "There have been times when I've been looking at players and I've thought to myself: there's no way I'm even going to get close to competing with these players. But I still look forward to that challenge and to standing in front of whoever it may be and seeing what it's like and how the new generation are different."
She added: "My main goal is to try to get myself [into a position] where I'm able to compete with them. Once I'm at that level then I can start saying: 'OK, maybe this is a result that I would like to achieve.' But I think my first goal is to try to get there.
"I think if you gradually get to that stage then you push yourself and it might be like: 'Let's see if I can get, I don't know, to the second week of a Grand Slam.' I'll constantly push myself if I feel like I'm getting better and improving, but it's very hard for me to think about right now and very unrealistic at this stage to think I want to try and get to the quarter-final of a Grand Slam. I don't think like that."
What had Clijsters missed the most about not playing? "I love the challenge of sitting down with your team and setting the goals, trying to achieve those goals and being in complete trust with your team and knowing that they're going in the same direction," she said. "There has been no greater feeling to this day that I remember than the achievement with your team, the tough work-out where you feel horrible and you push through and you try to get better the next day. It's the constant trying to be better that is what I think I have missed a bit in the past and that I've started thinking about again and am actually really enjoying now."