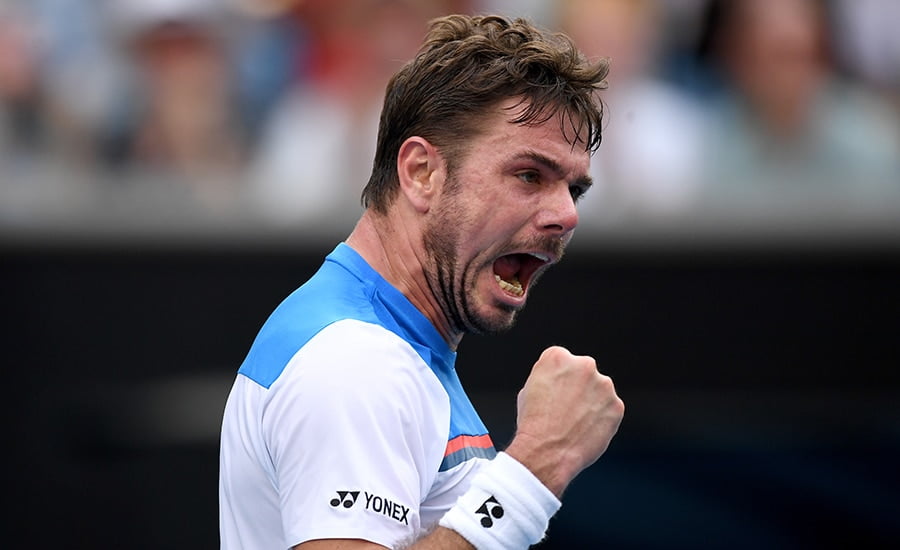 'I'm back to the top level' – Injury-hit star warns Roger Federer and Rafael Nadal he's back to his best
Stan Wawrinka says he feels like he is back to his 'top level' – a declaration that is sure to have caught the attention of Roger Federer, Rafael Nadal, and Novak Djokovic.
Wawrinka is one of just two players – the other being Andy Murray – who have been able to consistently compete with the big three during their era of dominance.
The Swiss star has three Grand Slam titles to his name, and he looked ominously good in dismissing fourth-seed Daniil Medvedev at the Australian Open on Monday.
"I think the last time I played so well was before the surgery," said Wawrinka after his 6-2, 2-6, 4-6, 7-6(7-2), 6-2 victory over Medvedev.
"I feel since the off-season my level is really high. Physically, I'm moving better than last year. So I'm improving."
Wawrinka has endured a very tough couple of years after undergoing the first of two knee surgeries just two months after playing in his last Grand Slam final.
He has had to haul himself back to fitness and back up the rankings, but she says he is now seeing the benefit of hard work.
"I have been practising really hard," Wawrinka explained.
"I've been feeling great on the court, on the practice court, good sessions, putting in a lot of work physically and tennis-wise.
"The week before I came here, I was really feeling at the top level.
"I know I'm in the right place. Winning or losing, that's not what shows if you're feeling good mentally.
"Of course, you work on it, you work to accept to suffer, you work to accept to push yourself always. There's many, many things that you can do to improve your mindset.
"I know that since the end of last year after the off-season, I took a few days off for myself, thinking a little bit more about what I wanted for next year [2020], the way I want it to go.
"Those moments you need to always be honest with yourself. You cannot hide. You cannot lie to yourself.
"Then when you know what you want, you have to put the work on it. That's what I'm doing. Hopefully I can keep doing it the full year."
Wawrinka will face Alexander Zverev in the quarter-finals on Wednesday before a potential semi-final against Rafael Nadal.
Keep up to date with all the action at our tennis news section. Win amazing tennis prizes by entering our competitions. Learn more about your favourite players including Roger Federer, Rafa Nadal and Novak Djokovic. Check out the latest kit in our tennis gear reviews. Receive regular updates with our legendary newsletter or read in depth features with stunning photography in tennishead magazine. Can't visit the tournaments you love? Check out our guide on how to watch tennis on TV. Don't miss a thing with our Live Scores service. Follow tennishead on social media at Facebook, Twitter, Instagram & YouTube