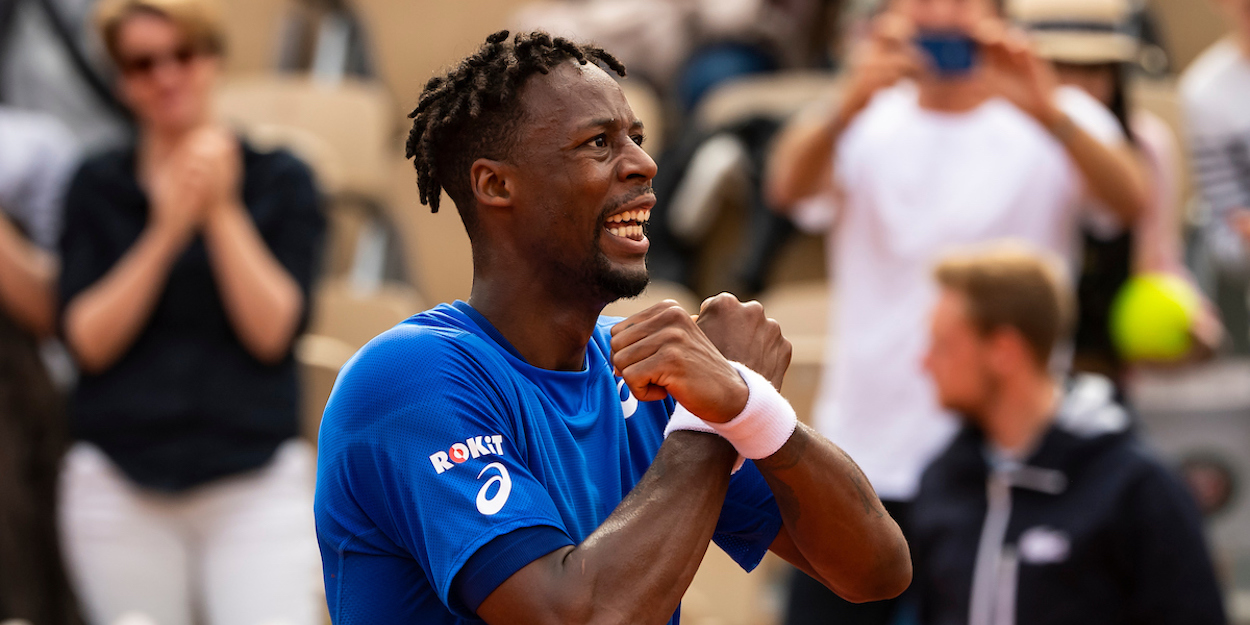 "I'll win or I'll die" – Gael Monfils draws inspiration from Yannick Noah's legendary French Open celebration
If Gael Monfils had not lost in the first round and defied the odds to win the French Open, you would have needed to watch out for the world No 9's reaction when he was presented with the trophy.
Whenever Monfils wins a title he likes to emulate one of his heroes, Yannick Noah, who triumphed at Roland Garros in 1983. The Coupe des Mousquetaires is one of the heavier trophies in tennis, but when Noah was handed it he lifted it above his head with one hand.
Noah, who beat Mats Wilander in the final 37 years ago, is the last Frenchman to have won the men's singles title in Paris. When Monfils interviewed him recently on Twitch, he showed Noah video clips of his historic victory. "The way you're holding the trophy, it's as if you're holding up nothing at all," Monfils said as they watched the presentation ceremony. "Because of that image, whenever I win a tournament I always hold the trophy in one hand now."
Noah, who won 11 of his 23 titles on clay, told Monfils: "The trophy was heavy, but I couldn't feel anything any more. I was in a trance."
Although the tournament was played on clay, Noah's tactics were more like those you would have expected on a quicker court. "My tactics were simple: keep getting the ball back and come into the net," Noah recalled. "I did that all the time."
Noah said that he had made the sign of the cross just before going on to the court. "It was the first time in my life that I had done that," he said. "When I went out on the court I was thinking: 'I'll win or I'll die.' It's the only time in my life that I have ever felt like that."
Henri Leconte, who was runner-up to Wilander in 1988, is the last Frenchman to have made the French Open final. Monfils, who won the titles in Montpellier and Rotterdam just before this year's lockdown, reached the semi-finals at Roland Garros in 2008, when he lost to Roger Federer. He has since made three quarter-finals, losing to Federer again in 2009 and 2011 and to Andy Murray in 2014.