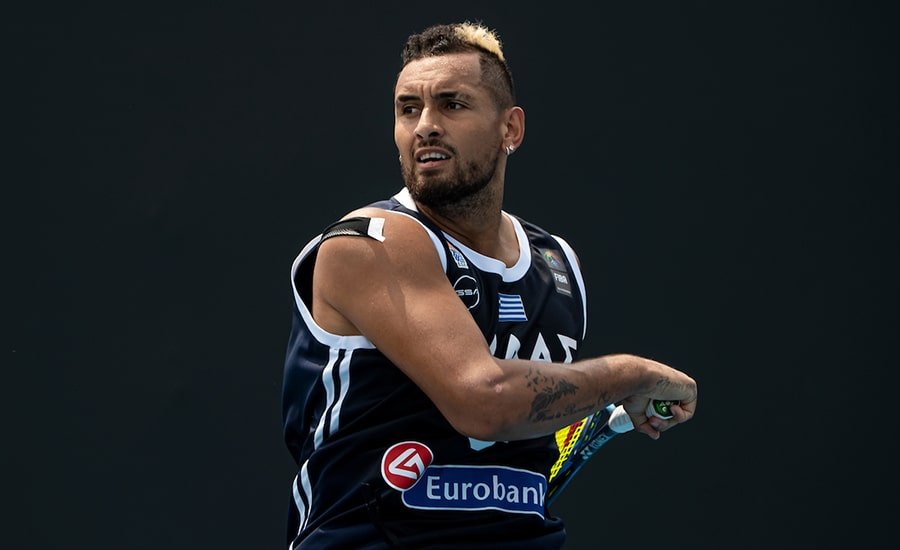 'I was being a bit of a d***head' – Nick Kyrgios apologises to team after nearly losing cool at Australian Open
The 'new' Nick Kyrgios was put to the test on Thursday as he nearly lost his temper at the Australian Open.
Kyrgios was cruising at two sets up against Gilles Simon, but he still managed to lose his way – and his discipline.
The flashpoint happened in the third set when two straight double faults prompted him to direct some fury towards the player's box, where Australia Davis Cup captain Lleyton Hewitt was among his supporters.
"Of all the things you could say on break point, 'stay tough'," he bellowed at his team.
"That's what I get, every break point, 'stay tough'. Wow. So creative, so creative."
However, after keeping a lid on things, he did offer his apologies quickly.
"I was being a bit of a d***head to them," he said.
"I apologised as soon as I went back into the locker room. They don't deserve that. They do a lot of things for me on and off the court. It's not acceptable from me."
On how he managed to keep his famed temper from costing him the match, Kyrgios said: "I just put my head down.
"I lost my way a little bit in the third set. I put my head down, I told myself 'just cut the bulls*** and just get to work'.
"I got the break at five-all. It was a good feeling to get through that."
Nick Kyrgios is still on probabation with the ATP under threat of suspension after his on-court meltdown at the Cincinnati Open last year.
Keep up to date with all the action at our tennis news section. Win amazing tennis prizes by entering our competitions. Learn more about your favourite players including Roger Federer, Rafa Nadal and Novak Djokovic. Check out the latest kit in our tennis gear reviews. Receive regular updates with our legendary newsletter or read in depth features with stunning photography in tennishead magazine. Can't visit the tournaments you love? Check out our guide on how to watch tennis on TV. Don't miss a thing with our Live Scores service. Follow tennishead on social media at Facebook, Twitter, Instagram & YouTube