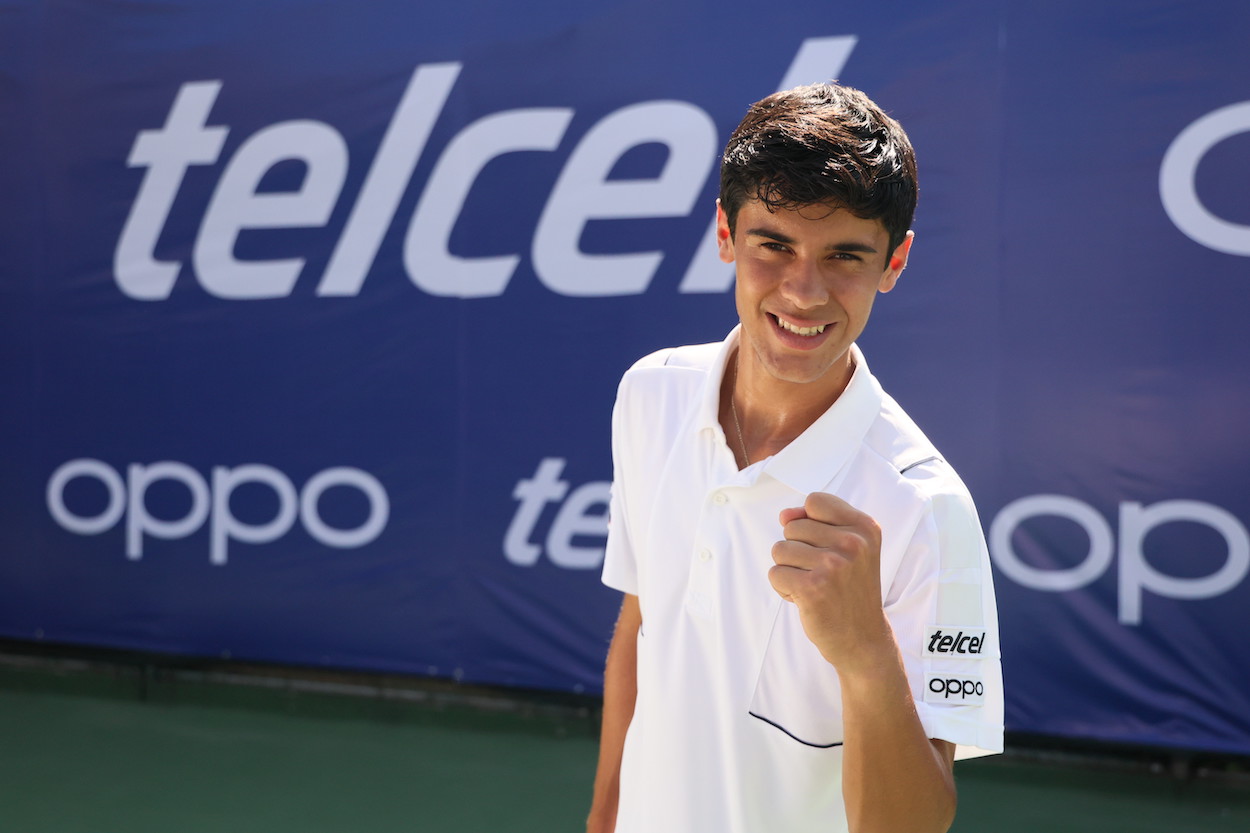 "I want to be like Nadal" says aspiring Mexican pro Rodrigo Pacheco Mendez
Rodrigo Pacheco Mendez is a young, Mexican tennis player with a bright future having already reached the quarter-finals of two junior Grand Slam events and now he's setting his sights even higher, supported by OPPO and sharing in their "Inspiration Ahead" brand proposition.
At 18 years old and 6ft 3in, the left handed Rodrigo Pacheco Mendez perfectly fits the mould of the modern tennis professional but he's not giving up on the junior game just yet as he feels that he has a big chance to win a junior Grand Slam at this year's Roland-Garros.
Tennishead grabbed some time in his busy schedule for an exclusive interview to discover more about the man behind the player.
Pursuing a tennis dream including junior Grand Slam success
Tennishead (TH): Why did you start playing tennis?
Rodrigo Pacheco Mendez (RPM): "I started playing tennis, because my father he loves to play tennis so when I was four-years-old he gave me classes, so then I started to play tennis and then I started to like it more. In the club where I am, I started to play tennis more for social and then I started to play more for professional."
TH: What opportunities for tennis players are there in Mexico?
RPM: "Well now it is sometimes difficult, because some tennis players like to go to college before turning pro. For me it was an easy decision, because since I was young, I decided to play professional tennis so when I turned 18 right now, I decided to play professional tennis. Most of the people that play really well in juniors they prefer to play pro, because it is a feasible way to make achievement in the future."
"Yes, well now I have the opportunities, the support of OPPO and Tecel is helping me and making it easier for me to be professional now, and I am grateful with them to receive this support for being professional."
TH: How would you define 'professionalism'?
RPM: "Professionalism in tennis involves a strong work ethic and commitment to improving one's game, performance and technical skills. Also, maintaining a positive mindset even in challenging situations, also it can be like a respect for the game's traditions, fair play, sportsmanship and integrity, it is essential to be like this in tennis."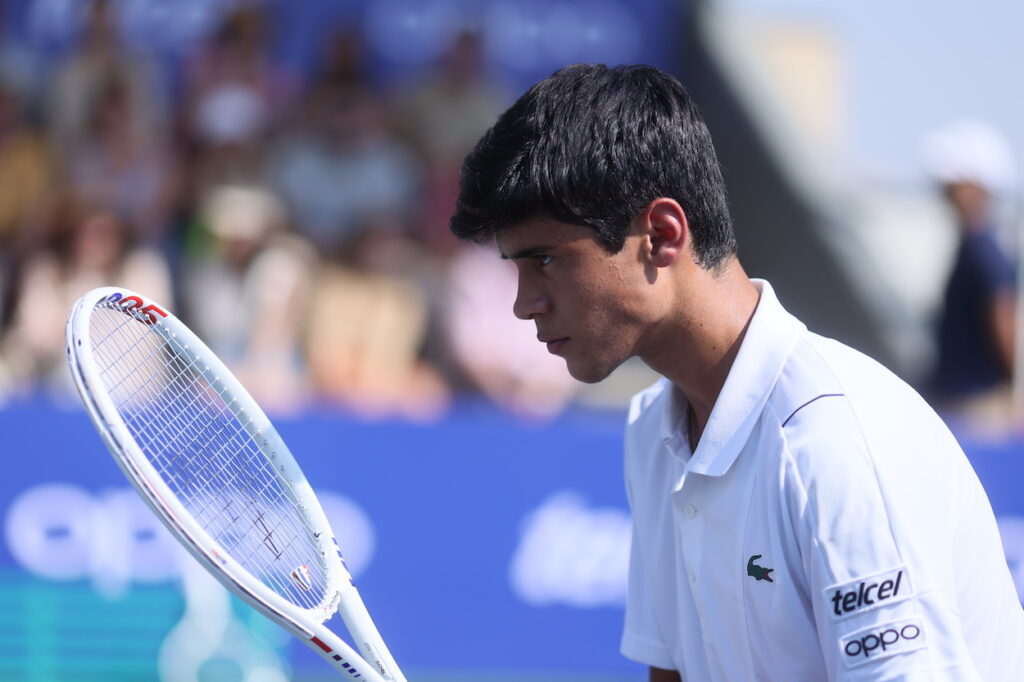 TH: What was your favourite experience as a junior tennis player?
RPM: "My best experience was winning the Copa Yucatan last year, because I am from here and it is my club. I started playing tennis in that club and as it is a small city, everyone knows me in Yucatan. So for me to win this title was the best experience I have ever had in my life."
TH: What was it like reaching the junior Roland-Garros quarter-final and is clay your favourite surface?
RPM: "Yes, it is my favourite surface and I like the slow courts more, because I have more time to feel my forehand, as my forehand is my best shot and also, I play with a lot of spin and a lot of making so many balls in the court. I always love to play on clay as I feel more confidence when I am there. I feel that I can control the match on clay."
Revealing a passionate determination
TH: What are your ambitions for junior Roland-Garros in 2023?
RPM: "I think that I have the chance to win, because last year I reached quarter-finals ant this year I am well-prepared for Roland-Garros. It will be a really nice week and I have the potential to win."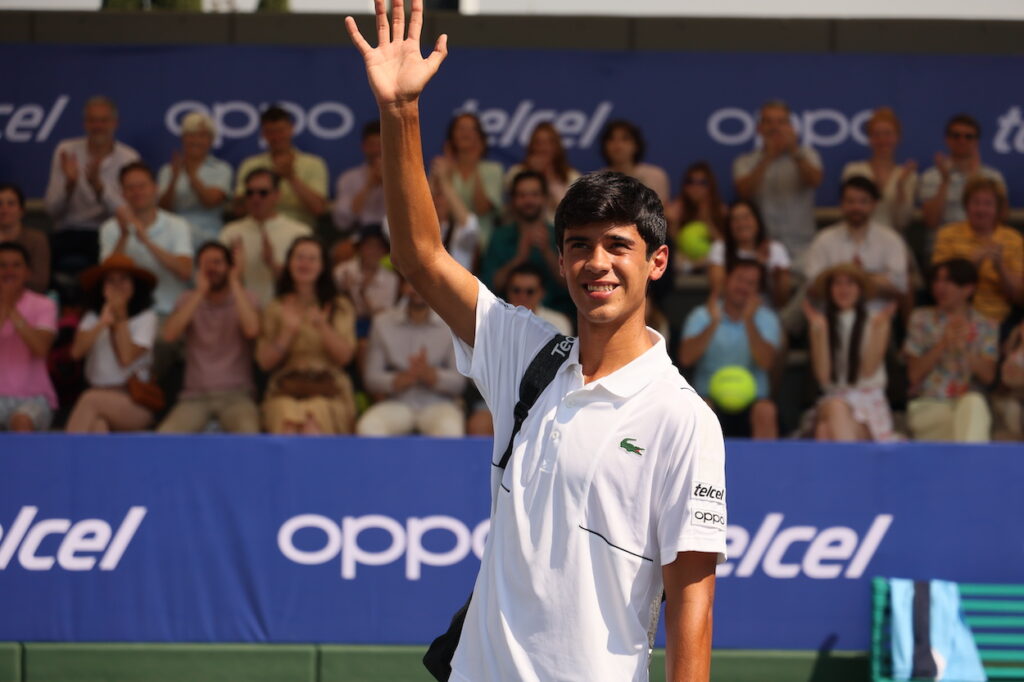 TH: Who is your tennis idol?
RPM: "My tennis idol since a kid has been Rafael Nadal, and I am a lefty like him. His mindset I think is amazing and he plays with a lot of spin. He is my idol and I want to be like him in the future. I know it is very difficult, because he is out of this world, but I think I can achieve something like him, not too much but maybe something."
TH: Does your love for clay stem from your love for Nadal?
RPM: "Yes, that is another reason why also I love the clay. I try to learn from his tennis skills and he loves the clay also, so for me it is good to play on the clay."
The challenges of transitioning from juniors to professional
TH: What's the hardest part of transitioning from junior to senior tennis?
RPM: "For me it is the experience and the mindset, because the difference between the junior tennis players and the professional tennis players is that the professionals they make less mistakes, less unforced errors. In juniors they can play very well, but in important moments professional tennis players make ace and juniors they get so much pressure and they don't know how to handle it, so they make double fault."
"Also, the first part of finishing your junior career and going to professionals is difficult, because you are going to lose a lot of matches and the mind needs to be prepared to handle that pressure to compete with the professionals that are older and stronger. So, we need to be prepared for that moment, and for the mind to be ready to compete and to win some matches and to learn about this first part and give it everything for them moments to come."
TH: What are your favourite and least favourite thing about being a professional tennis player?
RPM: "Well my dream is to be professional, because since I was a kid I wanted to be on the TV, I love to be on the TV and for people to know me and to be an idol for the other guys. To achieve my goals is something that is very good for me, that emotion I cannot describe when I achieve something that I always wanted."
"The only thing I don't like is that sometimes I miss home. This is probably the answer. I like to travel, but sometimes I miss too much my family and home."
TH: What did you learn from playing eventual champion Alex De Minaur in Acapulco?
RPM: "I learnt that I need to improve a lot my physical, my fitness, my body, my mind and to be more aggressive and come to the net, because I was like moving the ball around but he is so fast so I need to finish the point earlier by coming to the net or try to make some winners against him. The most difference was in the serve and in the moving, and the footwork."
The impact of collaborating with OPPO and their "Inspiration Ahead" philosophy
TH: What are your thoughts on collaborating with OPPO?
RPM: "Working with OPPO allowed me to share my own story. I felt that throughout this collaboration I can inspire others to pursue their own passions with dedication and determination. Thanks to the support, I had and the experience to see OPPO's technology first-hand and the incredible connectivity that allows me to share my records with my family no matter where I am playing. I am very glad to collaborate with OPPO, their brand proposes 'inspiration ahead' which embodies the brands determination in aspiring for excellence and aligns perfectly with my own beliefs in becoming a professional tennis player. Overall, I am excited to see what we can achieve together as we continue to move ahead."
TH: How do you use your OPPO phone in both daily life and as a professional tennis player?
RPM: "As a professional tennis player, a phone is an essential tool in my daily life, because I always like to take photos. when I have spare time, I often share photos with my family and social media. I also enjoy sharing things like videos, time lapses and memories with my friends and family using my OPPO phone. The camera is amazing on OPPO. It is amazing, you know it is easy to use you just take the cell phone and record the video, and the face of the flip phone is amazing, everything is so good."
TH: How does OPPO's vision of 'inspiration ahead' translate to your tennis career?
RPM: "For me, it means professionalism in tennis, fast-forward thinking and determination and positivity. I believe that to be successful in any sport it takes not only talent and hard work, but also a strong mindset. As a professional player I feel inspired by the example set by OPPO, and will take the message of 'inspiration ahead' with me on to the court at Roland Garros."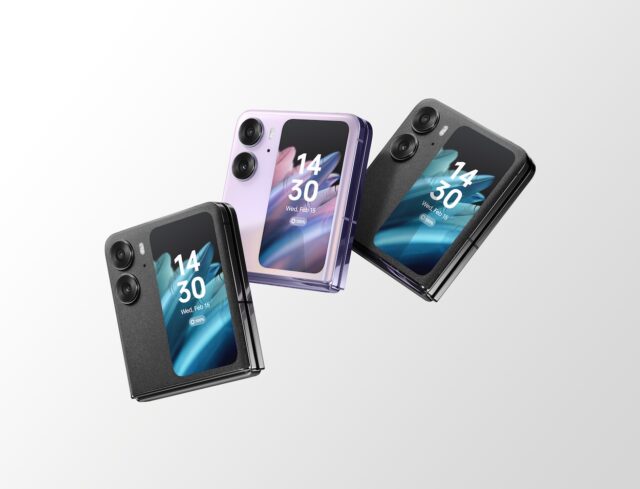 Empowering a new era of technology and performance with OPPO Find N2 Flip
Rodrigo Pacheco Mendez is supported by OPPO, one of the world's leading innovators in smart devices and the World's 4th largest smartphone brand.
Since becoming the first ever Chinese smartphone partner of the world-renowned Grand Slam tournament in 2019, OPPO's collaboration with Roland-Garros has brought to life the powerful connection between technology and sport, expanding the impact of this exciting sports worldwide over the past four years. OPPO has been using the top-of-the-line professional imaging technologies found on its flagship smartphones to capture athletes, fans, and other sparks of excitement on and off the court. OPPO strive to be a sustainable company that contributes to a better world and is a premium partner of Roland Garros 2023.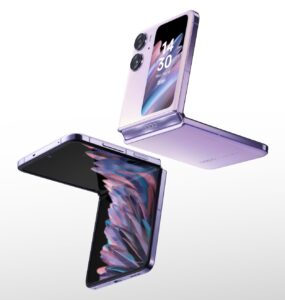 Roland-Garros and OPPO share the same values and aim to constantly reinvent themselves in order to offer an optimal user experience. With its brand proposition "Inspiration Ahead", OPPO will work closely with Roland-Garros to bring more passion and inspiration to tennis through its world-leading devices and technologies while empowering global fans to better enjoy and participate in this year's tournament.
OPPO has recently launched the Find N2 Flip which has set a new benchmark for flip phones. Crammed with flagship experiences, it combines an exquisite, pocketable design, best-in-class displays, and an almost invisible crease line.
The new OPPO Find N2 Flip puts an industry-leading cover screen into palms and pockets, challenging what we've come to expect from small form-factor foldables. Despite its lightweight and pocketable size, Find N2 Flip equipped with the industry's most advanced Flexion Hinge, allowing the screen to be set at any angle between 45-110 degrees. This completely new form factor opens new creative possibilities when it comes to photography and video, helping fans to capture all the actions on the court.
During the tournament, OPPO will once again host the RG x OPPO Photo Gallery, showcasing inspirational moments captured by OPPO's latest flagship smartphones including OPPO Find N2 Flip Through the "Shot of the Day", OPPO will also continue to bring the best shot or rally to fans through Roland-Garros's digital platforms every day of the tournament.
 Join >> Receive $700/£600 of tennis gear from the Tennishead CLUB
 Social >> Facebook, Twitter, Instagram & YouTube
 Read >> World's best tennis magazine
 Watch >> How to enjoy ATP/WTA/Slam tennis on TV
 Shop >> Lowest price tennis gear from our trusted partner