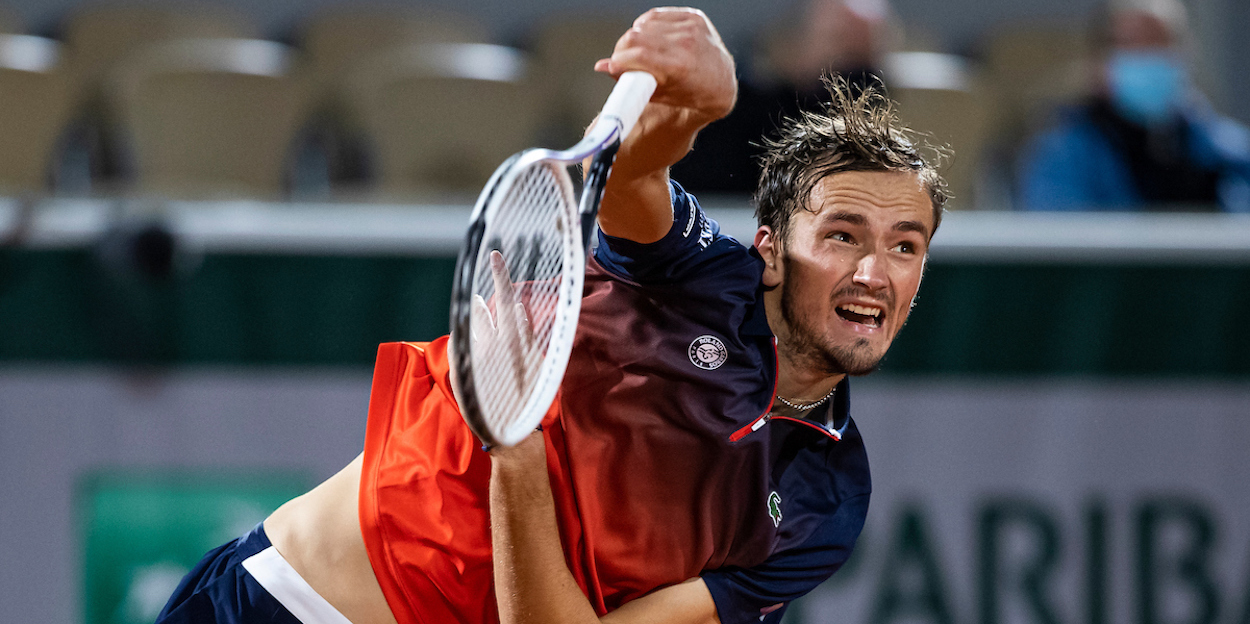 "I just want to win one match!" Daniil Medvedev exclusively talks through the challenges of clay and his hopes for the French Open
Daniil Medvedev has fallen at the first hurdle every year he has played at the French Open. The Russian tells Tennishead that his goal this year is simple: to make the second round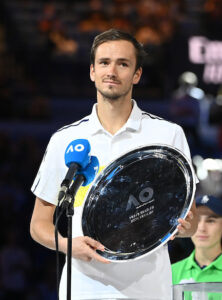 Daniil Medvedev has played in two Grand Slam finals, recorded victories over Novak Djokovic and Rafael Nadal, been crowned champion at the prestigious season-ending ATP Finals in London and won 12 matches against top 10 opponents during a recent 20-match unbeaten run. So why are his ambitions for this summer's French Open so modest? "It's a big goal to at least win a match at Roland Garros," the Russian told tennishead. "I'm 25 and I want to get it done. I'm not talking about getting to the final or anything. I just want to win one match!"
Medvedev's record at the French Open is remarkably poor for a player of his talent and considering his affinity with the host country: he has been based in the south of France for seven years, has a French coach in Gilles Cervara and speaks the language fluently. However, in four visits to Roland Garros he has failed to win a single match.
On his French Open debut in 2017, when he was recovering from glandular fever and had not won a match for three months, Medvedev had to retire in the fourth set against Benjamin Bonzi, the world No 266. Twelve months later he was on court for barely an hour and a half as he was swept aside by Lucas Pouille. In 2019 a maiden Roland Garros victory beckoned when he won the first two sets against Pierre-Hugues Herbert, only for the Frenchman to play out of his skin to win the next three. Finally, the Russian paid for a lack of preparation on clay last autumn and fell at the first hurdle to Marton Fucsovics.
---
"Against guys who have natural spin I have to adapt my game, which makes me more vulnerable"
---
"To be honest every occasion was different," Medvedev said as he looked back on his record at Roland Garros. "I think the best match I played was against Herbert, when I was two sets up and he started playing some unbelievable tennis. There wasn't much I could do. That was a year when I was feeling good on clay. I had my chances to win the match, but I couldn't close it out. He had, I don't know, 3,000 people behind him on a small court cheering him on. It wasn't an easy match and it was definitely a tough loss, which made me a better player, I think, because I always like to learn from losses."
Medvedev recognises that his normal game is not suited to clay because he likes to hit the ball flat. "It's easier for the guys who spin a lot," he said. "That's something I know how to do and is something I've tried on clay, but maybe I'm a bit less effective than playing flat. Talking about clay courts, I think I have improved in general as a player. Actually I liked clay courts when I was younger. Right now I just feel like against many, many players, many good players, I lose my level on clay courts. Against guys who have natural spin I have to adapt my game, which makes me more vulnerable."
Medvedev's contrasting comfort levels on different surfaces are evident from his record. Up to and including last month's Australian Open, he had reached 16 finals, winning nine of them. Fifteen of the 16 were on hard courts, the exception being the 2019 Barcelona Open, where he lost on clay to Dominic Thiem in the final. In his three visits to Wimbledon he has lost in the second round once (to Ruben Bemelmans) and the third round twice (to Adrian Mannarino and David Goffin), though each defeat went to five sets.
As for clay, Medvedev nevertheless still believes that he can be successful on the surface, as he was two years ago. He opened his 2019 clay-court campaign by reaching the semi-finals at Monte Carlo, where he beat Stefanos Tsitsipas and Djokovic before suffering a surprise defeat to Dusan Lajovic. In Barcelona the following week he beat two clay-court specialists in Albert Ramos-Vinolas and Nicolas Jarry, as well as the two-times former champion Kei Nishikori, before losing to Thiem in the final.
"If I hadn't had good results on clay elsewhere, at Monte Carlo and Barcelona, I would say that [my poor record at Roland Garros] would be because of the clay itself, but I know that I can play some good tennis on the surface," Medvedev said.
"Hopefully I can have a bit more luck with the draw [at the French Open] this year and hopefully I can prepare well, because last year for sure, with the pandemic and the US Open, I didn't have much time at all to prepare my game on clay. I wasn't ready and I'm not a clay-court specialist who can go out there and know immediately what to do. Hopefully I can prepare well this year and have the best schedule so that I can do something good at Roland Garros."
Medvedev's disappointment at his performance at last year's French Open did not appear to have any effect on his confidence. Beginning with the Masters 1000 event back in Paris in November, the Russian embarked on the best run of his career. A sequence of 20 successive victories saw him win the Paris title and the Nitto ATP Finals in London and help Russia take the ATP Cup team event in Melbourne, after which he won five of his first six matches at the Australian Open in straight sets, with Tsitsipas and Andrey Rublev among his victims. His 20-match winning run also included victories over Djokovic, Thiem and Rafael Nadal, not to mention three wins over Alexander Zverev.
---
I'm not a clay-court specialist who can go out there and know immediately what to do
---
"For sure you get some confidence when you win tournaments," Medvedev said. "When you get your confidence going, in the tight moments you feel like you can always make winners or put the ball in the court when you have to and make your opponent miss. Also, for sure, the tough work that I have been putting in in practice over the last two or three years is paying off. I feel like on the court I can do many good things."
Medvedev's unbeaten streak ended in the Australian Open final, which he lost to Djokovic in straight sets in under two hours. Nevertheless, the defeat did not hurt as much as his loss in five sets to Nadal in the US Open final in 2019.
"A loss is a loss, but I would say that against Rafa it hurt a bit more because I really had my chances to win that match," Medvedev said. "I could look back and say: 'Maybe this point, maybe that point, I could have done something differently and that would have changed the outcome of the match.' But against Novak I couldn't say that any point might have changed the match. It definitely wasn't like that.
"Novak played really well, but there was no reason why I should have not played well. I had just won 20 matches in a row. I had been playing well, so there was no reason why I shouldn't have done so in this one. I think if we could replay it I would definitely do some things differently in terms of tactics. I won't mention them now because I wouldn't want Novak to know! But that's tennis. It's experience."