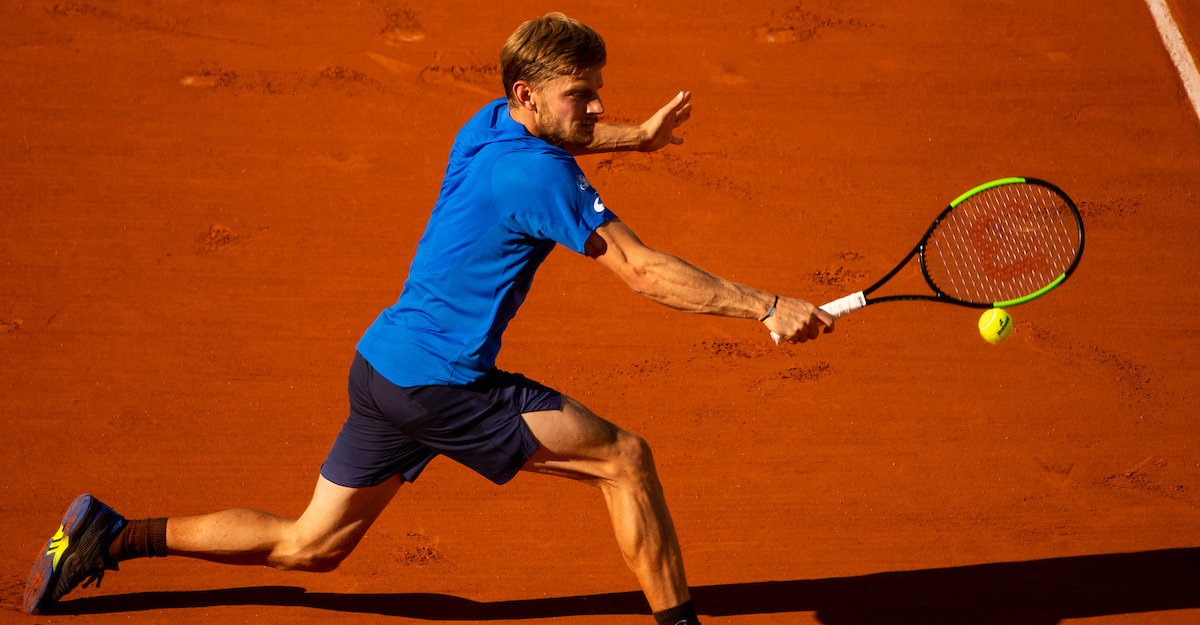 'I just have to work differently' David Goffin says he has to focus on his other strengths to succeed
David Goffin may not have the physical stature of nearly all his rivals, but the Belgian has become one of the world's best players by focusing on his other strengths
People may bill it as a sport for all shapes and sizes, but if you want to reach the top, especially in the power-dominated world of men's tennis, physical strength is a clear advantage. Look at the world's top 10, where the average height of players is 6ft 3in (1.90m) and the average weight is 13st 2lb (83.5kg). Of those top 10 players, only one stands shorter than 6ft 1in tall (1.85m) and only one weighs less than 12st 2lb (77kg).
David Goffin is the notable exception, his achievements all the more admirable given his physique. Although Goffin's stature would be totally unremarkable if you saw him walking along the street, put him on a tennis court and the difference between the 29-year-old Belgian and most other top players is striking. Goffin, who stands 5ft 11in (1.80m) tall, weighs 11st (70kg), which makes him 16lb (7kg) lighter even than the super-lean Novak Djokovic.
Goffin, nevertheless, refuses to see his size as a problem. "Of course I can't serve like an Isner, a Karlovic or a Raonic, but I'm quicker than them," the world No 10 told tennishead. "I see the ball earlier, I'm faster, I'm returning better. So, yes, you have advantages [if you are bigger], but you have to work with your best weapons and you have to work differently compared with the big guys and work in the right direction to use your weapons to beat them. I try to be aggressive, make them run, take the ball early, use my return and serve smarter rather than the bombs they hit."
Does he think he has to work harder than his more powerful rivals? "No, I think they work hard as well," Goffin said. "I just have to work differently."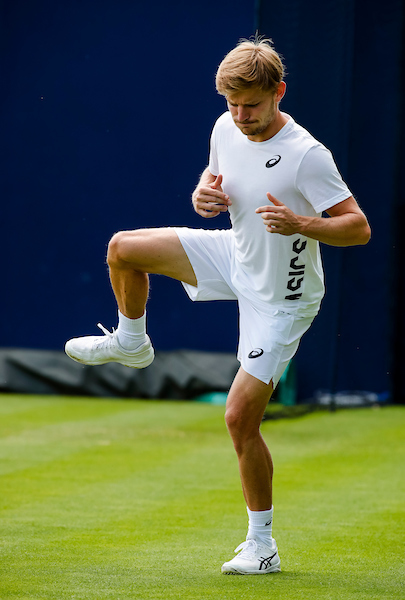 Goffin's positive approach has brought consistent rewards, though he did not reach the world's top 100 until he was 21 and took another two years to crack the top 40. In recent years, nevertheless, he has been a model of consistency. He has been a member of the world's top 20 for the last five years, except between November 2018 and July 2019, when his ranking slipped after he ended his 2018 campaign in September because of an elbow problem.
In the last six years Goffin has played in 14 tour-level finals (on clay, hard courts and grass), winning four of them. With his speed, ball-striking ability and intelligence, he has the game to trouble the best. Three years ago he became one of the few players to beat three of the world's top four in the same tournament when he defeated Rafael Nadal, Roger Federer and Dominic Thiem in the Nitto ATP Finals in London before losing to Grigor Dimitrov in the final.
Goffin first made headlines at the French Open in 2012, when he was world No 109. He came through three rounds of qualifying and then reached the last 16 before losing to Federer, his boyhood idol, in four sets. One of his four titles was also won on clay, but outdoor hard courts are his favourite surface. "I think they suit my game best, though I've also been improving every year on grass," he said. "I made one final on grass at 's-Hertogenbosch and another at Halle last year, when I also made the quarter-finals at Wimbledon. I can play some good tennis on grass.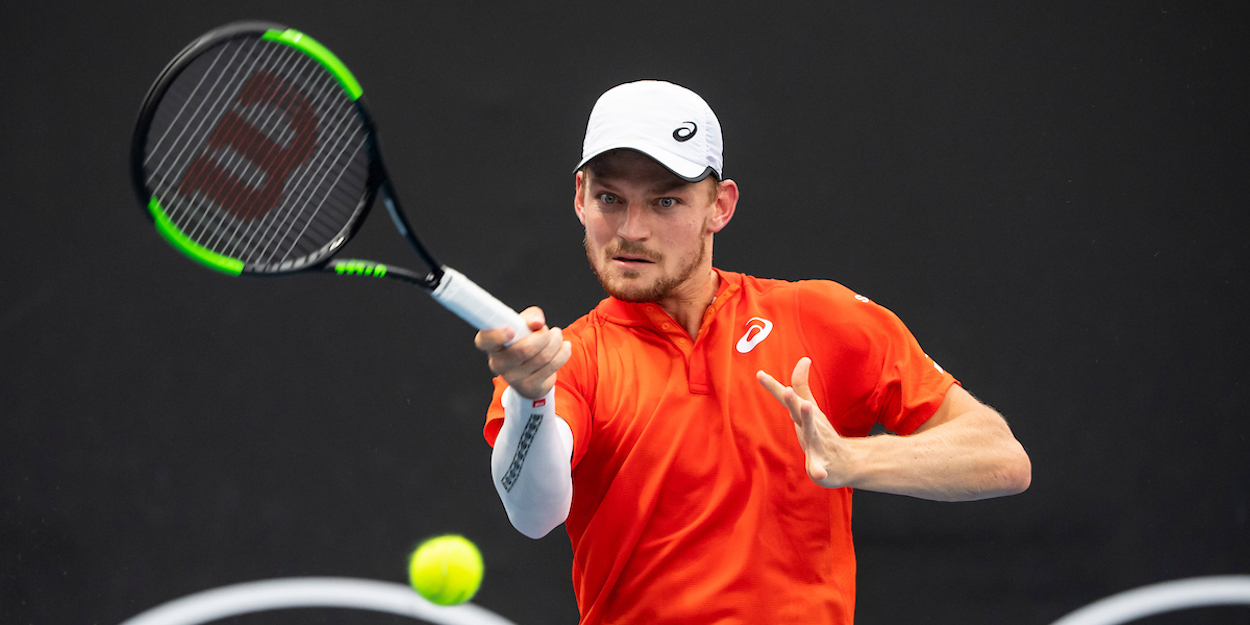 "I've made the quarter-finals at three different Grand Slams, so I think I can play well on every surface. Wimbledon is the tournament I would most like to win. I love the atmosphere there. I love the grass and the traditions. For me it's the temple of tennis."
Thanks largely to Goffin, Belgium have reached two Davis Cup finals in recent years. In the 2015 final he got his team off to the perfect start by beating Kyle Edmund but then lost the doubles with Steve Darcis to Andy and Jamie Murray and was on the other side of the net as the younger Murray secured Britain's victory. Two years later Goffin won both his singles rubbers in the final against France in Lille, only to see the home team lift the trophy thanks to Lucas Pouille's victory over Darcis in the deciding rubber. In last year's revamped Davis Cup Finals Belgium were denied a quarter-final spot by Australia.
Goffin loves the Davis Cup. "You're playing for your country, you're playing with your friends," he said. "It's always a good feeling when you're playing for someone else or for your country. It gives you an extra motivation to perform well."
At the Olympics, too, Goffin loves the idea of representing his country. "I play for Belgium, that's for sure," he said. "I play for my country. I give everything for my country, though it might not feel like a team event for me at the next Olympics because I'll probably be the only Belgian player in the men's singles."
Goffin also led the Belgium team in the inaugural ATP Cup team event in Australia in January. In the quarter-finals he beat Nadal in singles, only for Spain to take the tie by winning the other singles and the doubles. While he enjoyed the tournament, Goffin believes the ATP Cup and Davis Cup Finals should merge into one event, to be played Down Under at the start of the year. "If the two could come together in one event that is bigger and better, that would be good," he said.
Thomas Johansson, Goffin's Swedish coach, was on court for his matches during the ATP Cup. Goffin enjoyed the experience and would like to be able to communicate with his coach in all tournaments, though he would prefer him to be in the stands rather than on the court.
"The coach could just say a few words, without taking any more time between games or between points," Goffin said. "It was very interesting for him and for me just to talk during the match [at the ATP Cup]. I could tell him what I was feeling and he could tell me what he was thinking. It worked really well. But I wouldn't like it if there were microphones there, if everybody could hear what you were saying. Sometimes it's something personal or it's some words that the coach has to choose to boost the player. So I think it would be good if I could talk to my coach in the stands, within the time that is allowed between points and games – and in private."
As for the immediate future, Goffin will be aiming to keep his place in the world's top 10. "I want to play my best tennis in the biggest tournaments, especially the Grand Slams and the Masters 1000s," he said. "That's always the goal. Then we'll see where I can go in the rankings, but I'm in a good position at the moment."
David Goffin wears ASICS Solution Speed tennis shoes. Read our review here