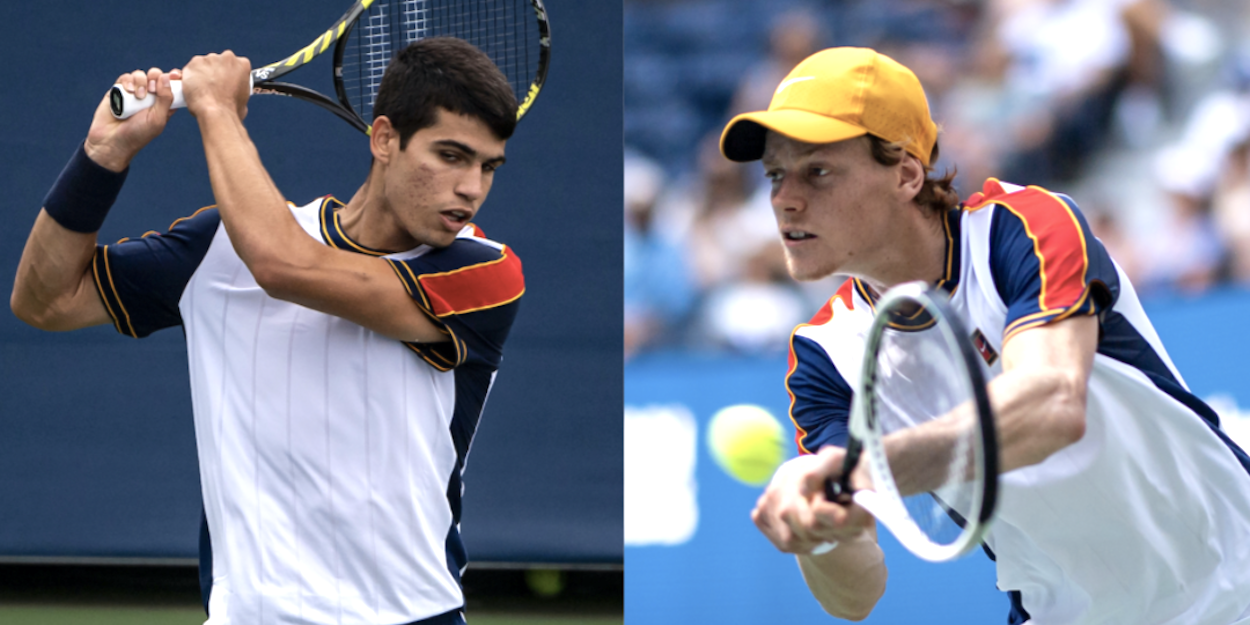 'I hope to be in the same position as Jannik Sinner in two years,' admits Carlos Alcaraz
Carlos Alcaraz revealed that he hopes to be in the same position as Jannik Sinner in two years after beating the Italian at the Paris Masters on Wednesday.
The 18-year-old currently finds himself 26 places lower than Sinner in the ATP rankings, though conquered the Italian in straight sets 7-6(1), 7-5 in the second round.
In a recent interview, Sinner described Alcaraz as 'pressure proof' on the court, and the Spaniard revealed after the contest that he has no reason to feel pressure.
"Well, I'm 18 years old, so there is no time to feel the pressure right now," Alcaraz said during his post-match press conference.
"So I just I know what I have to play, and when I'm on the court, just play my game and trying to enjoy the moment."
When asked if he feels closer to Sinner than the current rankings suggest, Alcaraz simply praised the Italian for his consistency and title-winning qualities.
"I mean, I don't know," Carlos Alcaraz continued. "He has won I think four ATP this year or five. He's 9. He's fighting for the ATP Finals."
Alcaraz, who has added Sinner to his list of top 10 victories this season alongside Stefanos Tsitsipas and Matteo Berrettini, says he would like to be in the Italian's position in two years.
"I'm still learning, gaining experience. I'm at 35 right now. I mean, I'm really happy for the level I'm playing right now," Alcaraz added.
"So, I mean, I hope to be in the same position as Jannik Sinner in a couple of years, so I'm really happy for the level right now."