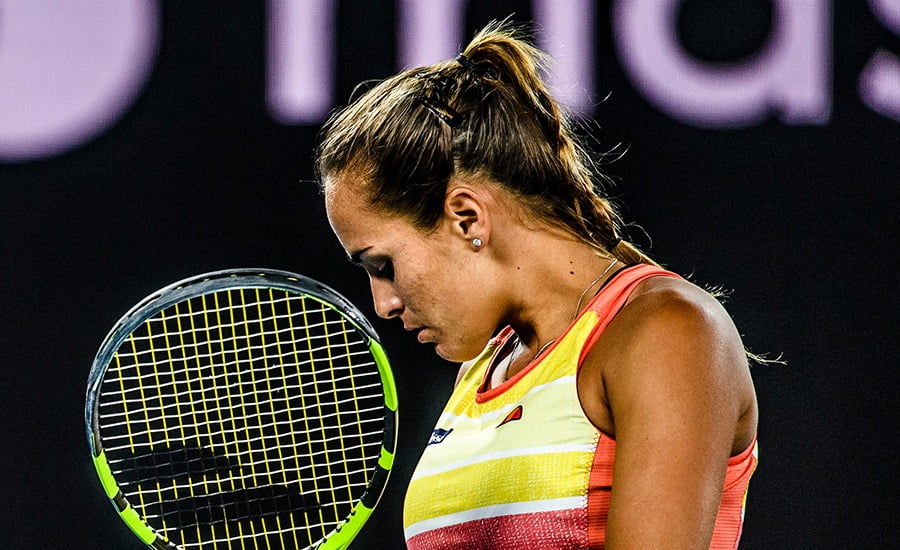 'I hit rock bottom' – WTA ace lifts lid on mental struggles after nightmare 2019
Monica Puig has lifted the lid on her nightmare 2019 season, and the 'dark moments' that saw her struggle to even get herself out of bed.
The Puerto Rican lost more than half of her 44 matches in 2019, reaching only one semi-final during a relentlessly tough campaign.
She also lost her coach along the way, as Kamau Murray opted to rejoin Sloane Stephens' team, which didn't help her feeling of isolation.
However, in a hertfelt post on social media, Puig has said she is back on a positive path again, thanks largely to her new coach Phillipe Dehaes.
"Taking the time to reflect on this 2019 season definitely hurts because there has been so much struggle and tough moments," Puig admitted on Instagram.
"Sometimes I didn't know how I was going to manage to stay strong another day. I hit my 'rock bottom' and sometimes even getting out of bed was a challenge.
"However, in my darkest of moments, a voice inside of me told me to keep going and to keep believing, because something good was waiting for me at the end of this pain and struggle, and for that I couldn't be more proud of my courage and fight."
"Thankfully, I believe I reached the light at the end of the tunnel 5 weeks ago when I changed my team and was given a new beginning," Puig explained in a lengthy statement.
"The people who have surrounded me in these tough times have undoubtedly helped me rise from the ashes and dust myself off to keep going and reach for my dreams and I am so thankful to have such amazing people in my corner that have helped me get back on my feet again."
Puig's season of struggle has seen her drop 31 places in the WTA rankings since January.
Look ahead to the rest of 2019 with our guides to every tournament on the ATP Tour and the WTA Tour. If you can't visit the tournaments you love then do the next best thing and read our guide on how to watch all the ATP Tour matches on television in 2019. To read more amazing articles like this you can explore Tennishead magazine here or you can subscribe for free to our email newsletter here