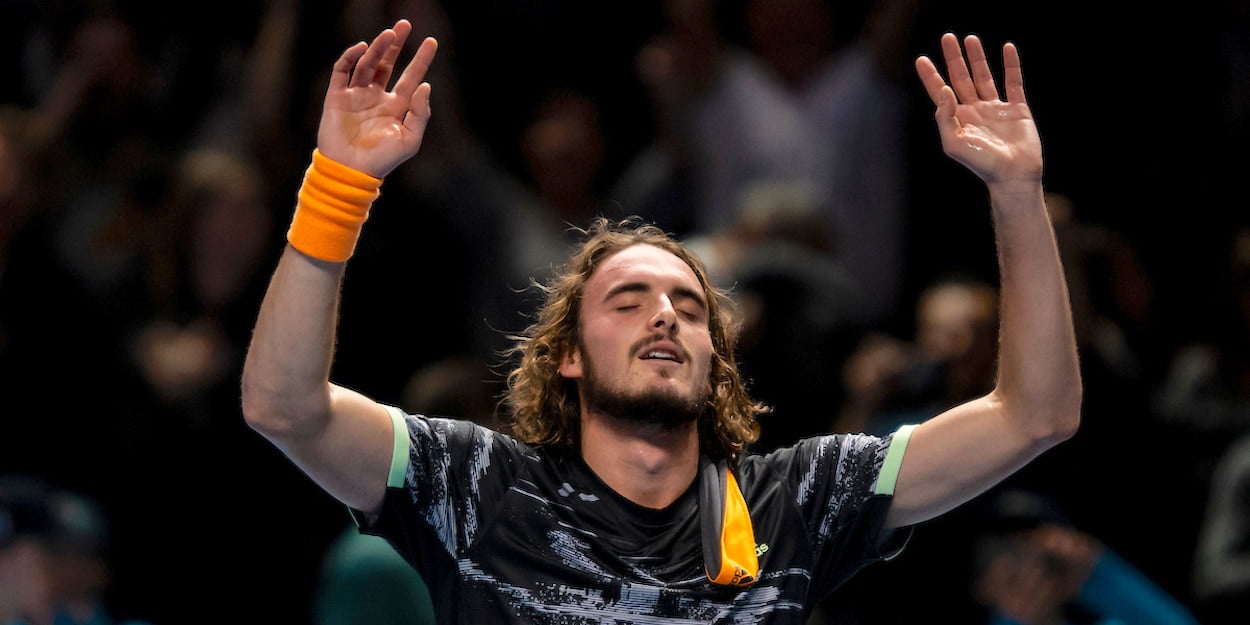 "I feel like I belong" Stefanos Tsitsipas believes he is "really close' to winning a Slam
After a stunning run to victory at the 2019 Nitto ATP Finals in London, could this unique young character, Stefanos Tsitsipas, be the one to finally break the Grand Slam stranglehold of the 'Big 3'? Tennishead Editor Paul Newman reports
Barely two months after beating Alex de Minaur to win the Next Gen Finals in his last match of 2018, Stefanos Tsitsipas knocked Roger Federer out of the Australian Open, where he eventually lost in the semi-finals.
"I believe I'm really close to being crowned a Grand Slam champion," Stefanos Tsitsipas said in the wake of the biggest victory of his career at the O2 Arena. "I know these are strong words, but I do feel like I belong there."
Nevertheless, the world No 6 showed what a wise head sits on his broad shoulders when he said that he would learn from Rafael Nadal's approach as he prepares for his next challenges. Tsitsipas explained: "Rafa said it in the past: 'I'm not playing to win the tournament, I'm playing to win every single match that I'm about to go and play.' That's how it works. You don't want to travel too much in the future when you play a tournament, because it's not always going to go the way you want it to go."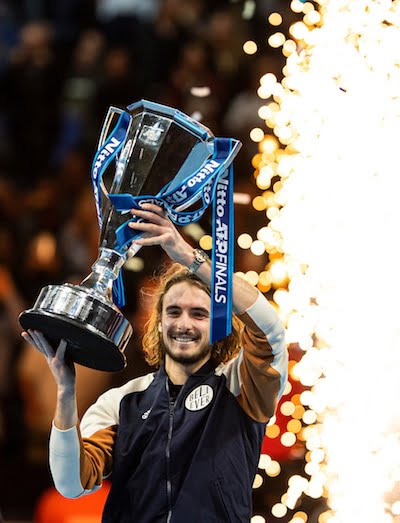 Players often say they learn more from their defeats than from their victories and Tsitsipas' response to his first-round disappointments last summer at Wimbledon and the US Open – he lost to Thomas Fabbiano at the All England Club and to Andrey Rublev at Flushing Meadows – was admirable. "I feel like I'm doing the same thing over and over again, and my brain can't really take it any more," the Greek had said in New York.
In the autumn he went on to reach the final of the China Open, the semi-finals of the Shanghai Masters, the semi-finals in Basel and the quarter-finals of the Paris Masters. "Over the last couple of months I've learned to face losses in a more positive way," Tsitsipas said. "I don't get so frustrated with myself and I don't beat myself up. I deal with things a bit better. I see the positive side."
At the O2 Arena Tsitsipas beat Daniil Medvedev, Alexander Zverev and Federer in straight sets before overcoming Dominic Thiem after more than two and a half hours in one of the best finals in the history of the year-end showpiece. His mental strength was typified by his response to losing the tie-break at the end of the first set as he dropped only two points in the next four games before levelling the match and eventually winning a deciding tie-break to seal his 6-7(6) 6-2 7-6(4) victory.
Stefanos Tsitsipas' only loss in London was to Nadal in his final group match, which he did not need to win as he had already qualified for the semi-finals. Although he beat Nadal on clay in Madrid in May, Tsitsipas has lost five of their six meetings. Nevertheless he took heart from the fact that his 6-7(4) 6-4 7-5 defeat in London was much closer than his 6-2 6-4 6-0 loss in the semi-finals in Melbourne in January. "I didn't feel like I got destroyed [this time]," Tsitsipas said. "I honestly feel like I'm getting closer. I feel I'm doing the right steps, taking the right decisions. He's a very difficult opponent to play. He's a big fighter. It's like he gives his soul.
As Stefanos Tsitsipas aims to build on his success this year, he is not underestimating the size of the challenges ahead of him. Thiem said in the wake of his defeat in the final that he was sure one of the younger players could make their Grand Slam breakthrough in 2020, but Tsitsipas is all too aware of the grip that Nadal, Federer and Novak Djokovic have maintained on the biggest prizes. They have won 55 Grand Slam titles between them, including the last 12 in succession.
"The Big Three dominating the Grand Slams in the last couple of years has made it really difficult for us, because someone needs to get the job done to defeat them in the early rounds," Tsitsipas said. "Once they get deep in a tournament, they tend, as we have seen over the years, to get better, play better and feel better.
"For me, being able to beat them in these Grand Slams is a really difficult task, because it's best-of-five-sets format. That just gives them more chances to stay in the match. It's not best-of-three. I think if it had been best-of-three, it could have been very different when it came to Grand Slam champions over the years. For us, for the young guys, it's all about time. We will have to beat them or wait for them."
What was underlined in London was the fact that Tsitsipas is a crowd-pleaser who is set to thrill spectators around the world for years to come. The combination of his attacking flair, his rock-star looks and his engaging personality certainly appealed to the crowd in the O2 Arena, who were regularly chanting his name towards the end of the final.
The fact that the former world junior No.1 comes from Greece, a country with little tradition in tennis, adds to his appeal. The crowds at last year's Australian Open in Melbourne, which is home to the biggest number of people with Greek heritage outside Greece, were very vocal in their support for Tsitsipas. The volume is sure to be turned up even further whenever he returns.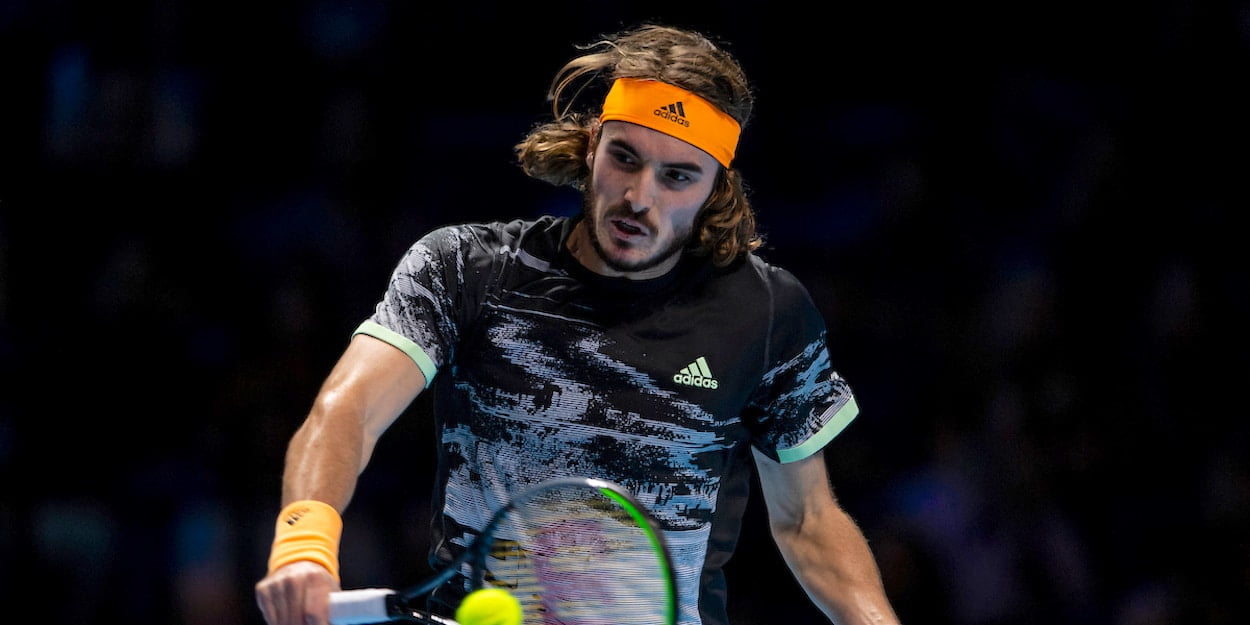 Tsitsipas, who is based at Patrick Mouratoglou's academy in the south of France, does not have many opportunities to visit his homeland these days, but loved playing in the Davis Cup in Athens in September. His 19-year-old younger brother, Petros, who has yet to break into the world's top 1,000, was also in the Greek team. "I got connected with my brother more, we got to talk about tennis and he got to experience and feel how I feel on the court," Tsitsipas said. "I do feel lonely on the ATP World Tour, being the only Greek that plays at such a high level. I honestly wish we could see more players from Greece coming up."
On the ATP tour some see Tsitsipas as something of a loner. He has his own YouTube channel, which helps him to indulge his passion for photography and film-making. At the launch for this year's Nitto ATP Finals on a boat on the Thames it was no surprise that Tsitsipas was the player with a camera in his hand.
Tsitsipas has said in the past that Wimbledon is the tournament he would most like to win. With his majestic one-handed backhand and his attacking style, his game has sometimes been compared to Roger Federer's and certainly appears well suited to grass.
Now, however, Tsitsipas says he puts the four Grand Slam tournaments on the same level. "I believe all Grand Slams are great," he said. "They all have something unique in them. For sure Wimbledon has a lot of traditions and I think if you asked most players they would say they would want to win Wimbledon, but for me any Grand Slam would be great. I feel like my game is getting better over time."