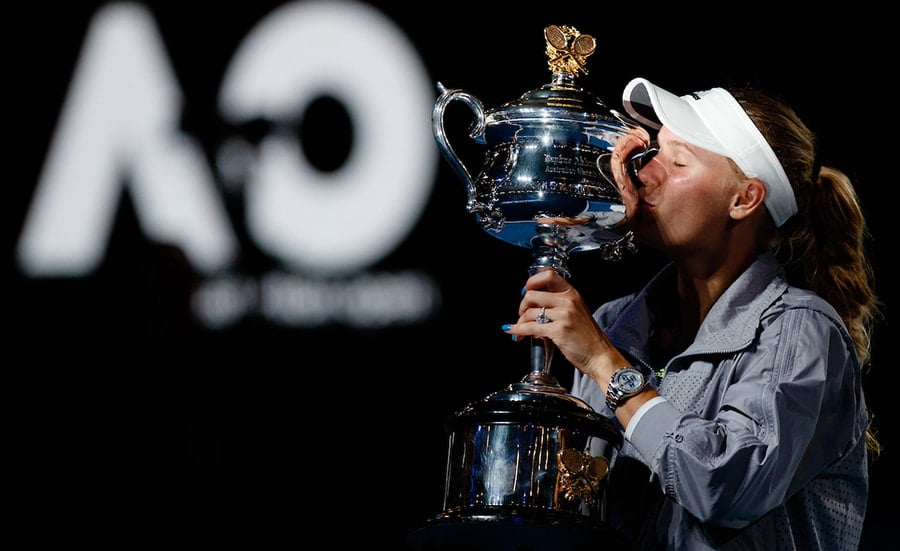 'I don't think I could have scripted it any better,' says Caroline Wozniacki as she bids farewell to tennis
Caroline Wozniacki said she has lived her dreams after calling time on her career at the Australian Open.
The Dane won the tournament, her only Grand Slam triumph, in 2018, but has since sturuggled, largely down to health problems after being diagnosed with rheumatoid arthritis later that year.
She, though, is not looking back with any regrets, and says that even her final match, a 5-7, 6-3, 5-7 defeat to Ons Jabeur, was 'perfect'.
"I've learnt so much," Wozniacki told the press after the match. "I wouldn't be the person I am today without all those experiences.
"I think the main thing I've learned is, no matter where you're from, no matter what colour of your skin, no matter if you're tall or short, big or small, it doesn't matter. If you have a dream and you go for it and work hard, anything is possible.
"I had a dream when I was a kid. I wanted to win a grand slam. I wanted to be number one in the world.
"People thought that I was crazy being from a small country. But I made it happen. I worked so hard for it every single day. I'm very, very proud of that."
"I think what happened today was perfect," she said. "It was a packed stadium. People stood up. There was 'Sweet Caroline' through the microphones. People were clapping. I had the Danish flag at my back. I had my family there.
"I don't think I could have scripted it any better. I think it was the perfect moment."
What of the future, though? What does that hold for Caroline Wozniacki? She's not yet sure, but she does believe she will miss tennis.
"I think what I'm going to miss is that competitiveness," she added.
"Winning a tight match, that adrenaline I think is going to be very hard to duplicate in anything else that I'll do.
"I'm sure there are going to be times when I wish I was out there playing in grand slam finals or semi-finals.
"But there will be other moments in my life that I think are going to mean just as much, or maybe more."
Keep up to date with all the action at our tennis news section. Win amazing tennis prizes by entering our competitions. Learn more about your favourite players including Roger Federer, Rafa Nadal and Novak Djokovic. Check out the latest kit in our tennis gear reviews. Receive regular updates with our legendary newsletter or read in depth features with stunning photography in tennishead magazine. Can't visit the tournaments you love? Check out our guide on how to watch tennis on TV. Don't miss a thing with our Live Scores service. Follow tennishead on social media at Facebook, Twitter, Instagram & YouTube