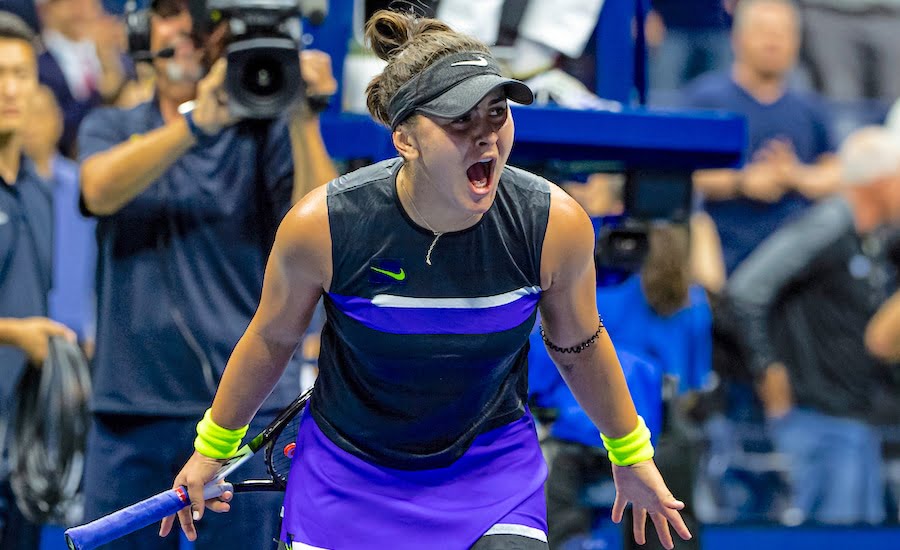 "I can get bored out there" admits Bianca Andreescu as she details how her game's changed
Bianca Andreescu may have won the US Open in stunning style and be ranked No.6 in the world but she still has to concentrate hard on court to avoid getting bored
Bianca Andreescu is the hottest name in women's tennis right now and her absolute honesty with herself and the media is refreshing as was witnessed yesterday when she admitted in interview how she just a year ago she would struggle with concentration and clarity
Andreescu had just beaten American Jennifer Brady when she was asked about how she's improved her game especially 'keeping it simple'?
"I think it's improved tremendously, especially from only a year ago. That was a thing I was struggling with the most because sometimes I can get bored out there so I want to try different things to change it up.
"Like I said, I've learnt that it doesn't always go my way when I do try different things, especially when I'm up. But sometimes when I'm down, I think it's a good tactic for me to start trying to do new things to see if it throws off my opponent even more.
"I think that's what I've been doing a lot, especially when I've been down. I've been realising what her weaknesses were and what I was doing well that day. I was trying to just focus on my strengths and implement that. That usually consists of me changing the rhythm even more."
Bianca Andreescu is the leading Canadian tennis player and is part of a crop of new talent emerging from the country in recent years spurred on by the success of Milos Raonic.
Look ahead to the rest of 2019 with our guides to every tournament on the ATP Tour and the WTA Tour. If you can't visit the tournaments you love then do the next best thing and read our guide on how to watch all the ATP Tour matches on television in 2019. To read more amazing articles like this you can explore Tennishead magazine here or you can subscribe for free to our email newsletter here