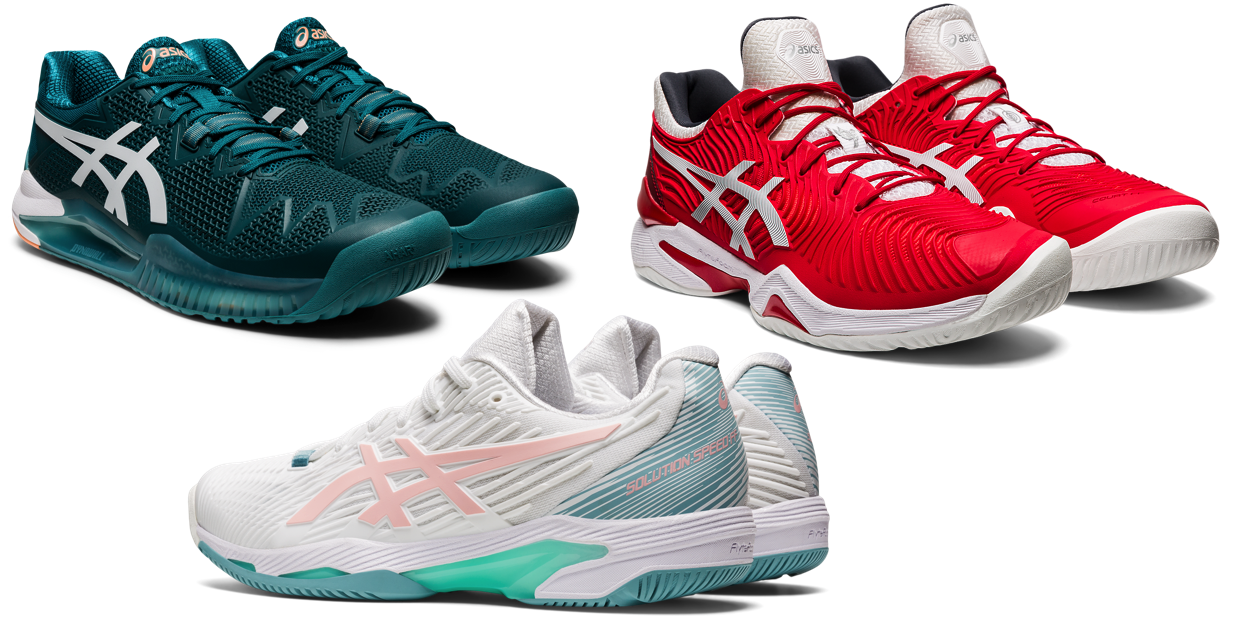 How do ASICS tennis shoes perform against each other?
Leading tennis footwear brand ASICS offer a wide variety in their tennis shoe range so we wanted to find out what the differences were between each shoe and how they performed when rigorously tested on court.
Background
Founded on the principles of 'Kaizen', ASICS are a global leader in tennis footwear with a reliance on research and technology to guide their products. 'Kaizen' literally means 'continuos improvement' hence why the brand will often update existing shoes to try and squeeze out the small improvements that can make the difference between winning and losing in professional & amateur tennis. We have always admired the fact that the shoe's you see Novak Djokovic wearing to win Grand Slams are exactly the same as the shoe you can buy online or in store.
The ASICS tennis range
We've taken the three most popular styles from the ASICS tennis shoe range to test, which are:
ASICS Solution Speed FF2: The lightest shoe in the ASICS range is worn by David Goffin and Alex de Minaur and is designed for a player that likes to attack the net and needs a shoe to help them move fast and make dynamic movements all over the court.
ASICS Gel-Resolution 8: The sturdiest shoe in the range is built for baseliners who want stability and durability as they pound the back of the court, such as Matteo Berrettini.
ASICS Court FF2: Their highest priced tennis shoe was developed in partnership with Novak Djokovic and combines technology taken from the Gel-Resolution and Solution Speed to offer a 'best of both' shoe that should suit an all court player.
Watch as our testers take all three shoes onto court and give their feedback:
---
Buy the latest colour of the ASICS Solution Speed FF2 for the lowest online price from our trusted retail partner All Things Tennis
Use discount code TENNISHEAD5 at the checkout for an exclusive 5% discount
---
The play test
Testing shoes straight out of the box is a very personal experience which is why we use multiple players for the same test so that we gather a variety of feedback based on different opinions and personal experiences. We make sure to test the shoe in the same situations you would face during a match or practise session so that the feedback is as credible and relevant as possible.
Our Tennishead play testers for this review of the ASICS range were:
Will: Sees himself as a 'counter punching' style of play and has been into tennis for 16 years.
George: An energetic baseliner who plays high level competitions on a weekly basis.
Mollie: A club player who hasn't worn ASICS before.
Hayden: A young tournament player who plays an aggressive game and really likes to get to the net.
Gel-Resolution 8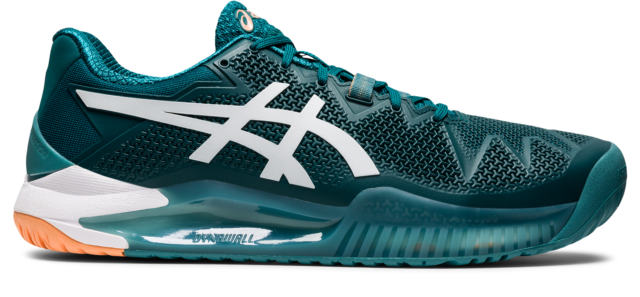 The Gel Resolution 8 is ASICS heaviest tennis shoe designed for baseliners who need stability and durability. How did this shoe feel when you first tried it on?
George: "It's a super comfy shoe which initially was a little tricky to put on but fitted like a glove once my foot was in the shoe."
Kenzo: "I could instantly feel the extra weight compared to other ASICS shoes but with that came a sturdy feeling shoe that offered more support and helped me feel safe when going wide and sliding."
Hayden: "I could feel that they are a heavier shoe but are really comfortable to play in which gave me a lot more support. I could rely on this shoe more."
Mollie: "My first impression was that I didn't find them as comfortable or cushioned as the ASICS Solution Speed. They have a much firmer feel so I'm guessing that if you spend more hours on court these will be more durable than other tennis shoes.?
The Gel Resolution 8 features a one piece sole. How did this translate into grip on the court?
George: "When moving side to side and forwards and backwards I felt there was no danger of slipping. Personally I don't slide when playing tennis but at no point in this shoe did I feel like I was going to slip over and I felt in control of my movement at all times."
The Gel Resolution features 'Dynawrap' technology around the front of the foot which helps to keep your foot in place. How did this make the shoe feel?
George: "I think this may be the reason I personally found the shoe tricky to put on at first but once my foot was in the shoe it felt really padded and enclosed in."
Solution Speed FF2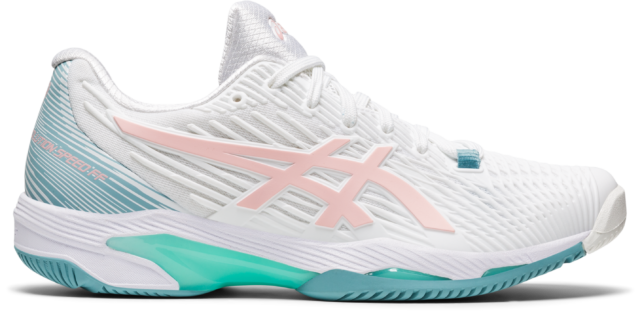 The Solution Speed FF2 is ASICS lightest tennis shoe designed for all court players who like to attack the net. How did this feel when you first put it on?
George: "It fits really true to size for my feet and is super comfy."
Kenzo: "This shoe was the best fit for my foot and the most true to size of all three ASICS shoes we've tried. It felt like a glove when wearing it as it's so lightweight and snug."
Hayden: "As soon as I put these on I could tell how lightweight and comfortable they were, which is a feature across all ASICS shoes, but these did feel really light"
Mollie: "When I first tried these on they felt really comfortable, lightweight and cushioned. I use to wear Yonex shoes and compared to those the grip from the ASICS Solution Speed is really nice."
When you were moved around the court especially out wide how did this shoe perform?
George: "This shoe in particular is very lightweight so it's easy to push back after you've hit a shot as there is less weight holding you down."
Kenzo: "It was easy to change direction in these shoes and the lightness allowed me to move quicker, but I still felt supported around my ankles when wearing these."
The Solution Speed FF2 features a split sole which is designed to help with dynamic movements in all directions. How did this shoe perform for you when changing direction?
George: "This shoe is super grippy when changing direction and so I felt nimble on my feet and the shoe supported my dynamic movements well. It felt easy to change direction"
The Solution Speed features ASICS 'Flytefoam' technology which is also used in all ASICS running shoes. It's lightweight but cushioned foam that appears throughout this shoe. Did that technology seem apparent when wearing this shoe?
George: "Most definitely. I think it contributes to the lightness of this shoe meaning its easy to changed direction and has a padded feel. I definitely don't feel any shockwaves coming up through my knees which must be down to this technology."
Court FF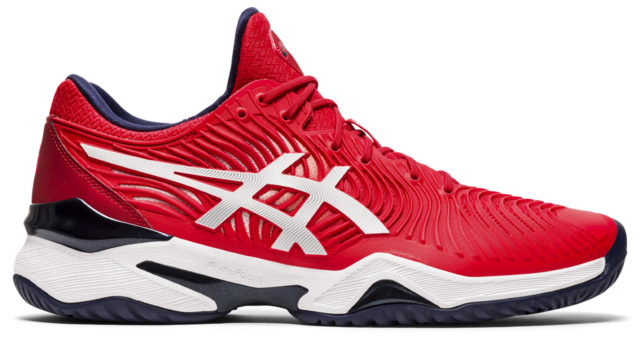 The ASICS Court FF is their premium shoe from the tennis range and aims to offer an option for both attacking players and baseliners by combining the best of the technology from the Gel Resolution and Solution Speed into one shoe, but it does come with a premium price. How did this shoe feel the first time you tried it on?
George: "Super easy to put on and super comfy because it's very padded all the way through"
Kenzo: "I like these shoes however for my foot they didn't seem to fit true to size with a little gap at my toes so I would need to take a whole or half size smaller in these Court FF's. However I could definitely feel the quality difference between these Court FF's and the other 2 ASICS tennis shoes we've tried. These offered the best mix of the lightness of the Solution Speed but the durability of the Gel-Resolution. So for me the price matches the quality."
Hayden: "I thought this was really comfortable and from the moment I tried it on I felt at home wearing this shoe"
The Court FF features a 'monosock' which is a built in sock that aims to aid stability by keeping your foot in place as you move around. Did you feel the benefits of this technology?
George: "It was a little strange when I first put it on as it felt like I was putting on an extra sock but once my foot was in the shoe it did feel nicely stable and enclosed."
You will have seen that Novak Djokovic wears the Court FF and he was actually involved in the design of the shoe. In his mind was to create a light shoe which offered the stability that a player like him needs when moving round the court. How did they feel to you when moving around the tennis court?
George: "I found them really stable when I was in the corners of the court, I could easily change direction without being weighed down so they offered a great balance between being lightweight and providing stability."
Comparing all three shoes
The Solution Speed FFT and the Gel-Resolution 8 shoes have an R.R.P of £135 whereas the Court FF has an R.R.P of £170. Is the extra price of the Court FF justified by it's performance in your opinion?
George: "For me I would be happy with the Gel Resolution of the Solution Speed as they are such high quality shoes I don't think you need to pay the £40 extra for the Court FF."
"I did find that all 3 ASICS shoes felt slightly different in terms of the sizing with the Solution Speed for my foot being perfectly true to size whereas for me the Court FF and the Gel-Resolution came out larger on my foot so I would either where 2 pairs of socks or I would buy a half size smaller in those two shoes."
Kenzo: "I would say it is worth spending the extra money for the Court FF because it offered extra quality and stability."
Hayden: "The Court FF was my favourite shoe because it had the stability and durability of the Gel-Resolution combined with the lightness of the Solution Speed"
Mollie (who only tried the Solution Speed and Gel-Resolution but not the Court FF): "I would choose the Solution Speed. They are the most comfortable with the best cushioning"
In conclusion then..
The technical and production differences between the three ASICS shoes was very apparent to our testers especailly the difference in weight between the Solution Speed and the other two styles. In fact the Solution Speed is around 40 grams lighter than the Gel-Resolution and Court FF which is quite a lot for a tennis shoe.
The play test feedback did highlight the need to pick a shoe that suits your style of play as the shoes have qualities that will suit specific types of tennis player.
However it's also apparent that sizing is important and isn't necessarily exactly the same across all three of these ASICS shoes, so if you can try before you buy that is our recommendation. It seems that the Solution Speed FF2 fits a little more snug than the Gel-Resolution 9 and Court FF 2 in these versions.
Buy now with an exclusive discount and next day delivery
Now purchase the ASICS Solution Speed FF2 tennis shoes (or any other ASICS shoes) from our trusted retail partner All Things Tennis.
Use discount code TENNISHEAD5 at the checkout for an exclsuive 5% discount
🎾 Free >> Join our legendary newsletter
🎾 Join >> Receive $700/£600 of tennis gear from the Tennishead CLUB
🎾 Social >> Facebook, Twitter, Instagram & YouTube
🎾 Read >> World's best tennis magazine
🎾 Watch >> How to enjoy ATP/WTA/Slam tennis on TV
🎾 Shop >> Lowest price tennis gear from our trusted partner